High North Dialogue:

Norway's Prime Minister: "We Have To Take Care Of the Dialogue In The High North"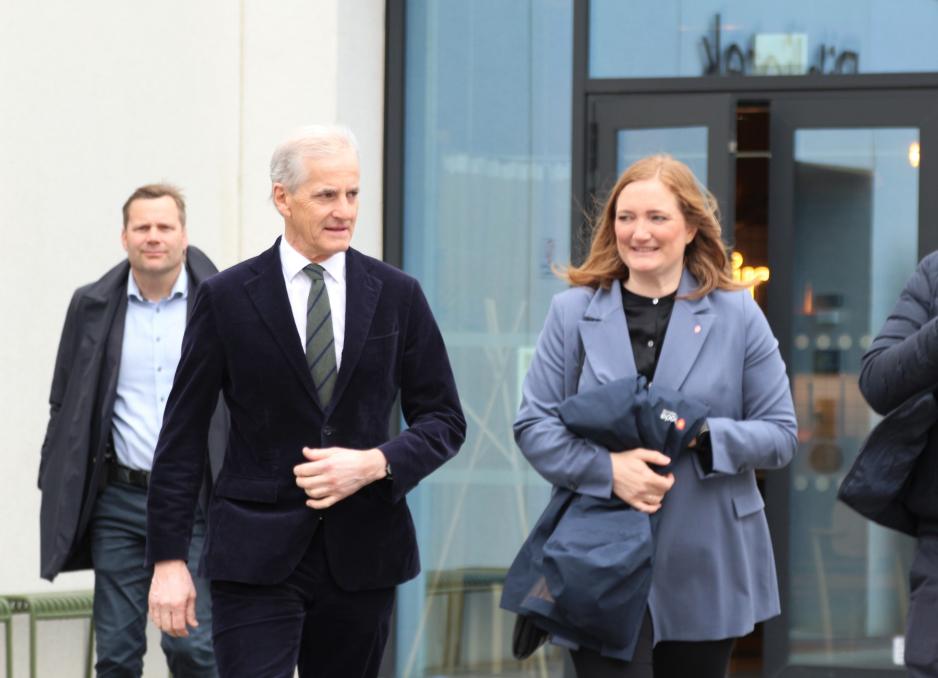 Bodø (High North News): "There may come a time to move forward again", was the message from Norwegian Prime Minister Jonas Gahr Støre to over 300 Arctic stake holders at the High North Dialogue conference Wednesday.
"We have to take care of the dialogue", said Norwegian Prime Minister Jonas Gahr Støre (Labor) as he opened the High North Dialogue conference in Bodø Wednesday.
As the term "Low tension in the High North" is no longer applicable, Støre took to stage to remind over 300 Arctic stake holders, students, politicians and researchers that it was indeed dialogue that kept the Russian-Norwegian relationship afloat during the ups and downs through a 1000 years of peace with Russia.
"In the early nineties dialogue changed the north. Bilaterally Norway and Russia was able to do remarkable things after decades of closed borders", the Prime Minister said, comparing the border passings between the two Arctic states, from 4000 in 1990 to over 300 000 in 2013.
Be ahead
Now, in a time of crisis, Støre says Norway is experiencing what modern leadership really is.
"Norway can be ahead on ideas, and we have developed Arctic policies in Norway that are copied and that has inspired the EU and the American Arctic, as well as other nations arctic policies."
Dare to move forward in these difficult times
Støre added that this is especially important now.
"To have to ambitions and to be ahead, and dare to move forward in these difficult times."
Neighbors
Norway and Russia share a 198 kilometer long border above the polar circle, in the Finnmark region. Two-thirds of the border runs along rivers and waterways.
The border is one of the areas that Norway and Russia still cooperates on, in addition to fishery management in the Barents Sea and search and rescue.
The authorities in both countries relate to a common border convention that ensure that both have access to the border waterways. They also share a power station where the border runs in the middle of the Skogfoss dam.
Strong limits
Still, a full on attack on any country is a challenge for all the neighboring states, Norway included.
"With this brutality and the authoritarian regime that has emerged in Russia, we have forced strong limits on contact and cooperation. It has direct consequences", says Jonas Gahr Støre.
He goes on to say that there are no direct threat on Norway, but that is not to say that Russia cannot do damage.
"There are other threats. Intelligence and hybrid threats that we follow and monitor closely. And we do not accept to have people under diplomatic cover in Norway. They have been kindly asked to return home", the Prime Minister said, pointing to the 15 employees at the Russian Embassy in Norway, that were expelled last week.
According to Norwegian Foreign Minister Anniken Huitfeldt (Labor) the employees not genuine diplomats, but intelligence officers acting under diplomatic cover.
Main gas provider
All that has happened since Russia invaded Ukraine has changed Norway's outlook, bringing the Nordic countries closer together, Støre says.
And the EU closer to Norway.
"It changes and deepens Norway's relationship with Europe. We are now the main provider of gas in Europe."
True values
May 11 Norway takes over chairship of the Arctic Council from Russia. Ever since the war all official activities in the council has been on pause. So what now?
"Should we give up the vision of cooperation and dialogue in the Arctic because of Russia? Should we, the remaining seven and all the other nations, institutions, networks, students - should we put a pause on our efforts? I believe not", says the Prime Minister of Norway.
People are cutting Russia out of the map as if it is no longer there. It is.
"I think we should abide by our true European values. The cold winds blowing now politicly, also in the north, did not emerge in the north. This is not a bilateral conflict between the countries of the north, with Russia. It is emerging out of the conflict with Ukraine. Norway has been in peace with Russia for a 1000 years. And we will remain - in difficult times as well as - predictable and responsible, firm and long term."
Russia is still there
Even if there is little cooperation with Russia now, Støre urges to look ahead.
"There may come a time to move forward again. And I would warn against what we see in part of the debate in Europe, that people are cutting Russia out of the map as if it is no longer there. It is."
Støre reminds the crowd that Norway cannot choose its geography.
"We will remain neighbors. And we will have orderly relations. Yes, there is more tension, but I believe firmly that it is our responsibility in the high north to strive for the vision, high north - low tension," says Støre and adds that no one is served by high tension.
"The safeguarding of Norway's security must be done by Norway in close cooperation with our allies."
The Barents Cooperation
It is a known fact that the people to people work that the Barents Secretariat had with Russia, is dead. But Støre firmly believes that this same method can be transferred to Norway's new best friends and rekindled neighbors, Finland and Sweden.
"And I would encourage that we now in the meantime, as we do not know how long this will last, could put that experience at use with our Swedish and Finnish neighbors. Because we can go much deeper. On industry, knowledge, green initiatives, technology sharing, and defense integration. Our chiefs of defense have been working on this for some time, demonstrating that we are a threat to none, but we are there to provide security with our allies, while also being there as a forward looking and modern nation.