No Delivery Date As Timeline For New US Coast Guard Icebreaker Continues to Slip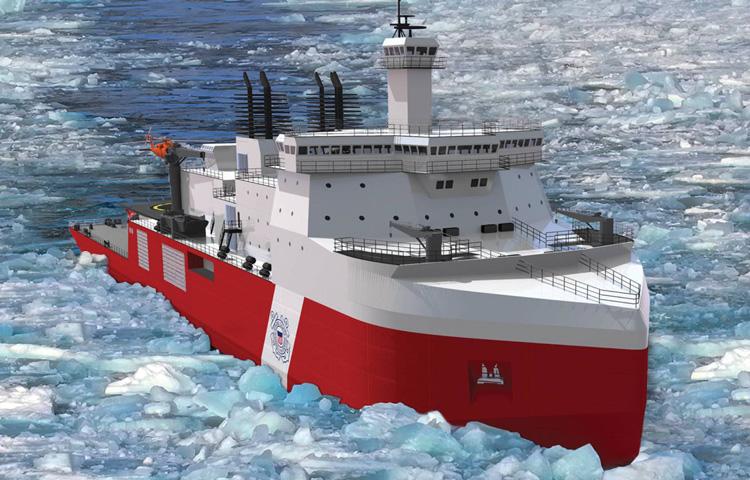 The US Coast Guard does not currently have a date for completion of the new heavy icebreaker. Compounding delays could push delivery toward the end of this decade, or possibly beyond.
The new US Coast Guard icebreaker continues to face an uncertain timeline. At a recent budget hearing in front of a House Transportation subcommittee Coast Guard Commandant Admiral Linda Fagan explained that currently there is no estimated date for delivery.
"I would give you a date if I had one. I do not have a definitive date from my team," she said. 
The new heavy icebreaker, also referred to as Polar Security Cutter, was originally funded in 2018 and the Coast Guard selected VT Halter Marine, a shipyard in Mississippi, to construct the vessel the following year. 
The Coast Guard expected delivery in 2023, but the timeline quickly slipped into 2024 and 2025 following delays from Covid and a change in ownership of the shipyard. 
To date, VT Halter, now owned by Bollinger Shipyards, has not laid the keel or cut any pieces of steel.
Subcommittee member Mr. Garamendi urged Fagan to clearly lay out the challenges.
"Tell me exactly what is happening, put the happy talk aside. This is not going well, the original contractor went belly up, you got a new contractor in. There is all kinds of design problems. Lay it out here."
Expressing frustration with the lack of progress, Garamendi asked:
"Do you have some idea in which decade it might actually be built?"
Not wanting to commit to a specific timeline Fagan responded:
"I do not want to put a date out there [...] Once we have the detailed design it will be several years, three plus."
They have not even cut steel yet.
End of the decade at the earliest
Even a delivery by 2027, which the Coast Guard's deputy commandant for Operations, Vice Admiral Peter Gautier, recently mentioned appears unrealistic according to one industry expert affiliated with the Coast Guard who spoke to HNN on condition of anonymity. 
"They have not even cut steel yet, four years after the contract was awarded. It could easily be another five years until this vessel will enter service. A timeline by the end of this decade is charitable," the source told HNN.
The delays arise from a number of interconnected issues, says Troy J. Bouffard Director of the Center for Arctic Security and Resilience at the University of Alaska Fairbanks. 
To begin, the US has not built an icebreaker in two generations.
"It has been nearly 40 years since the last US icebreaker was manufactured," Bouffard highlights.
Cheapest is not fastest
Furthermore, the Coast Guard awarded the contract to the lowest bidder, who may have underestimated the complexities of the project. 
"They went with the low bidder…$800m for a ship that likely costs at least $1.1bn to build, that's what the other shipyards bid," explains the unnamed industry source. 
Throw in the shipyard shutting down during the Covid-19 pandemic, a shortage of qualified labor, and a lack of large government acquisition experience, and you arrive at the current situation.
"The multiple issues causing delays in the Polar Security Cutter program are interconnected, and each problem can exacerbate the others, creating and compounding a complex web of challenges that collectively impede progress, which invariably increases costs and further strains budgets."
"Altogether, I think this helps explain the frustration and what has become a vicious cycle of delays", Bouffard concludes. 
Stopgap measure
While the Coast Guard attempts to sort out these challenges, it is looking to beef up its Polar capabilities in the short term. 
The service renewed budgetary requests allowing it to purchase an already existing commercial ice-capable vessel to close the gap between now and when the new heavy icebreaker will enter service.
"The Fiscal Year 2024 request also funds the acquisition of a commercially available polar icebreaker. The purchase and modification of a commercially available polar icebreaker represents an effective strategy to increase near-term presence in the Arctic," prepared remarks by Fagan explained to the Transportation Subcommittee. 
However, the list of available vessels that meet the Coast Guard's requirements is short. The vessel must be available for purchase in 2023 or 2024 and must have been constructed in a US shipyard with an ice-classification of Polar Class 3 or higher. 
The prospective vessel must also have at least 15 years of original design service life remaining and meet certain operational requirements, such as a maximum draft of 29 feet and a landing area for Coast Guard helicopters.
The most likely, and possibly only, candidate appears to be Aiviq, which was originally used for Shell's Arctic oil exploration in the Beaufort and Chukchi seas. Since Shell abandoned its Arctic endeavor the vessel has been contracted for work in Antarctica. Aiviq would require substantial modifications to meet the Coast Guard's needs.