If Truth-Telling is Painting It Black, You Should Rather Read Winnie the Pooh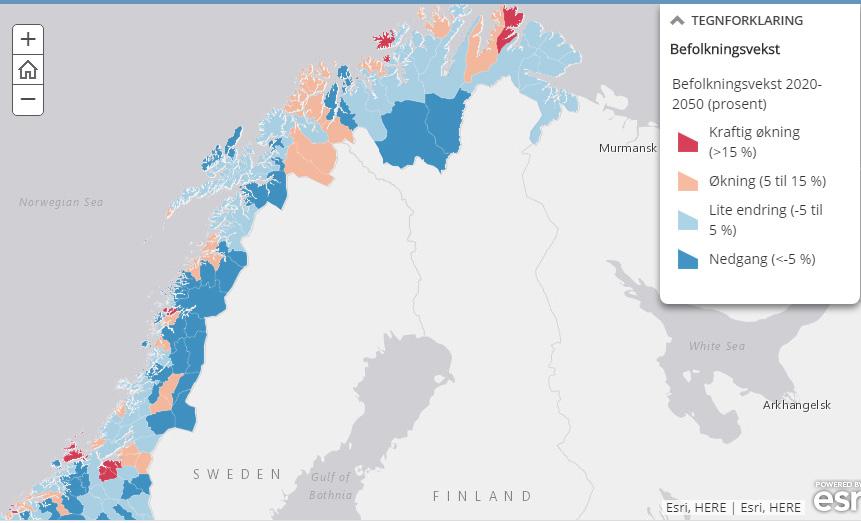 Commentary: In a few months, the Norwegian government presents its vision for the High North in a new white paper. But before that, Statistics Norway has told us what Northern Norway will look like in the years leading up to 2050. The big question is whether the government will deliver in challenging areas pointed out by its own statistics office.
First a spoiler alert: Those who notoriously accuse those of us concerned with population development in the High North of painting a black image should stop reading here and rather pick out Winne the Pooh books from their book shelves.
It is not about painting it black
Describing the future according to Statistics Norway is not about painting the image black. It is about facing reality. That is the only way in which we can get a political grip on our future. Silencing reality to death and rather talking about mountains and fjords is an excuse for not dealing with the situation.
So let us take a look at what Statistics Norway tells us in its report "Population Predictions for Municipalities 2020-2050". The report was presented a few days ago and has been cited, from local perspectives, in a selection of news media.
Up until 2050, Norway's population will grow by 11 percent. Four counties stand out, two of which constitute what is referred to as Northern Norway. In Nordland County, population figures will decrease by 1.6 percent, whereas Troms and Finnmark [now one county] will see a modest 3.6 percent growth. Nordland is the only county expected to experience population decrease in this period. Troms and Finnmark is the county with the decidedly weakest growth from a national perspective.
In Nordland, it will only be 2022 when the county has more people above the age of 65 than below 20
In total, this means that in 2050, 92 percent of the Norwegian population will be living south of the Nordland county border.
Painting it black?
Cannot be dressed to cover
No, but it may sound like statisticians are painting a black image when they continue describing demography development in the High North. The problem is that reality cannot be dressed to cover up.
All counties in Norway are moving towards an ageing population, but some of them face this milestone very early in the 30-year perspective that is drawn up for us.
In Nordland, it will only be 2022 when the county has more people above the age of 65 than below 20. In Troms and Finnmark, this will happen in 2025. By comparison, Oslo will only face that situation by 2045.
We are not talking about predicting the future here. We will be there in just two years.
When some municipalities in Troms and Finnmark nevertheless will have a lower number of old people than the national average, that has nothing to do with an influx of the young. The explanation is rather that life expectancy in these municipalities is lower than for the rest of the country. That is a fact that definitively not causes excitement, exactly.
The rest of the statistics tell a tale of municipalities with a strongly negative population growth combined with an age wave.
Care homes or jobs?
This is the backdrop when the government these days puts its final touch to the white paper about the High North, which will definitely cover the demographic development of the North extensively. There will also be many words about security politics, about peace and stuff like that.
Building jobs is so much funnier than building care homes
This commentary was originally published in Norwegian and has been translated by HNN's Elisabeth Bergquist.