Arne O. Holm says

Everybody Knows Norway Borders on Russia, yet Some Know It Better than Others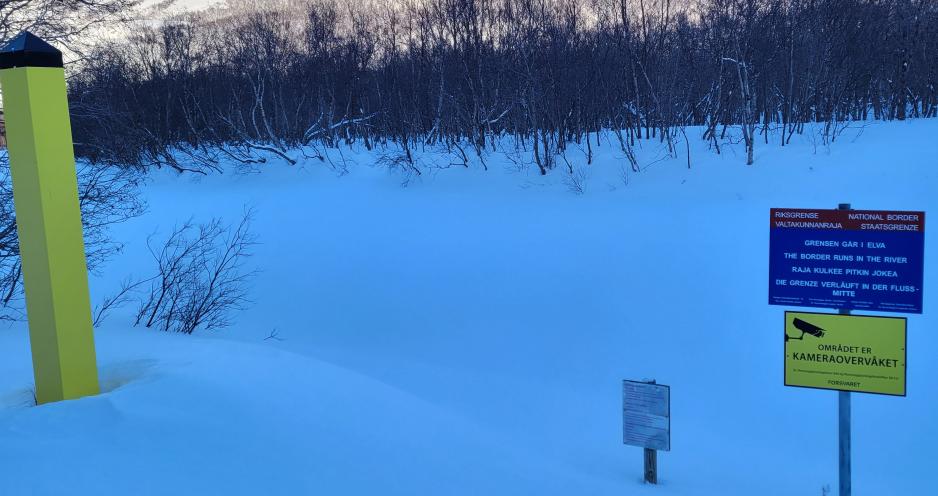 Commentary: First, we led them into a serious climate crisis. Then they were hit by a pandemic that none, despite warnings, had prepared us for. After that, Vladimir Putin sent his murder weapons into the European civilian population. This is the world in which we let our children grow up.
Even as my plane takes off from Kirkenes heading south, I notice a change of atmosphere. On the airport train from Gardermoen to downtown Oslo the transformation is nearly complete.
Grense Jakobselv
I have moved from an area of Norway strongly marked by the war in Ukraine into a village fairly unaffected by the ravaging of war. Ever since Vladimir Putin forced his soldiers to the Ukrainian border, my head has been in a state of mental preparedness.
Everybody knows Norway borders on Russa.
Some of us know it better than others.
The day before leaving Kirkenes, I rented a snowmobile and dove to Grense Jakobselv. I followed the Jakobselv River separating Norway from Russia. An at times small river, flowing northwards and into the Varanger Fjord. Out there, by the coast, almost carved into the mountain, one finds the King Oscar II Chapel. In the choice between a warship and a church to solve border disputes between Norway and Russia, the latter was chosen.
The church was built in 1869 and it is still there.
Only the neighborhood has changed. Local residents left the hamlet in the 1970s and 1980s. today, the church is surrounded by advanced border posts on both the Russian as well as the Norwegian side of the border.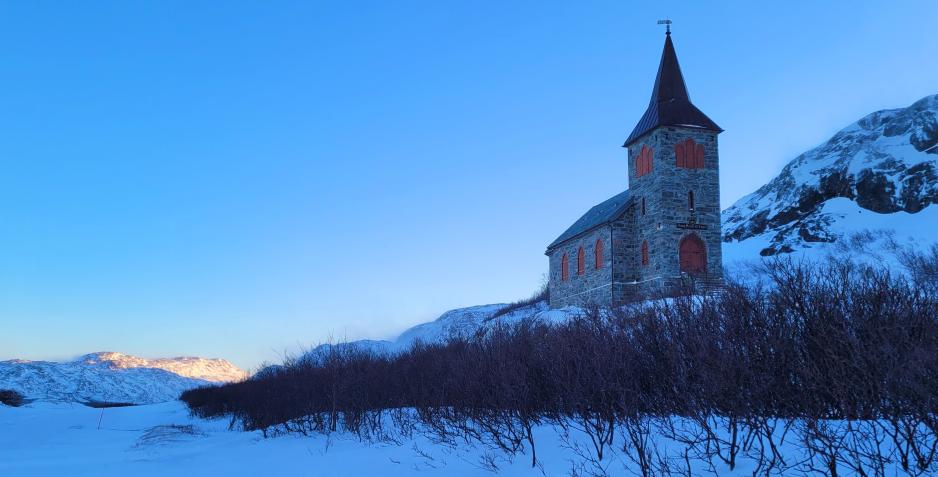 Border mark of peace
I think of this border mark of peace while strolling along Karl Johan. Around me, an everyday life ever-so-often interrupted by friends and colleagues with their roots placed in Ukraine, Russia or Eastern Finnmark.
Peace has been torn apart by a brutal despot and replaced with a fear hitting the North harder than the South.
Russian children in Norway are subject to verbal abuse. Business on the Russian border is furloughing its staff, and there will be firings. A business that was already fragile to begin with is now losing its crucial Russian customer base, nor will they be paid for work already done. The spare part storages are emptied as suppliers fear that equipment will end up onboard Russian vessels.
Tourism, which was already on its knees following the pandemic, takes another blow.
When the consequences for Kirkenes are described, it is referred to as "inward looking". As if there were anything less inward looking than describing a slow collapse in the part of Norway that is described as the national frontline if the Russian madness were, against all presumptions, to spread to more borders.
On Oslo Stock Exchange, the pulse of the war is felt in a different way.
Oslo Stock Exchange
On Oslo Stock Exchange, the pulse of the war is felt in a different way. Early this week, the index soared. Now, towards the end of the week, the financial world is also losing its breath and perhaps feeling a sense of fear. The joy over soaring raw material prices is replaced with fear of the war spreading into hour home markets, just like it has already hit business that believed in cooperation with Russia.
I also taste a sense of privilege as I sit in a Norwegian news room while my colleagues in Russian independent media are shut down and have to flee their country. The truth about the brutality of war is to be kept secret from Russia's inhabitants at any price. For years, journalists have cooperated across borders through the organization Barents Press.
That has been a precious collaboration that will hopefully find a way through the current crisis we find ourselves in.
Equally precious has the research cooperation between Norway and Russia been. That, too, is shut down now. We should at least facilitate a continuation of research cooperation with Ukraine.
Norway Cup
Behind the Oslo Stock Exchange building downtown Oslo one can see the Ekeberg Hill rise. Up there, on the Ekeberg Plain, one will find the world largest football tournament for youth every summer.
That same invite should have gone to Russian youth who want to play football in Norway.
This year, someone has decided that Russian and Belarusian boys and girls are to be shut out. Innocent teenagers are punished for something they do not have any guilt in whatsoever. Young people who carry the hope of a future opposition in Russia are to be locked in in their home country.
The military exercise Cold Response is soon kicking off. In an interview, the Chief of the Norwegian Joint Operations Headquarters Major General Ynge Odlo regrets that Russia has declined its invitation to be present during the exercise.
That same invite should have gone to Russian youth who want to play football in Norway.
The thoughts that caught me outside the church in Grense Jakobselv still pursue me along Karl Johan.
Our children deserve a better legacy than the one we are about to leave them.
This commentary was originally published in Norwegian and has been translated by HNN's Elisabeth Bergquist.