Denmark Increases Defense Spending and Prepares for Chasing Submarines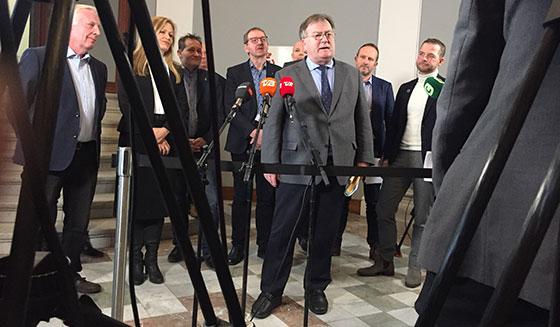 For the first time in 14 years, Denmark is once again preparing to chase submarines. The new Defense Settlement for 2018-2023 increases annual allocations to the Defense by more than 20 percent over the next five years.

For the first time in 14 years, Denmark is once again preparing to chase submarines. The new defense budget settlement increases annual allocations by more than 20 percent over the next five years. There will also be a considerable increase in eqipment investments.
Two months ago, the Danish intelligence services presented its annual threat assessment, arguing that cyberattacks represented the biggest threat.
Now the nation is also preparing to equip Danish frigates and helicopters for submarine chases. According to the Danish journal Ingeniøren, Russia's increasing military activity has caused a change of opinion in Folketinget, the Danish parliament.
In 2004, a majority in parliament decided to close down the Danish submarine fleet.
In the following years, in particular the latter half a decade, Defense leaders have started expressing their desire for the politicians to once again to prioritize submarine defense.


Potential threat from the east
- In reality, we do not have a clue about whether or not there are foreign submarines in Danish waters, said Commander Johannes Riber Nordby at the Royal Danish Defense College to Danish daily Politiken in 2014. 
The two last defense submarines, S324 Springeren og S323 Sælen, were discharged from service shortly after the decision to close down the submarine fleet.
This is now set to change, following a three weeks' old decision about once again establishing military capacity for tracking submarines.
- Our existing capacity is not sufficient for anti-submarine warfare, nor for protection of our own waters. The new defense settlement fortunately addresses that issue and we will receive exactly what we need in order to have credible anti-submarine defense and warfare capacity, said Commodore Torben Mikkelsen at a recent defense industry press conference.
The recent defense settlement implies that some of the military Seahawk helicopters are to be equipped with sonar equipment for tracking submarines. Three frigates and support vessels are also to be equipped for participation in anti-submarine warfare.
- During the past 15 years, we have optimalised our defense capacities for missions in sands and warm weather, where a sonar will not be of much use. However, we are now increasingly looking at how to face a potential threat from the East, says Karsten Marrup, a military major who heads the Royal Danish Defense College's Centre for Air Operations.


Significant increase
The new Defense Settlement for 2018-2023 provides a significant increase in Danish defense investments. The parties have agreed to increase allocations for 2018 by DKK 800 million and by 2023, they will increase to DKK 4.8 billion, which equals an annual increase of more than 20 percent.
A press release from the Danish Defense Ministry states that the Settlement strengthens the Danish defense's contribution to NATO's collective determent as well as its ability to participate in international operations. The Settlement will also contribute to strengthening the efforts in the cyber area.
- The Settlement points out the strategic direction of the Defense. At the end of the Settlement period, we will have a strengthened Danish defense, with more soldiers and more equipment, and our preparedness is also strengthened, says Danish Minister of Defense Claus Hjort Frederiksen.
Who circumnavigates Greenland?
In the Defense Ministry's substantial Arctic Analysis, presented in 2016, a point was made of the fact that the Danish defense does not have any means by which it can discover and deter submarines in its vast, Arctic Ocean areas.
- We have started thinking about which submarines are circumnavigating Greenland. It may probably be relevant to investigate what there may be in the Greenlandic fjords, things we as per today do not have a fighting chance of discovering, says the major.
The military's Seahawk helicopters are now to be equipped with torpedoes for the first time ever, torpedoes that can be launched into the water to pursue hostile submarines.
When all the new systems for the helicopters and vessels are in place, Denmark's submarine capacity will, according to the new Defense Settlement, meet NATO's benchmark criteria in this area.
According to Ingeniøren, the Danish air forces received the three first Seahawk helicopters in 2016, and the last one is scheduled for delivery this summer. The first helicopter was declared operative a few months ago.






Les artikkelen på norsk