Russian Ambassador: "Things should Work as Usual for People in the North"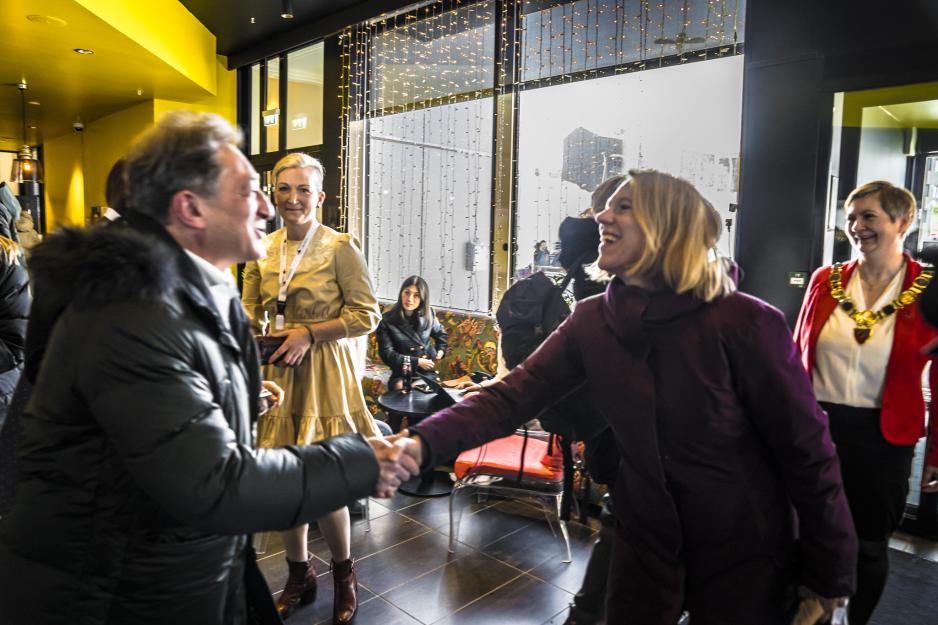 The Norwegian Foreign Minister and the Russian Ambassador agree on one thing; the good cooperation and cross-border dialogue between Norway and Russia should continue despite the tense security policy situation.
Note: This article was originally published in Norwegian on Wednesday afternoon, prior to the Russian attack on Ukraine. (Journ.note.)
"We have not seen any unusual activity in the North that causes worry in relation to Russia, however, we must be prepared for it to happen", says Norwegian Foreign Minister Anniken Huitfeldt (Labor).
When opening the Kirkenes Conference on Wednesday, she was clear that Norway condemns Russia's invasion of Ukraine. Yet she stresses that good cooperation and the dialogue with Norwegian and Russian neighbors in the North should be preserved.
In Sør-Varanger and Kirkenes municipalities, the inhabitants have been involved with cross-border cooperation for years. This cooperation is valuable both for Russians as well as Norwegians, be it in trade, industry, culture, or children's sports.
"This cooperation is treasured by both sides, which provides hope", Huitfeldt said.
The message about cooperation was shared by the Russian Ambassador to Norway, Teimuraz O. Ramishvili, who encouraged cooperation and dialogue despite a tense security policy situation.
The Ambassador says the people who live in the North – that is, not politicians and others – are not as concerned with what governments do further south.
"Those who live in the North have other interests and to them, things should work as normal. Border cooperation now works as it should", Ramishviliy says.
Sanctions may hit broadly
Ramishvili believes the western sanctions will hit business and people in Northern Norway in addition to the Russian north, even though he admits that the sanctions against Russia are negative, yet not dramatic.
"However; I do not want to minimize the negative consequences of the sanctions. Amongst others, Norwegian exports will decrease. Are the sanctions good for Northern Norway then?", Ramishvili asks.
Can the Arctic Council survive?
Russia currently holds the chairmanship of the Arctic Council, and Ramishvili is clear about the Council's working well on its own, despite the Ukraine crisis.
He now hopes for peace in Ukraine.
"I hope there will be no provocations, although it may be a bit late for that. What happens now is a serious signal to the big powers, actually eight years of signals that should have been taken seriously", the Russian Ambassador says.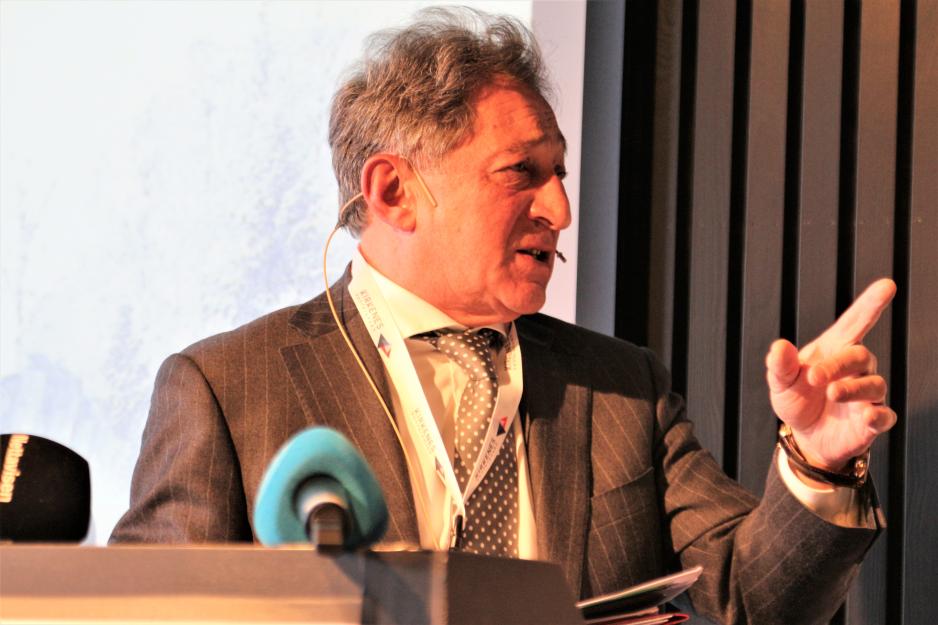 Exercise more than before
In April, Norway hosts and leads the NATO exercise Cold Response, which gathers thousands of allied troops on Norwegian soil.
The Foreign Ministers says these exercises are more important than ever.
"We cannot improvise if the crisis were to occur. Thus, allied forces train and exercise more and more in Norway now than they did just years ago, yet still less than during the Cold War", Huitfeldt says and adds that the new situation and the challenging relationship with Russia clearly show how dependent Norway is on NATO.
"Therefore, we strengthen our armed forces in the North. Yet even if there is a giant military rearmament just a few miles further east, there is still low tension and dialogue in the Arctic", the foreign minister continues.
She is nevertheless clear about where Norway as a NATO country draws the line.
"We do not negotiate about public international law."
Joint management
Norway and Russia currently cooperate closely in several areas and jointly manage enormous fish resources. The neighbors also cooperate about search and rescue at sea. We continue doing so, Huitfeldt says.
"As neighbors, we must talk with one another. Therefore, Norwegian-Russian cooperation continues. That is in both countries' interest."¨
Everyday life should work
She receives support from State Secretary Matti Anttonen of the Finnish MFA, who entered the stage after the Russian ambassador.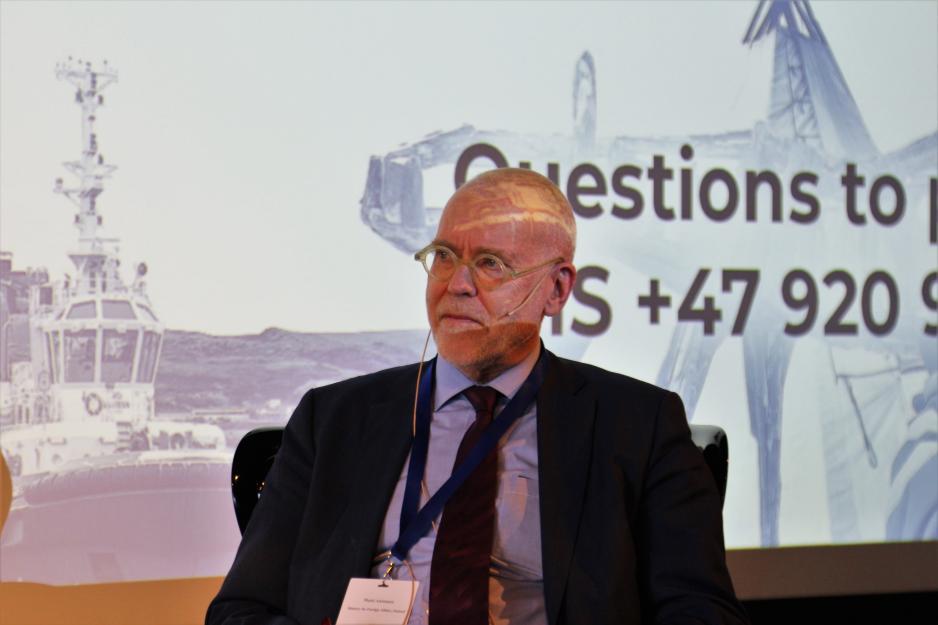 "We do not know how long the tense security policy situation will last. It is not good that the sovereign rights of Ukraine have been violated. If the situation does not improve, we must consider what we do. However, we are neighbors and must preserve the relationship and facilitate for business. These practical things have to work every day", Anttonen said.
The message from the three neighboring countries is uplifting for the population located near the border.
Lauds cooperation
Anniken Huitfeldt closed with an encouragement about meeting.
"When tension runs high, we must protect our meeting places, like in Kirkenes."
Huitfeldt's participation at the conference was shorter than scheduled. Shew as originally meant to participate in a debate after her speech. Her Russian counterpart Sergey Lavrov was not present, however, Russian Ambassador to Norway Teimuraz O. Ramishvili read a speech from Lavrov in which he did not say anything about the Ukraine conflict.
On the other hand, Lavrov praised the multilateral Barents cooperation for contributing to maintaining trust, stability and good neighborly relations in Northern Europe.
This article was originally published in Norwegian and has been translated by HNN's Elisabeth Bergquist.