High North Young Entrepreneur

Arctic Biotech Oath wins High North Young Entrepreneurs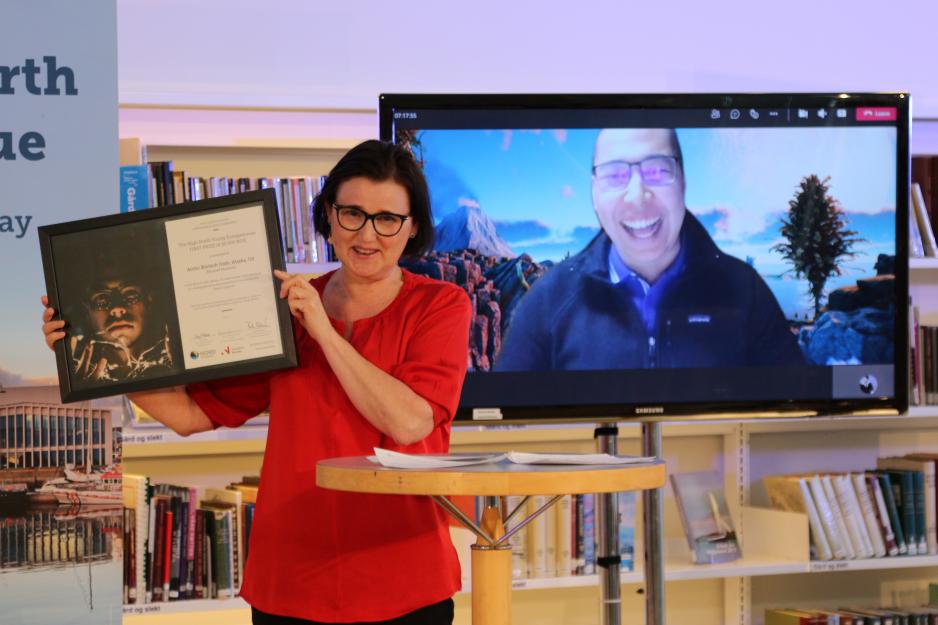 Three unique projects competed for the High North Young Entrepreneur 2020 award. After a vote Alaskan company Arctic Biotech Oath took the award away, along with the money prize of NOK 50,000 (USD 5,800).
The High North Young Entrepreneur award was announced during the High North Dialogue conference in Bodø Wednesday afternoon. The audience voted on which project that they liked the most.
The founder of Arctic Biotech Oath, Michael Martinez at University of Alaska Anchorage, accepted the award through the screen.
"This award means a lot to us and we will spend the award money wisely", says a happy Martinez.
Arctic Biotech Oath provides green bio-mining extraction and recovery of rare earth elements in the circumpolar northern countries, in contrast to traditional methods that largely use acid chemicals or bioleaching with acidic thriving bacteria for extraction.
Last year the High North Young Entrepreneur committee received a number applications and 18 of them were accepted for the jury evaluation.
There were projects from US, Norway, Sweden, and Russia representing different industry fields: biotech, IT, creative industries, tourism, ocean-related, media and others.
Due to the pandemic, last years High North Dialogue were cancelled, postponing the award to 2021.
Three chosen finalists had the opportunity to present themselves and their business idea for the digital conference audience:
Arctic Biotech Oath, Alaska, US - creating precision microorganisms for biomining and medical purposes.

Norskin, Bodø, Norway - manufacture of by-products from fish.

Music Alchemy, Arkhangesk, Russia - A new format of cultural events that was launched at the end of 2017, as a merge between a live

 

concert, a creative workshop and an art therapy session.
The award consists of NOK 50,000 (USD 5,800).
The jury evaluated the project in relation to criteria: Relation to the North, quality of the project application and presented business plan, uniqueness/originality of the project's idea.
In 2019, another Alaskan company won, 60Hertz - in competition with The Berring Data Collective and Baahdy & Birdy.
The idea behind the award came following the High North Dialogue 2017, when american investor Scott Minerd of Guggenheim Partners received the High North Hero award for his efforts to promote the Arctic's economic potential through long-term investment in the region.
Scott Minerd placed his award money in a fund to support young Arctic entrepreneurs and their business ideas.