American scientists ready to fight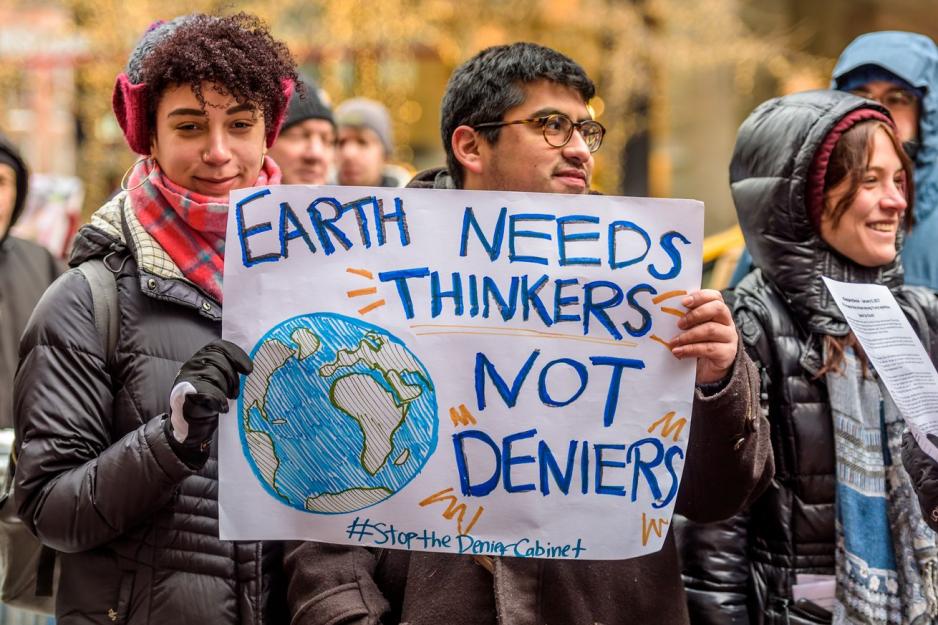 President Trump and his supporters are skeptical of science in general and climate science in particular. But now, scientists are gearing up for a fight.

President Trump and his supporters are skeptical of science in general and climate science in particular. Since the new administration took over, climate information has disappeared from government websites, government-sponsored scientists have been silenced, and Trump has promised to hunt down whistleblowers in the bureaucracy.  Scientists are gearing up for a fight.
It takes a lot for scientists to turn away from lab work and microscopes to a political fight, but president Trump has managed to mobilize the science community like never before.

- What we see is a threat to science-based policymaking and public access to scientific information, says Michael Halpern, deputy director of the Center for Science and Democracy at the Union of Concerned Scientists.

- We documented a number of attempts of political control of scientists by the George W Bush administration. This also happened during the Obama years. But we have never seen anything like this, says Halpern.
Climate information disappears
During the campaign, Donald Trump made it clear that the climate policy under president Obama would be dramatically changed by a Trump presidency. Trump and his supporters have been strongly critical of what they see as overreach from the previous administration. They emphasize that in order to create new jobs, government has to cut regulations in order to make it easier for businesses to operate. They are also deeply skeptical of what they see as exaggerations from climate scientists.
Immediately after the Inauguration in January, all information regarding climate change disappeared from the White House web pages. The Environmental Protection Agency (EPA) was ordered to remove their climate web pages as well, but this was adjusted after strong protests. The Trump transition team at the Department of Energy (DoE) demanded answers to a 70+ point questionnaire on details regarding participation in and statements from meetings on climate change.

DoE leadership refused to provide the information, but bureaucrats and scientists feared this was the start of a witch hunt. A number of government agencies (including EPA and DoE) were told to stop sharing research information with the public until the information had been screened by the political leadership. This included information from scientists of issues like measurements of water and air pollution.

On top of this, research grants were frozen, and scientists supported by government grants were forbidden to speak to outside audiences. And last week, the climate-skeptic Scott Pruitt, who as Attorney General of Oklahoma had sued the EPA multiple times, was approved by the Senate as the agency's new Administrator.


Alarming

- These developments are alarming. When peer reviewed science is withheld from the public—which is the direction that the Trump administration seems to be heading--it is censorship. When scientific findings are watered down by political staff—a likely motive of Trump's mandated political review of science shared by key science-focused agencies--it is no longer science; It is propaganda designed to misinform the American people about the threats of climate change and pollution to public health, clean air and clean water, says Cathleen Kelly, Senior Fellow at Center for American Progress.
The Trump administration's attempts to increase political control has infuriated the science community, and scientists and bureaucrats alike are preparing for battle. Like Trump himself, they make frequent use of social media. Twitter overflows with inside information from anonymous sources inside the administration, relayed via "alternative" channels like @altEPA, @RogueUSDoE og @altUS_ARC (US Arctic Research Commission). Media organizations like CNN and New York Times receives record numbers of whistleblower messages via encrypted apps like Signal and SecureDrop.


#Sciencenotsilence
Fearing that data will disappear from government servers, students and scientists all over the United States have gathered for «hackathons», where they volunteer to transfer data to secure servers outside the government, using websites like DataRefuge and InternetArchive. #Sciencenotsilence has become an internet war cry, and mobilizes crowds who never before have been politically active. 

On April 22, March for Science is expected to draw large crowds in Washington, and the campaign behind the march encourages scientists to "walk out of the lab and into the streets".

- If climate change and environmental science produced by the federal government is weakened or hidden from the public, the Trump administration will undermine city and state planning, disaster preparedness, and policy making at all levels of government. Even more worrying, if the Trump administration continues to silence employees, suppress facts and science, deliberately misinform the American people, and attack the free press, it will radically undermine U.S. democracy and U.S. credibility and standing in the world, says Cathleen Kelly.


Budget cuts expected
In his speech to Congress this week, president Trump did not say much about neither science nor climate change. But he did emphasize his message on the need to cut regulations in order to make it easier for companies to create new jobs, and he has made it clear that he will roll back many of the environmental regulations put in place under president Obama.

The president's budget proposal includes a 20% reduction of EPA staff, and may eliminate programs designed to help local communities in Alaska adjust to the effects of climate change. The final budget will depend on future battles in Congress, but one thing seems certain: Scientists will have reason to be concerned for a long time to come.