When Arms Follow the Poet's Words About "Looking to the North", the Arctic Liturgy Should Be Re-Written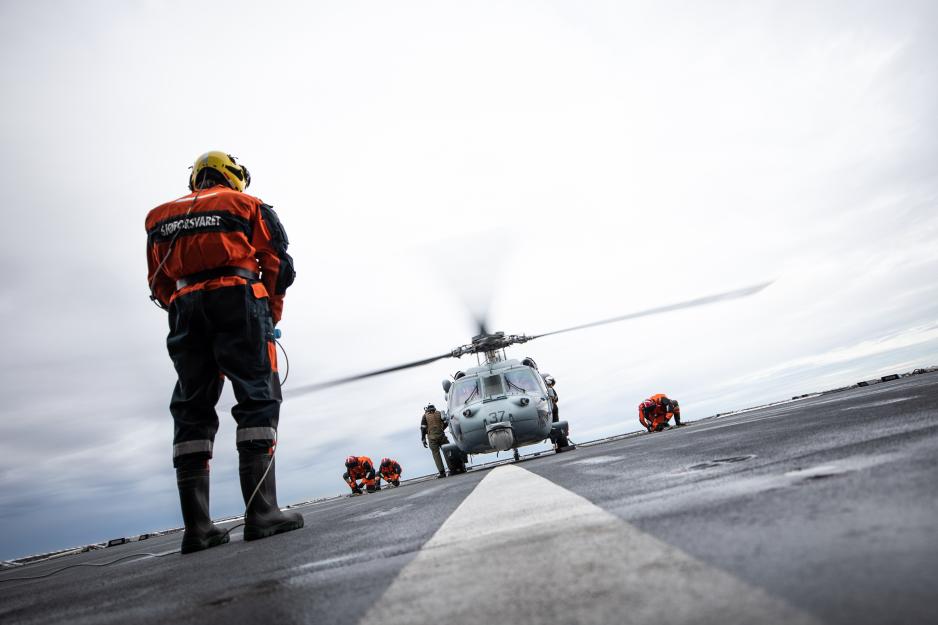 Just as the church has its own liturgy, meetings about and in the Arctic also follow a distinct pattern. Initially, the Arctic is declared a region of peace. This is followed by a notable pause in order for the emphasis of this message to sink in with the audience.
And then, following a lengthy elaboration about one's own ambitions, in particularly in security policy, on behalf of the Arctic, the Arctic service closes with a prayer about continued peaceful coexistence.
Then there are local variations. In Norway, one should always find a place for the words of the poet Rolf Jacobsen about "looking more frequently to the North". The call is most often performed by a visiting southerner. Though it never replaces the Prayer of Peace, it is rather an addendum to the international ritual.
Pieces in a military play
But perhaps it is time to provide nuances to this Arctic litany.
An increasing number of nations take the words of Rolf Jacobsen seriously.
They aim their weapons of war towards the Arctic with increasing speed.
They place their weapons and soldiers in the Arctic with increasing speed.
And they turn the inhabitants of the Arctic into pieces of a military-political game with increasing speed.
And, as in all other war rhetoric, the rearmament of the Arctic is a "necessary" response to the actions of the enemy.
However useless parts of the ongoing or scheduled rearmament is, it is nevertheless a response to aggression by others.
Fighter planes to Greenland
Take for instance the most recent response from Denmark to the Russian military activity in the Arctic. The Danish military intelligence services last year published its risk assessment. In this document – all countries have such risk analyses – the Danish intelligence services point out that Russia may be about to deploy fighter planes at Nagurskoye at Franz Joseph's Land. The map shows that this base is located only 1,000 kilometers from the North Pole and the northern parts of Greenland. That is so "close" to Danish territory that if they were to refuel in the air, Russian military planes would be able to reach the Thule base, which constitutes an important part of American military presence on Greenland.
Trump's absurd proposal to buy Greenland poured water on the mill for Danish defense politicians, who brought back an old idea about Denmark having its own fighter planes located on Greenland. In the time before Trump's tweet, this was considered rather absurd from both a military as well as a political point of view.
However, that is no longer the case. Today, Danish Defense Minister Trine Bramsen does not reject the idea of a permanent Danish fighter plane presence on Greenland.
New fighter planes to Iceland
For those of us who have been frequently to Iceland over the past few years, it is remarkable to notice how the almost shut-down American base on Keflavik airport is now coming back to life slowly, but steadily. New houses are built, and old houses are modernized to receive an increasing number of American soldiers. For the first time in history, three American B-2 Spirit bomber planes landed on Iceland just a few days ago. These are planes that are able to use both traditional as well as nuclear weapons.
A major Russian military exercise took place off the coast of Nordland and Troms Counties in Norway mid-August. According to the [Norwegian] Ministry of Defense, this fits into a pattern in which Russia "is operating and running military activity more frequently and further west than before".
Russia is a potent military power and has a defense that combines traditional forces with hybrid ones, spiced with threats about use of nuclear arms. – That gives us every reason to pay attention, said Chief of Defense Håkon Bruun-Hanssen in a podcast with the Utsyn organization, which is also mentioned in High North News. [Available in Norwegian only.]
Military activity in the High North increases on Norwegian territory too, in particular through the Trident Juncture exercise and the deployment of American soldiers further north.
Russia and the USA
And, like most people must have noted, the USA has announced increased military presence in Arctic waters.
Only two weeks ago, Norwegian, Swedish and Finnish fighter planes conducted close combat training in the air above Bodø.
Non-Arctic states play these war games too. China is accused of having military ambitions in the Arctic, whereas Germany's recently adopted Arctic Strategy includes a separate chapter about security policy. After listing what Germany considers to be warning signals, the German strategy concludes like this:
This increases the potential for non-cooperative behavior in the Arctic, [something] that threatens the economic, environmental and security policy stability of the region and through that affects Germany's security interests.
Prayers and incantations
The list of military activity in the Arctic could be longer, yet it is already long enough to go through the peace ritual that plays out at every single Arctic conference.
The arms races follow Rolf Jacobsens words about looking north, however, they are loaded with gun powder.
Every weapon used in the Arctic is justified by a desire to create peace.
However, instead of starting our Arctic services with the ascertainment that we live in a peaceful region, we should rather emphasize the closing prayer about continued peaceful co-existence and dialogue.