- We Need Mining and Should Promote It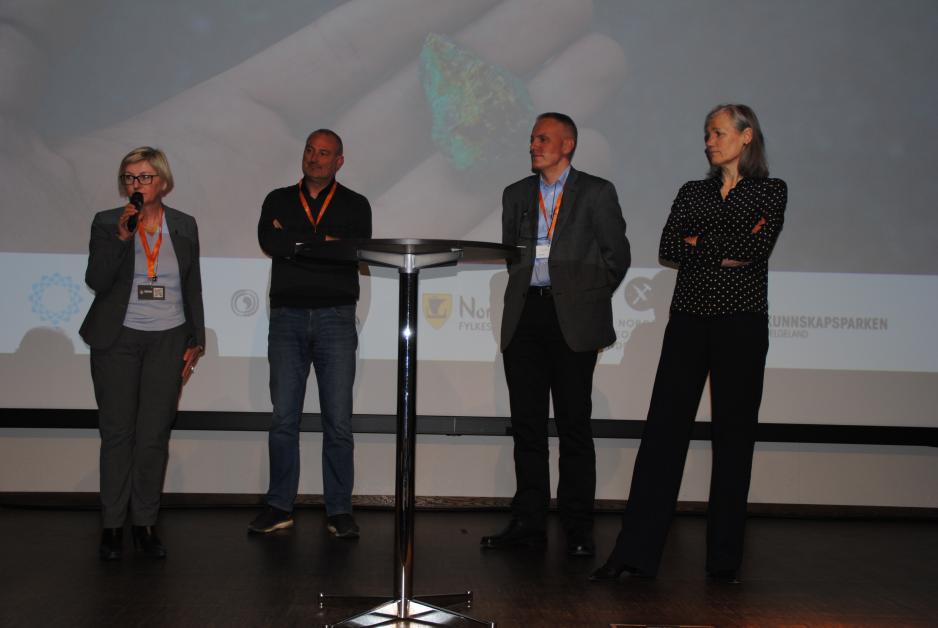 - The mineral industry is a prerequisite for a green shift – people will have to get that soon. Besides, the application process needs to be more streamlined.

- The mineral industry is a prerequisite for a green shift – people will have to get that soon. Besides, the application process needs to be more streamlined.
Most participants at the Geonor 2018 conference in Mo i Rana, Norway appear to agree on one thing: The mineral industry, mining and extraction should be promoted to a far higher extent than today. No minerals – no green shift.

Deposition is tricky
While that may be simply put, there are nevertheless a few issues that may cause trouble. Deposition of mining sludge is one of them.
Another theme on which the industry seems to agree, is that the application processes should be shorter and maybe even simpler.

Required for a green shift
The role of municipalities in the mining industry was one of the headlines in Mo i Rana, when the industry discussed itself and the importance of minerals in Norwegian value chains.
The world depends 100 percent on minerals being extracted, and this dependence will increase dramatically with the green shift. Mineral extraction is required for batteries to be produced.

Long and arduous process
If minerals are not extracted in mines, solar panels cannot be produced. Fiberglass, a key ingredient in the production of windmills, contains a sizeable share of minerals from the depths of the earth.
And in order to extract these key components, one first has to located the deposits, then map it and apply for exploration licenses. Following that, the deposit has to be mapped in greater detail, then there's the exploitation permission application, hearings, detailed plans for startup, operations and not to forget: the cleanup after eventually closing down operations again.

Like a relay race – with disqualifications
In the end, after however many years it may take, the company can apply for – and maybe receive – an operations license. In the process, there may have been many rematches. To put it in the words of Trond Watne from Brønnøy Kalk:
- It is like a hurdle race where you are disqualified or returned to the starting line if you miss one hurdle. We would rather have participated in pole vault, where the bar is placed high, yet when you are successfully over, you can put it behind you and move on.

A municipal duty
Brønnøy Kalk used 8 to 10 years on its process of acquiring an extension of a regulation plan in Brønnøy municipality, and that was for a chalk quarry that had already been operative for quite a few years.
Municipalities, who hold the planning authority, play an important role in mineral extraction in Norway.
- Municipalities have a genuine duty to secure availability for important mineral deposits, the Director of the Norwegian Directorate of Mining Randi S. Grini emphasized.

Early plan clarification
- Mineral resources should be included in regulatory plans. The State also wants private actors to conduct targeted mapping for development of the mineral industry.
In such cases, early planning clarification is crucial to attract the right capital, Grini said. She stressed that a capital-intensive industry like mining wants predictability.
- Stating the truth as early as possible if a municipality does not want mining within its boundaries is also an example of predictability, she said.

Predictability is a necessity
Predictability is a keyword for development of the mineral industry. While it took Brønnøy Kalk 8-10 years to complete its process, Nordic Mining is currently looking at a 15-year process for its project in Naustdal, on the west coast of Norway, with deposits to be located in the Førde fjord.
The local Council's chief administrative officer, Øyvind Bang-Olsen, pointed out that going through such a process without external expertise and help is very difficult for a small municipality.
He also referred to a turf war between the Ministry of Environment and the Ministry of Trade and Industry, which did not make matters any easier for the municipality.

Leave something for the municipality
An important signal from Bang-Olsen to the industry was, nevertheless, that the industry should let there be an upside for the municipality too, in addition to an increased number of jobs.
- Contributions to further societal and business development may be one option, the CAO said. Nor did he rule out some sort of base interest payments to municipalities.
After day one of the Geonor 2018 conference, all participants could agree on one thing: Mines and the mineral industry must rise on the agenda. Visibility and sufficient information about good projects will be crucial for raising further support for new mining operations.

Not in my back yard
Only through extensive information and as thorough, but perhaps faster, processes can the apparent Norwegian reluctance against the mining industry be conquered.
Everyone needs the minerals that are extracted in mines, however, no one seem to want a mine in their neighborhood. "Not in my back yard" is a thoroughly established and well-known term in the mineral industry too.






Les artikkelen på norsk