Want to close the knowledge gap about Arctic with feminine guile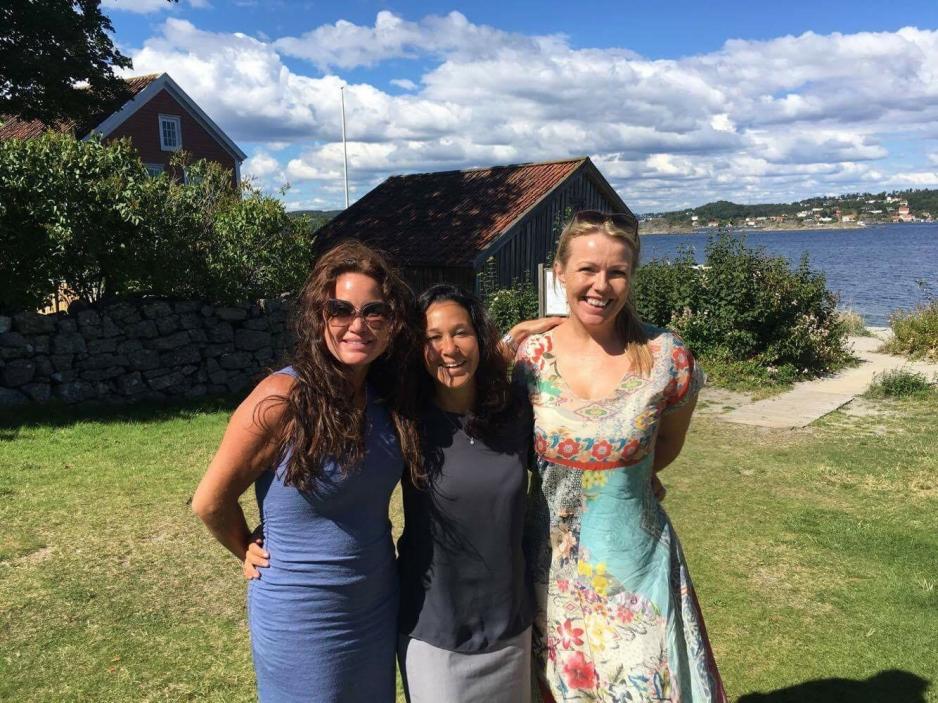 They met quite randomly and discovered that they were working with the same values. Now they are turning it into business.

They met quite randomly and discovered that they were working with the same values. Now they are turning it into business.

The Arctic Advocacy Group is their new invention. Christin Kristoffersen, Lesil McGuire and Jessica M. Shadian are not modest in their ambition. They want to close some of the knowledge gap many are experiencing between local communities, investors and Arctic states. The company is to be and advisory unit for Arctic questions all across the global Arctic.
Christin Kristoffersen used to chair the Local Authorities in Longyearbyen, Svalbard, and met the others at a conference in Canada, where she was one out of four womene on an expert panel discussing the Arctic. That was to become the beginning of both professional cooperation and friendships.
- There were so many pieces of the puzzle falling into place when we met, and since then we have used each other as professional discussion partners, says Kristoffersen. Now they are taking their work one step further.
Solid knowledge base

- We have a very solid knowledge base between the three of us. We have broad political experience, and broad experience with people, says Kristoffersen.
Lesil McGuire is a senator in Alaska, and Dr. Jessica M. Shadian is among others holder of the Nansen Chair professorate at the University in Akureyri. Together they will take on assignments that help the various actors talk better together, be a link and a catalyst between state and local levels.
- We see that there are large gaps between the overall strategies developed for these areas, with many stakeholders to safeguard, and the people who live in the Arctic and the needs and competence they have locally, Kristoffersen says. Together with her new colleagues, she sees that the challenges are the same across the north, whether it is about Norway, Alaska or Canada.
Lifting local communities

Local communities that need assistance in explaining their potential and how they are relevant is one area in which the Arctic Advocacy Group sees that it is needed. Another area is regional development and how regions can position themselves to become more visible and heard.
- We see business actors who want to invest in the northern areas and need help to understand the local level, which does not always correspond with the strategy they see developed on a national level. And vice versa; we see local communities needing assistance in explaining their potential and targets the other way around, showing why and how they are relevant, says Kristoffersen.
Their goal is ambitious. They want to lift local communities, individuals and regional development. All this through a knowledge- and value based perspective that is aimed at strengthening the action competence locally and regionally across the entire Arctic.
Want to turn the Arctic into a business area

The Arctic Advocacy Group aims high and wants to apply to projects that they think can provide constructive and measurable results in business, resource extraction, sustainability, infrastructure and logistical solutions for both whole communities and individual actors.
- The goal is to make assistance to business- and knowledge-based development of the Arctic into a business area. We want to achieve that through working with and for the people who live in the north, says Kristoffersen.
All three women come from the north and possess a set of values that will leave its mark on their work. Kristoffersen is self-employed and Senior Advisor of International Relations for Conow, in addition to being a partner in AAG.
- We are all establishing our own independent businesses in order to start up the AAG, she says.
Now they look forward to launching the company and commencing work.
- It is important for us to work value-based, based on who we are and what we know. However, we are also focusing on making good business, and now we are just excited to go ahead, Kristoffersen says.
 Sensitive and empathic

Kristoffersen has no doubt that three female Arctic experts can do things differently.
- We believe that our competence is required for a knowledge-based and wise development of the geostrategic important and vulnerable area that is the Arctic. The sensitivity and empathy, which we as northern leaders possess, is a great strength, alongside with our competence, to bring to the table in the projects we will be working with.
- Why do you consider that a key factor?
- We know that people want to work with someone they can identify with. All three have experience from leading and developing Arctic communities, both in the fields of knowledge and business, and in cooperation with local and national authorities. The fact that we are all women makes new and more groups able to identify with a larger spectrum of Arctic expertise, she says.
Impractical

However, starting up a new company is demanding enough in itself. In this case, the founders live in three different countries across as many time zones. Kristoffersen says there are some impractical disadvantages businesswise, but they are set to overcome them.
- On the other hand, the geographic spread is so wide that it more than outweighs the disadvantages. We have business competence from the entire Arctic area, and we are positioned differently. In meeting business actors, I have learned that it is a big advantage to know all the Arctic "types", Kristoffersen. She thinks of the differences between more densely populated areas in an Arctic sense, such as Northern Scandinavia, and a more sparsely inhabited Arctic, like the northernmost areas in America.
Now the combined knowledge of the three women is to be applied to knowledge-based development in cooperation with local, regional and national actors. With feminine guile.
Les artikkelen på norsk.