Arctic Council Tensions Run High:

Verbal Thunderstorm From Mike Pompeo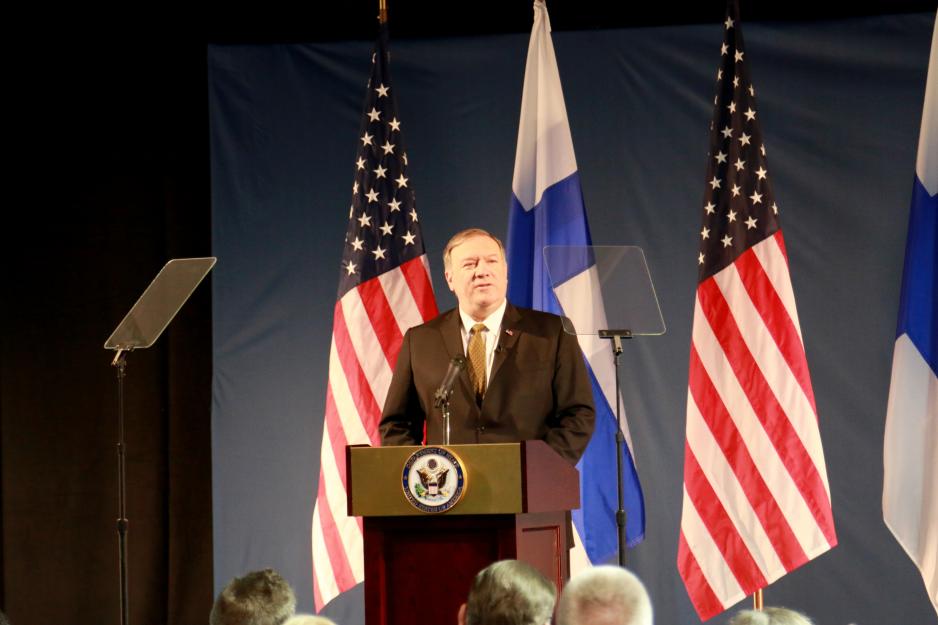 US Secretary of State Mike Pompeo thundered like an elephant into the Arctic Council MInisterial Meeting in Rovaniemi, Finland Monday. If nerves were racked prior to his speech, they were more than shaky when he left the podium after nearly half an hour.
During his speech, Mike Pompeo attacked both Russia, which is a member of the Arctic Council, and China, which holds observer status.
Not only did he attack China.
He sketched an image of a country without rights in the Arctic yet behaving as if it has. He referred to what he described as China's aggressive foreign policy in other countries and outlined an image of a nation holding military and geopolitical ambitions in the Arctic too.
At the same time, he rejected the idea that China should have any influence at all in the Arctic.
What did we just witness?
- There are only two kinds of states; Arctic states and non-Arctic states. There is not third category, like China is attempting, Pompeo said.
Following on from his lashing out at China, Mike Pompeo continued the same rhetoric against Russia, in particular the Russian militarization of the Arctic and Russia's lack of respect for the UN Law of the Seas and the right of free navigation.
So what did we really witness, those of us in the audience before Mike Pompeo on the podium?
First of all, what we saw was a pure solo approach from the American side.
The Arctic Council is a so-called consensual body, one where talks and negotiations trump votes. It is also one out very few international bodies that the USA has not yet pulled the rug under or threatened to pull the rug.
Most unusual solo play
The eight Arctic states – USA, Russia, Canada, Denmark, Norway, Finland, Iceland and Sweden – have worked for a long, long time on a joint declaration to be agreed upon when the chairmanship is passed on from Finland to Iceland.
This declaration is to be presented at the Arctic Council Ministerial Meeting currently taking place in Rovaniemi. High North News has written a series of articles about how the USA complicates negotiations because Donald Trump does not want to draw climate issues into the  declaration.
Almost three hours before Pompeo's speech, the press was led into the meeting room through an extensive security control. In the hours following on from that, invited guests arrived. The last person to come through the security control was Finland's foreign minister Timo Soino.
Foreign ministers absent
He was, however, the only one out of the seven other foreign ministers currently in Rovaniemi (in addition to Pompeo) to be present during the American foreign minister's thundering speech. The others, including Norwegian foreign minister Ine Eriksen Søreide, were remarkably absent.
This can not be seen as anything but a protest against the American solo raid that goes to the very core of the Arctic Council.
In the hours prior to the meeting, there was a nervous tension in the room. Attention was refocused from cooperation in the Arctic Council to insecurity about US foreign policy.
For most of us, tension was related to whether Pompeo would address climate challenges and through that signal a will to agree on a joint declaration or not.
Came as shock
That is why his speech came as a shock for the audience. Not because it completely lacked any reference to the climate, because Pompeo actually did talk about reducing American emissions. The shock was more due to the in part brutal verbal attacks on China and Russia.
But then again, this Monday had started with a new tweet from Donald Trump, warming about a new American penalty tax towards China. That kicked off speculations that Pompeo would address the relationship to China in his talk. For those who had seen it coming, Pompeo delivered in abundance. Because the attacks came early on in his speech, following a brief introduction during which he announced that it is the end of the era in which the Arctic Council is only about science and culture.
The next day or so will go to show whether the USA severs ties with the Arctic Council or whether this was just a threat about what we might expect in the future.
Because you can be quite certain that the other Arctic Council member states will not accept the Council's being turned into a subdivision of American foreign policy.
Lavrov is present
And to emphasize an important point in this context:
Russia's foreign minister Sergey Lavrov is very much present in Rovaniemi. He will a.o. have bilateral talks with his Icelandic and Finnish colleagues. And tonight, he is to meet Mike Pompeo at a joint foreign ministers' dinner.
Whether he will give official remarks following colleague Pompeo's lashing out remains to be seen.
Right now, there is an open battle about what future direction the Arctic Council is to take.
And the battle is played out on an open stage far north in Finland by three of the world's most powerful countries: Russia, China and the USA.
This text was originally published in Norwegian and has been translated by HNN's Elisabeth Bergquist.