US Paratroopers from Alaska Training in Northern Norway for the First Time Ever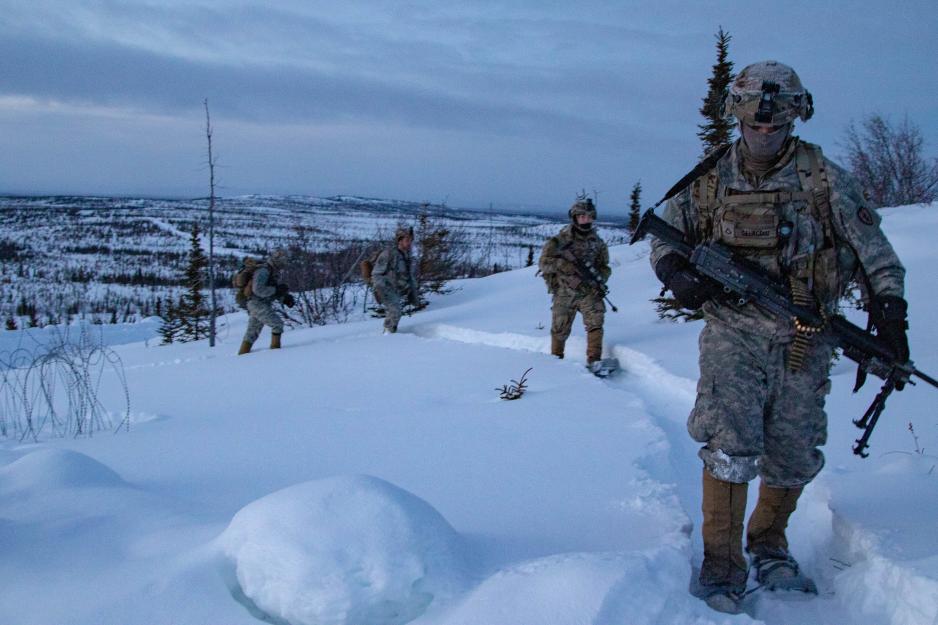 Hundreds of US soldiers will next week parachute out from a plane across inland areas in Troms, Norway arriving directly from Alaska. "Being able to handle the reception of such a force is important for Norway", says Major and Spokesperson Eirik Skomedal of the Norwegian Army.
Early next week, hundreds of parachuters from the US Army Alaska will arrive in Northern Norway.
The American troops come from the US Army Alaska 4th Brigade Combat Team (Airborn) 25th Infantry Division and will on Tuesday jump out from a C-17 Globemaster plane over Altevann in the Troms inland, coming directly from Alaska.
"Even through we do not have a parachute combat force like this ourselves, this is an important exercise for Norway. When hundreds arrive via parachute, it is necessary for the command chain in Norway to learn how to manage and control the reception of such a deployment of forces", says Major and Spokesperson Eirik Skomedal of the Norwegian Army to High North News.
The training in Norway takes place in relation to a larger exercise called Swift Response 22, which will take place at the same time in a series of other European countries.
"In May, forces will be deployed in a series of different countries, the purpose of which is to practice quick deployment of larger forces across long distances", Skomedal explains.
First joint exercise in Norway
This is the first time ever that the division from US Army Alaska (USARAK) will exercise in Norway along with the Norwegian army.
The focus for the exercise in Norway is to train in an Arctic environment, Skomedal says. The exercise commences with the parachute deployment over Northern Norway, and in subsequent days the Americans will continue field exercises together with Norwegian divisions, as well as sharp shooting at shooting ranges in the Troms inland.
"Our forces obviously share a joint interest, given that the forces from Alaska also operate far north. We have much to learn from one another", Skomedal stresses.
In an earlier interview with High North News, Army Chief Lars Lervik stated that the cooperation with the American Army on a general basis has developed in recent years. Lervik explained that they have identified a few concrete areas about which the Norwegian and the American army want to cooperate. In addition, there is an overall goal of improving the capacity to operate under Arctic and Norwegian conditions, which are quite demanding.
Interest in the Arctic
As previously reported by High North News, the USA has grown an increased interest in the High North and in operating under Arctic conditions. In 2021, the US Army also presented its first-ever Arctic strategy. It stresses the Army's need for rebuilding its advanced capacity to operate in an Arctic environment.
When asked by High North News about what the US Army Alaska potentially can do with allies such as e.g. Norway when it comes to cooperation, former USARAK Chief Major General Peter Andrysiak remarked that the division has not worked extensively with the relationship with allied and partners in the European Arctic, as the unit previously has focused on getting into and out from the CENTCOM operational area, an overall command with a geographic area of responsibility including the Middle East, East Africa and Central Asia.
As part of the work on the Arctic strategy, as well as the fact that USARAK is the army's prime representative for cold weather operations, the unit has been greenlighted to start working with other allied and partners, such as e.g. Norway, Andrysiak added.
This article was originally published in Norwegian and has been translated by HNN's Elisabeth Bergquist.