Svalbard Mine Flooded: "More Serious than Presumed"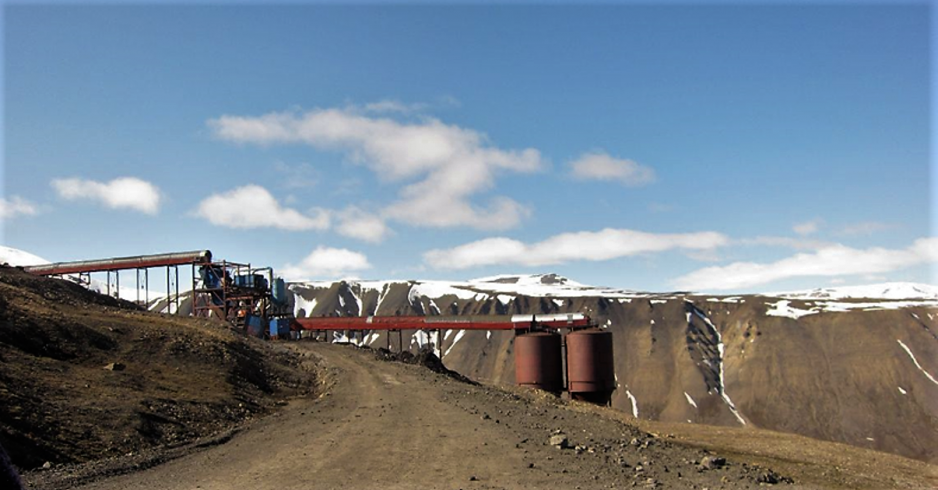 Unusual amounts of water have seeped into Mine 7 near Longyearbyen, Svalbard. CEO Jan Morten Ertsaas of the coalmining company Store Norske is not sure about when and whether the mine will be back in operation. Mine 7 provides power supply for Longyearbyen.
Summer heat above 21 degrees Celsius is rare in Svalbard. The highest temperature ever recorded in Longyearbyen was 21.3 degrees C on 16 Julyu, 1979. This record was beat this July, when 21.7 degrees were recorded.
Water seeping in is not uncommon in Svalbard's coalmines. Mine 7 is located partially underneath a glacier providing the mine with melt water during the melting season. Thus, pumps operate all through the summer.
On Sunday 26 July, a large influx of water was discovered in Mine 7 during a routine inspection. Store Norske, the coalmining company, took immediate action and launched an operation to pump out the water.
CEO of Store Norske, Jan Morten Ertsaas, reports after days filled with efforts to pump out water from Mine 7 that electricity was cut and the pumps became inoperative. Now, work is ongoing to lead the water out of the mine in a controlled way.
"We have in recent days worked non-stop to manage the situation and bring the water out of Mine 7. We have collected more equipment, more pumps and more people. We have never seen such big amounts of water in the mine before, and last night this led to a power cut and the pumps becoming inoperative", Ertsaas said on Tuesday.
The water influx has now proven to be more serious the initially presumed, and the road leading up to Mine7 is closed.
"We first need to control the water coming out of the mine. We are therefore digging a channel from the mine out towards the mountainside outside the mine, so that the water can be led out from the mine and into a river valley. In that way, we minimize the damage to houses and materials", says Per Nilsen, Head of Mine 7, at the Store Norske web site.
Store Norske has notified the Svalbard Governor's office, Longyearbyen Local Council and the formal Svalbard Mining Inspector, and it is also in a dialogue with Basecamp, a company that has a large kennel in the valley below the mine. Store Norske is also assisted by the local council and the Norwegian Water Resources and Energy Directorate's Division for Avalanches, Landslides and Watercourses in managing the situation.
We cannot exclude the option that the damages may be so extensive that restoring operations will be rendered impossible or irresponsible.  
"We want to lead the water out in areas where there are roads or natural brooks, so that there is as little damage as possible to unspoiled nature. We are also making sure the water is not led towards Basecamp, so that there is no risk for the kennel, Ertsaas says.
Mine 7 is the only operational mine in Svalbard and it provides the power plant in Longyearbyen with coal. A production halt was scheduled to last until 17 August, however, this halt will now be extended indefinitely.
Equipment and people from the Svea mine and the mainland will now assist in controlling the situation and bringing the mine back to operational condition again.
Is this directly related to the unusual high temperatures in Svalbard this summer?
"We are used to and have previously had water influx in Mine 7 through summer seasons. We cannot say for sure whether there is a connection between this massive influx of water and the high temperatures that have been observed lately; however, it is not unlikely. The highest influx came when temperatures were at the highest", Ertsaas says to High North News.
When do you expect operations to resume?
"It is too soon to tell. We are currently working on managing the amounts of water and try to bring down the water levels in the mine. At the same time, we are surveying conditions in the mine and trying to get an overview over equipment that we know or assume are under water and may be damaged. This will initially be estimates, until we get access to the mine and can inspect the damages, Ertsaas says.
He adds that Store Norske will make some assessments and set up a plan for normalizing and resuming when they have a better overview. At present, works is based on a plan for the mine to be recovered and operational again.
"However, we cannot exclude the option that the damages may be so extensive that restoring operations will be rendered impossible or irresponsible before we have a full overview over the condition and damages done", says the CEO.
What alternative energy sources may be used?
"We work along dual tracks, managing the situation and planning for business to resume, so that we have the equipment, personnel and alternative plans available when we have removed the water and can access the mine again. We do of course cooperate closely with the energy company and will discuss alternative options if we see that we cannot resume business in time", Store Norske CEO Jan Morten Ertsaas says.
Coal from Mine 7 is mainly used to supply the coalmining plant in Longyearbyen, however, some if it is also exported. According to Store Norske, Longyearbyen has enough coal in store to last for about 6 months.
The state-owned coalmining company Store Norske is preparing to keep coal production in Mine 7 on Svalbard in production until 2040. The mine employed a staff of just under 50 people in 2019.
This article was originally published in Norwegian and has been translated by HNN's Elisabeth Bergquist.