South Korean DSME Cancels Contract for Novatek Arctic LNG Carriers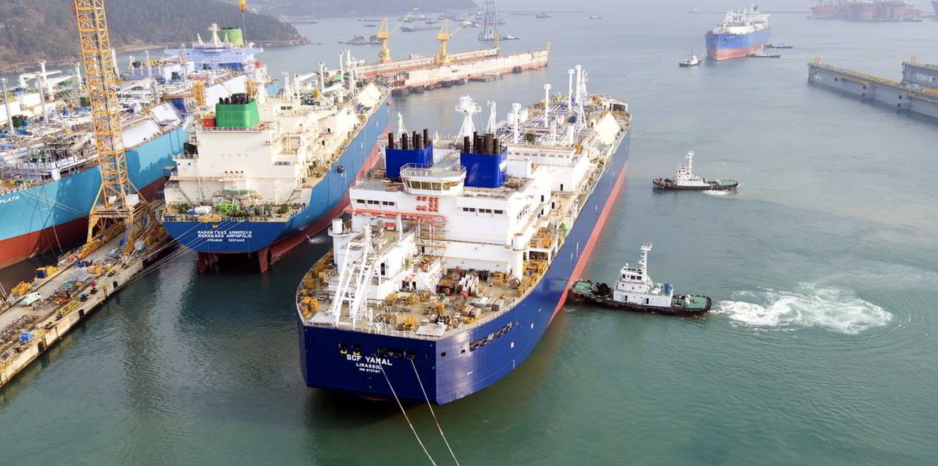 A South Korean shipyard has canceled orders for three Arc7 LNG carriers after Novatek's shipping partner Sovcomflot fails to make payments as a result of EU sanctions.
Russia's largest LNG producer Novatek is confronted with another setback related to its Arctic LNG 2 mega project. Just a few weeks ago its European partner Total announced that it would exit the project as a result of the increasingly difficult business environment arising from EU sanctions.
Shortly thereafter Chinese yards stopped work on prefabricated modules for Arctic LNG 2 as an EU ban on the transfer of liquefaction technology entered into effect.  
Now, South Korean shipyard Daewoo Shipbuilding and Marine Engineering (DMSE) has terminated a contract signed in October 2020 for the construction of specialized ice-capable Arc7 LNG carriers which were intended to transport LNG from the project site in the Russian Arctic to markets in Europe and Asia.
Novatek and its shipping partners already operate 15 of these highly specialized vessels to transport LNG from the operational Yamal LNG project. For the Arctic LNG 2 and a neighboring smaller project Ob LNG the company had provisioned 21 new vessels. 
DSME now canceled the contracts for three ships due to be delivered in February, April and July 2023, due to non-payment.
We have notified the company to terminate the contract to protect our rights.
"Due to the fact that the shipowner's payment for the construction of one LNG tanker was not made within the established timeframe, we have notified the company to terminate the contract to protect our rights," DSME said in a statement.
Novatek's Arctic plans crumble
The vessels were ordered by Novatek's long-time partner Russian shipping company Sovcomflot. While Novatek itself has thus far escaped direct sanctions, Sovcomflot faces EU restrictions. As a result of sanctions against the company and against Russian bank VEB, Sovcomflot was unable to make payments for its order.
DSME was also contracted by Japanese shipping company MOL to construct three LNG carriers of the same type, also to be used for the Arctic LNG 2 project. These orders remain valid according to DSME.
Questions also arise related to the 15 vessels that were intended to be constructed domestically by Russia's own Zvezda shipyards in the Far East with assistance from South Korean shipbuilder Samsung Heavy Industries. According to industry experts the number of ships will likely be reduced by at least half.
Novatek will have little use for a full complement of ships since Arctic LNG 2 will not enter production as planned, if at all. 
The cost of doing business in Russia
EU sanctions have resulted in substantial costs for Novatek's western partners. French energy company Total wrote off US$4.1bn, while German gas services company Linde and Japanese industrial conglomerate Mitsui also recorded losses or write downs.
The cancellation of the three Arc7 LNG tankers is not a surprise due to non-payment.
The cancellation of the orders represents a significant cost for DSME as well. The contract was valued at US$872 million. Long-time partners exiting Novatek's projects or recording substantial financial losses does not bode well for future post-sanction cooperations between the Russian company and western partners. 
"The cancellation of the three Arc7 LNG tankers is not a surprise due to non-payment. The cost is in fact harder for DSME which finds itself with 3 vessels difficult to resell because they were built specifically for Novatek," explains Hervé Baudu, Chief Professor of Maritime Education at the French Maritime Academy (ENSM).
Less LNG means less need for ships
In 2020 Novatek also moved forward with an order with DSME for two massive floating LNG transshipment and storage hubs with plans to position them at each terminus of the Northern Sea Route.  At the hubs LNG could be transferred from the special ice-capable vessels to regular LNG carriers for the rest of the voyage to Europe and Asia. 
The order was placed by Russia's State Transport Leasing Company and may also face payment issues similar to the Arc7 carriers. With Arctic LNG 2 on hold – only the first production line is likely to be completed while the second and third train will not be built for the foreseeable future – Novatek will likely no longer have a need for one or both transshipment hubs.
"I am pessimistic that the first train will be in service this summer, we will see if it will tow to Gydan peninsula in August as planned. The other two trains have been stopped by Novatek. It is likely that the transshipment hubs will not be built for the same reason," adds Baudu.
Even if Russia and by extension Novatek are able to find new non-western partners to continue construction and eventual commissioning of Arctic LNG 2, it will be several years before the company can complete its current projects. 
"Even if Putin has encouraged Russian companies to find solutions to replace Western technologies to finish building the plants, their commissioning is postponed for a long time. This would explain why Novatek does not want to pay for tankers that would be built in too large numbers and difficult to pay for if the plants do not produce," concludes Baudu.