Social Science Research Center Welcomed in the Norwegian High North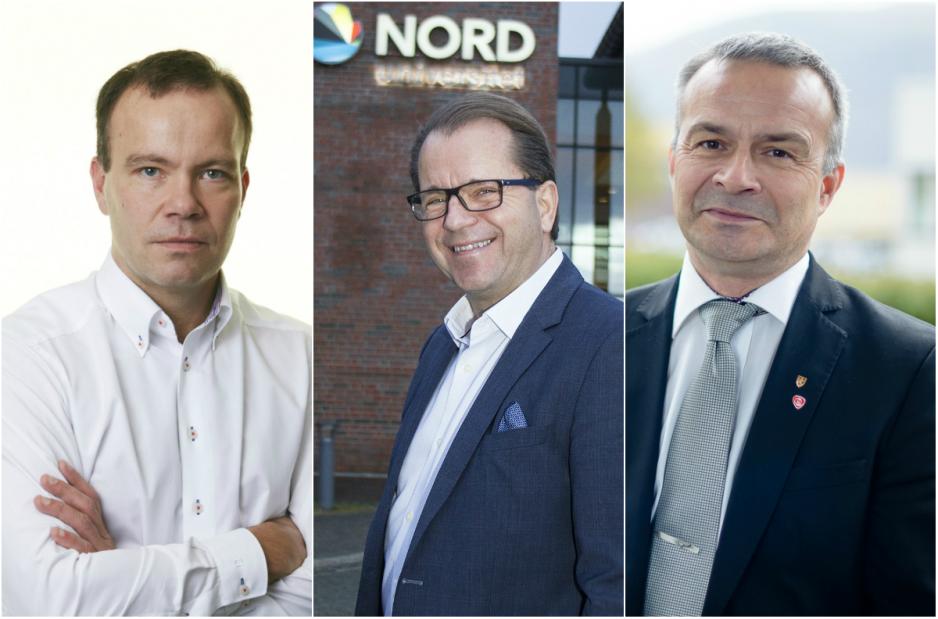 - Bjørn Olsen points to something crucial; increased focus on the High North must be followed up in all areas of society, including research.

- Bjørn Olsen points to something crucial; increased focus on the High North must be followed up in all areas of society, including research.
Troms County Councilor, Willy Ørnebakk (Labour), argues that rector Bjørn Olsen of Nord University raises important issues in his op-ed last Wednesday. http://www.highnorthnews.com/op-ed-barriers-and-opportunities-for-arctic-growth-arctic-paradoxes-and-solutions/ Ørnebakk's colleague in Nordland County, Tomas Norvoll (Labour), also supports Olsen's ideas.
- These ideas concur with the County's role as a developer in society and we would of course welcome a research center for social sciences, says Nordland County Councilor Tomas Norvoll.


Arctic business
"Most of all, we need Arctic business. A profitable, adaptable and sustainable business sector. Business and industry will ultimately deliver the economic foundation for broader development.
One way to tackle this challenge could be to establishment of a center for Arctic social science research and development, with a focus on addressing opportunities within a more multidisciplinary approach", Bjørn Olsen said in the final paragraph of his op-ed.


Increased focus must be followed up
- Bjørn Olsen is quite right in pointing out that the increased focus on the High North must be followed up in research and social sciences too. Interdisciplinarity is important and will grow even more important. These are ideas that I fully support, Willy Ørnebakk says to HNN.
He also shares Olsen's ideas about the value of interdisciplinary collaboration and argues that there already are many good examples of this.


New center is an option
- There are many solid collaboration projects going on already and it should be possible to continue building them, perhaps through establishing a new center, which Olsen mentions as an option.
The Troms County Councilor nevertheless does not fully agree with the Nord University rector when it comes to his view on the brain drain the region is experiencing, as described in Olsen's op-ed.
- I actually think there are incredibly many exciting and developing things going on in innovation too. The figures are not that bad when looking at who is educated in the High North and who stays there, who finds jobs in the north, Ørnebakk argues.


Solve its own challenges
Ørnebakk argues that the establishing of the universities in northern Norway, moving the polar research community away from the central Oslo area, and the establishing of a dentist education programme in the High North demonstrates that this is where the key lies; the region has to by and large educate its own people.
- That should be an unanimous demand from the High North, we should have the opportunity to find answers to our own challenges ourselves. The solutions lie with us, and we need the institutions in place here, Willy Ørnebakk says.


Some strange figures
- Is it not paradoxical that while business in the High North appears to be booming, population growth is nevertheless stagnant?
- There are some strange figures there, definitely, that we have to take seriously and that Bjørn Olsen points at.
I guess we see that an influx of work force can represent a problem, and that people rotate on schedules often referred to as 'oil industry rotation schedule', which does not support population and population growth in the High North. These are also issues with which we have historic experiences, for instance from the defense industry – mandatory postings and the issue of jobs for spouses.


Shares Olsen's desire
It is definitely important to find out what constitutes the background for this development, and that has to do with what I mentioned about increased focus on all areas of society. So yes, I definitely share Bjørn Olsen's desire to increase research efforts in the High North, in social sciences too, says Troms County Councilor Willy Ørnebakk.


Interdisciplinarity crucial
Tomas Norvoll also agrees with the rector at Nord University.
- These are exciting ideas from Bjørn Olsen. They fit well with the County's role as developer of society. That is why we have placed the issue of rising on the value chain on our agenda. We have to create more businesses like LetSea, where northern raw materials contribute to creating high-skill jobs in the north.
Norvoll also points out that a center for social science research, perhaps as a further developing of what already goes on in and around the High North Center for Business and Governance [at Nord University in Bodø], would be most welcome.
- I very much appreciate Bjørn Olsen's emphasizing the need for interdisciplinarity, Norvoll says.


Must meet the demands of working life
- That is also why we in Nordland have taken two initiatives in the upper secondary school system. Our education offers should meet the needs of working life. We need more youth to take educations that prepare them for studying. The High North needs more doctors, nurses, and engineers, to mention but a few.
We have also worked a lot on reducing the dropout figures in school in Nordland. It is thus both good and just that Nordland last year saw a dropout rate that for the first time ever was on par with the national average, says Nordland County Councilor Tomas Norvoll.






Les artikkelen på norsk