Signed Contract Worth Billions for Operating Hydrogen Ferries between Bodø and Lofoten: "World Class Climate Project"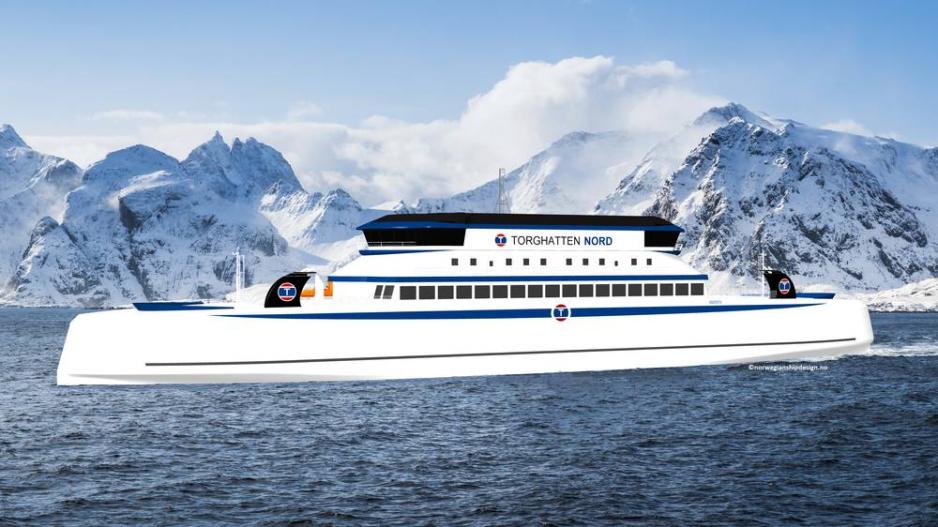 The Norwegian Public Roads Administration and Torghatten Nord have signed an agreement about Norway's first full-scale hydrogen ferry which allow for CO2 emission cuts equaling 13,000 diesel-fueled cars per year.
The Norwegian Public Roads Administration has signed a contract with Torghatten Nord about operating hydrogen ferries between Bodø and Lofoten from 2025.
The contract has a value of NOK 4.9 billion and was marked with an official event onboard the MF Værøy by Transport Minister Jon-Ivar Nygård on Tuesday 25 January. The new ferries are to be operative from 1 October 2025.
Nygård says he is pleased that Norway will be world leading in finding new and climate friendly ways in which to travel.
"The fact that future ferries between Bodø and Lofoten are to run 100 percent on hydrogen is a new milestone when it comes to climate", Transport Minister Jon-Ivar Nygård says in a press statement.
First full-scale hydrogen ferry
The ferry on the Hjelmeland-Nesvik connection in Rogaland [on the Norwegian west coast] is considered the world's first hydrogen ferry and will be operative during 2022. Here, one out of two vessels will operate 50 percent on hydrogen.
The contract that has now been signed is the second one in Norway. The ferry connection across the Vestfjord will nevertheless be Norway's first such connection with full-scale hydrogen ferries.
"We have grown accustomed to electric ferries all over Norway. Here, Norway took the lead. Some ferries travel across particularly long distances, such as the connection between Bodø and Lofoten, which takes three hours to cross the fjord. On such connections, batteries will simply not do the job. Therefore, hydrogen is an excellent alternative. I look forward to seeing the further development", Nygård says.
With more than 120 ferry connections around the country, the transport minister says it is only natural for Norway to try out climate-friendly solutions.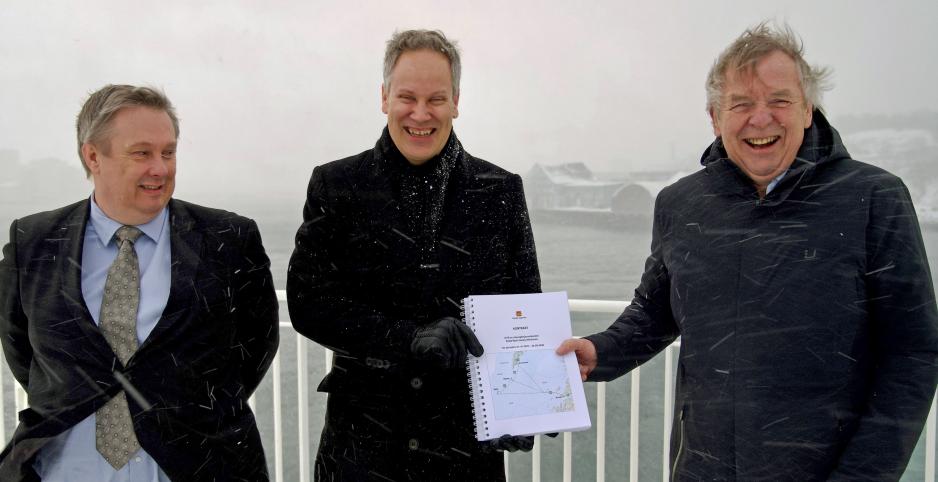 Hope for success
"We are well pleased with the level of interest in this contract and appreciate that we get to cooperate with such a safe and renown operator who also has long experience", says Division Director for Ferries at the Norwegian Public Road Authority Anders Sæternes.
The Norwegian Public Road Authority has previously contributed to introducing liquefied natural gas (LNG), battery solutions, and hydrogen as energy sources in the maritime sector.
"Now, we have taken it one step further and start using hydrogen in a larger scale. We have introduced requirements that make sure that the hydrogen ferries will be at least as stable as diesel and gas fueled ferries when it comes to operations", he adds.
World Class Climate Project
Until the contract enters into force on 1 October 2025, Torghatten Nord will build two new hydrogen vessels. The existing main vessels, which were delivered in 2012, are to be re-built from operating on LNG to low-emission solutions.
We will be the first large buyer of hydrogen in Norway  
"We will now be in charge of a world class climate project that opens concrete and exciting opportunities for green sea transport globally, new industry in Norway, as well as for local business. However, all our groundbreaking work is to be based on security, operational stability and good travel comfort for our passengers", says Torghatten Nord CEO Torkild Torkildsen.
Torghatten Nord points out that the pioneering work now commencing in order to develop and operate the hydrogen ferries will lead to ripple effects for the Norwegian hydrogen industry, the maritime sector, as well as for the Lofoten islands as a tourist destination.
First major buyer
"Many are investing in hydrogen now, however, there are no buyers. We will be the first major buyer of hydrogen in Norway, thanks to the NPRA and the government's climate initiative decisions. This also leads to significant opportunities for the shipbuilding and equipment industry to participate in developing competence in the use of hydrogen as a source of energy", Torkildsen says.
He adds that for the tourist industry, the hydrogen ferries will be a unique opportunity to take tourism initiatives and the international brand of Lofoten one step further.
Torghatten Nord reports that it also is aware of the responsibility that lies in the ferries' operating security outside of the summer season, which means a lot to the local population as well as the fish industry.
Important for the climate
Sigrun Aasland, leader of the Zero environmental movement says to Norwegian broadcaster NRK that she is excited about the new contract.
"Ferries matter a great deal in climate gas emissions. But then again, these contracts matter to the entire shipping industry", Aasland says and argues that it is important that Norway leads the way in the Green Shift.
She argues that this large contract is the beginning of a green shift in the maritime industry.
"And this is where we are heading; it should all go towards zero emissions, even the longer shipping distances", Sigrun Aasland says.
Facts about the contract and the connection
Increased capacity at the start of the new contract in 2025 will be 60 percent for passengers and 40 percent for car units.

Bodø – Røst – Værøy – Moskenes is Norway's longest national road ferry connection and also one of the longest ferry connections in general.

Torghatten Nord is to operate the connection for 15 years, from 2025 to 2040.

As an additional operation safety requirement, the hydrogen ferries shall also be able to utilize other fuels. There is a requirement stipulating that minimum 85 percent of the two ferries' energy consumption on an annual basis should be hydrogen. Hydrogen should be produced with low climate gas emissions.

Auxiliary vessels should have zero or low-emission solutions such as biodiesel, biogas, electricity, hydrogen, or a combination thereof.

The new ferries will reduce CO2 emissions of the Vestfjord ferry connections by 26,500 tons annually compared to the currently operating ferries, which run on liquefied natural gas (LNG). This equals annual emissions from 13,000 diesel cars.

Torghatten Nord has developed an interesting and future-oriented vessel design for the new hydrogen ferries in cooperation with Norwegian Ship Design in Førde [on the Norwegian west coast].
This article was originally published in Norwegian and has been translated by HNN's Elisabeth Bergquist.