See the Spectacular Photos: The Last People Have Left the Svea Mine on Svalbard
Longyearbyen: They just removed the traces of a spectacular Arctic workplace, a workplace they helped build themselves. "Luckily, it is not our decision. We have just executed it."
Four tired construction workers sit around an improvised meeting table in Longyearbyen, Svalbard. A few hours earlier, they cleared the final remains of what once was a proud mining town in the actual Arctic.
The mining town Svea, in the heart of the Van Mijen fjord on Svalbard, no longer exists. The houses have been demolished, and the airport has been removed, as have the roads, to mention a few. The landscape has regressed to how it looked in the 1940s.
A gigantic operation. A historic operation. Also known as Norway's largest environmental project.
Here are the photos taken on the day the last construction machines were transported out of the Arctic and the mining town of Svea was returned to nature.
A last dance with the crew. (Photo: Martin Nerhus Øen, Hæhre)
The final task
It is a meeting between the people who executed the very last task.
For good.
On Wednesday, the Norwegian Minister of Climate and Environment, Espen Barth Eide, visited Svea to inspect the work.
By then, the last construction workers were also gone.
Over a few hours last weekend, the machines were brought onboard a cargo ship. In the dark because one was dependent on calm winds and low water. The machine operators themselves built the improvised "quay" and boarding ramp before the construction machines set off on their final journey from Svalbard and back to the Norwegian mainland.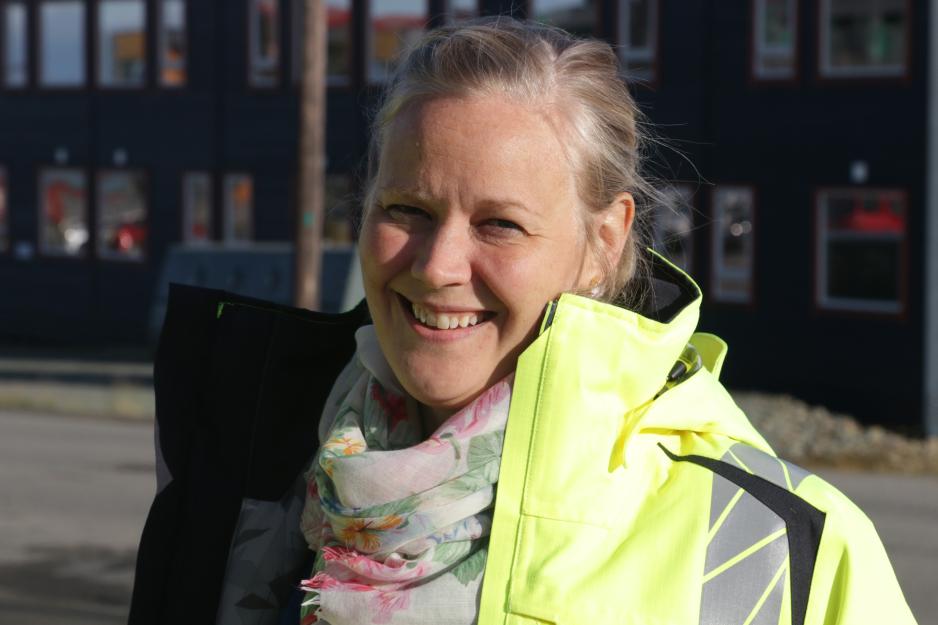 Not much different to the people who live on Svalbard. They, too, leave for good one day. 
However, the four workers I meet in Longyearbyen have a history in Svea, a story from a mine that opened in 2014 and decided to decommission after just five years.
Martin Nerhus Øen was a young engineering manager when the now closed-down mine in Lunckefjell was built. During the dismantling, he was the project manager.
Tove Sandblost was also there as HSE manager, both then and now.
Ole Marius Sprauten was a machine operator until 2014. During the dismantling, he has been the plant manager.
There is nothing left after us now.
Audhild Storbråten, Daily Manager of Hæhre Arctic, has been the Project Manager of the final parts of the disassembling.
Nothing left
The entrepreneur company Hæhre has, in addition to building the mine, also been responsible for the three first and now the last of the total of five contracts connected to the closure of the Svea community.
"We have been doing this for five years. There is nothing left after us now."
The group sitting around the table in Longyearbyen is contemplative.
They have all been part of something spectacular, almost unreal. They still struggle to let their feelings out.
The digger is making its own "quay" to be able to board the tugboat of the shipping company Bukser og Berging. (Photo: Martin Nerhus Øen, Hæhre)
"We have not completely landed," says Ole Marius Sprauten. 
"The final stretch was intense. We had a date, and we had a weather window."
The weather window did not quite fully open, and the operation had to be postponed for 24 hours until the machines could be driven aboard.
Audhild Storbråten sums up on her fingers. Three diggers, a wheel loader, and a dozer. A total of 180 tonnes of machines were transported away. They were, apart from a few houses, the last remnant of an industrial journey that started all the way back in 1910.
Still, this was only a small part of the machines that have been in operation during this unique project. One thousand tonnes of machinery and equipment were sent down in November 2022, when most of the work was taking place. This year, only the final finishing touches remained. That was carried out by a small group who have lived in four barracks, lonely and isolated on Cape Amsterdam, where a hypermodern shipping quay used to be located. 
Hæhre is known for going in with heavy machinery to do the work quickly and as well as possible. The environmental project was concluded two years earlier than initially planned.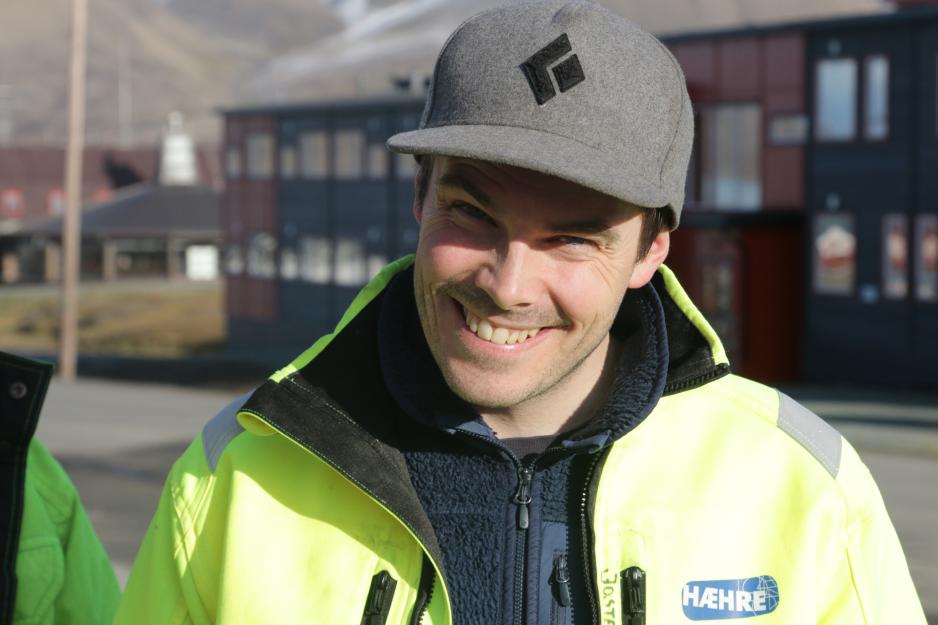 It has been tough
The equipment was to go out just as quickly, in collaboration with the shipping company Bukser og Berging.
"They have been very solution-oriented, just like us. Everything will work out."
"It has been tough," adda Storbråten. 
"Just like these guys, who have done the work. They have been vigorous and have worked hard day and night to reach the finish line. I do not know if you write about such success stories," she says and looks suspiciously at me. 
"But this has been a success story."
I ask if it feels wistful to have concluded the tear-down of a workplace they helped build.
Calm and low tide. The last machine leaves. (Photo: Martin Nerhus Øen, Hæhre)
"That is a fair question," says Martin Nerhus Øen.
"But I feel a great sense of relief for having finished our project. We have had a total of four contracts in Svea, and each and every one of them has been completed and handed over. And it is not our workplace that has disappeared. We travel to where there is construction work to be done and do our job."
You are and will be a construction worker?
"Yes and no. We were very happy with Svea and Store Norske when we were building. And we also found it sad when it was decided to stop the coal operation in Svea. But when it turned out like this, and we got the contracts, it feels good to be done."
Longest time on Svalbard
Now, they move on to Jan Mayen to build a new station building – if the Storting allocated money for it in the fall of 2024. For this close-knit group, a life far beyond the isolation lies in their DNA.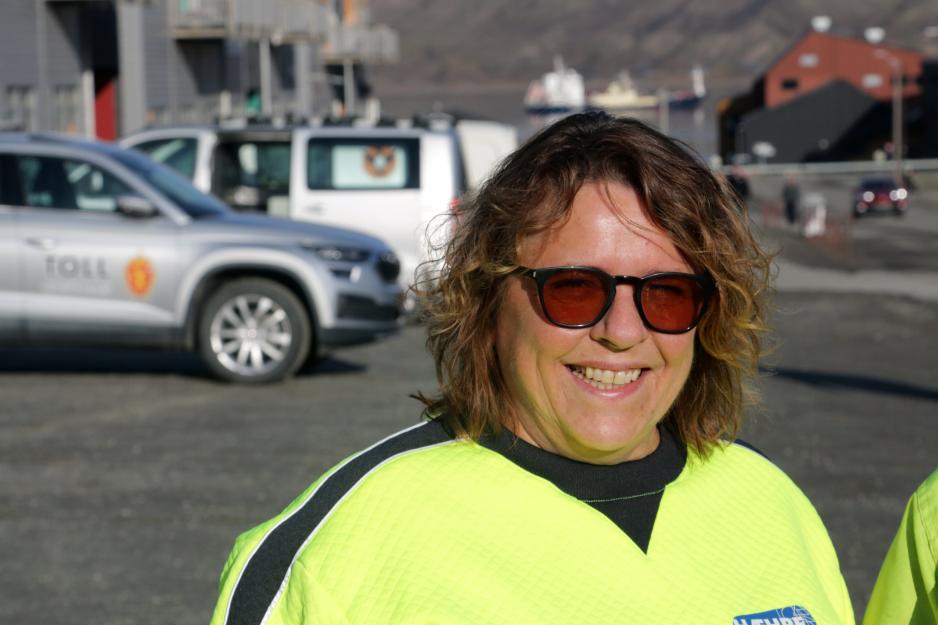 Tove Sandblost, with the most time spent on Svalbard, with a total of 16 years, also finds it sad that Svea was closed down.
"But that is what the world has come to. And we have done a good job in cooperation with Store Norske. The boys and some girls have done great work. Time passes, and the mines will not remain."
We were very happy with Svea and Store Norske when we were building.