In Search of the Russian Market: - Everything is Permitted If It is Not Banned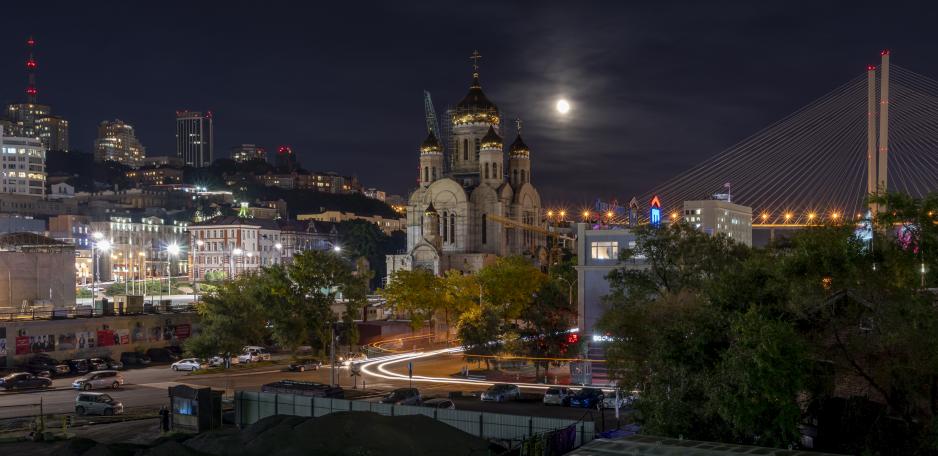 Norwegian-Russian business cooperation is at a record low, though several Norwegian companies are at the starting point of bringing home money from a gigantic, yet sanctioned Russian market. High North News met with three of them. And with a Norwegian ambassador who says that "everything that is not banned, is permitted".
VLADIVOSTOK, RUSSIA: Following the West introducing sanctions against Russia in 2014, exports from Norway to Russia dropped like a stone, while import from Russia to Norway increases. The vanishing of fisheries export from Norway to its eastern neighbor is particularly noticeable. In 2014, Norway exported for a total of NOK 8.6 billion. Last year, that figure was 1.5 billion.
Massive trade gap
Contrary to this, import from Russia to Norway increased from nine to nearly NOK 17 billion during the same period. That creates a trade gap that could bring other state leaders to threaten with war.
And there is nothing that goes to indicated that the sanctions, neither to or from Russia, will be lifted anytime soon. Yet much effort is currently put into closing the trade gap between the two neighbors.
"Developing and seeing the potential in Russia is up to business itself. Whether Norwegian business has been too careful, and if so; why, is a question one should ask the business industry itself."
These are the words of Norwegian Ambassador to Russia rune Resaland. Resaland is based in Moscow, and when we meet him, he has just met with Norwegian businesses in Vladivostok, Russia. Together with Innovation Norway, he has invited Norwegian and Russian business to a date in this southeastern part of Russia.
Export figures show that Norway lags far behind e.g. Sweden and Denmark when it comes to trade with Russia. The Ambassador has also taken notice of that.
We are at a better place in the bilateral relationship. We have established better political contact on different levels.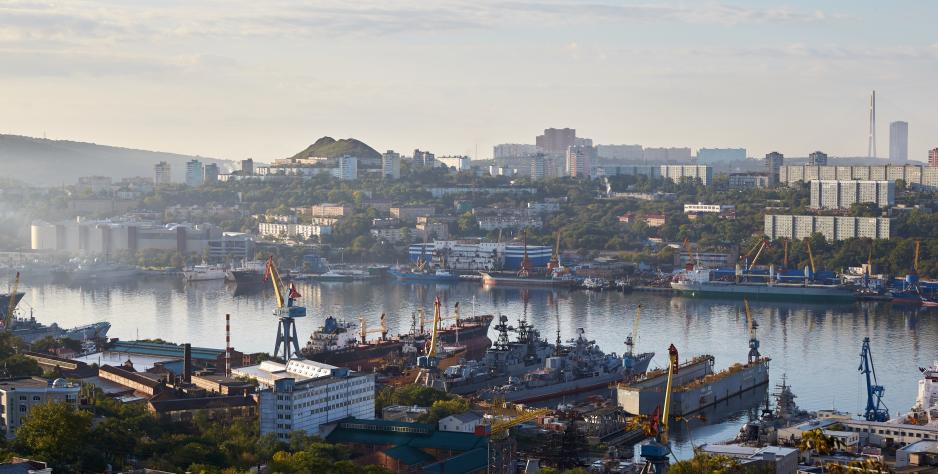 Vladivostok in the Far East
In Vladivostok, focus is on fisheries. The Northern Sea Route starts in Vladivostok, whereas the Trans-Siberian Railway ends here.
Ambassador Resaland points to a large-scale renewing of the Russian fisheries fleet when asked to point out areas in which Norwegian business may take an initiative.
Political actors have repeatedly emphasized the fact that Norwegian businesses' making an effort or not in Russia also will be key for the political development between Norway and Russia.
Some 20-odd Norwegian companies, in addition to the High North Center at Nord University and the University of Tromsø, Norway's Arctic university, have found their way to Vladivostok.
Clear political signals
When asked if the modest level of trade between Norway and Russia also can be due to lack of clear signals from Norwegian authorities, Resaland responds:
"I believe it has been clearly communicated that everything that is not banned, is permitted. That is how business goes, and it cannot be any other way."
What, then, is the reason why there is so little business cooperation?
"Some of the reason for the low volume is down to the fact that our export was largely based on seafood, which is gone. 70 to 80 percent of our export to Russia disappeared because of Russian measures introduced."
In what areas are we to grow export then? Because there is nothing that goes to indicate that the counter-sanctions will be lifted anytime soon?
"That will be up to business to decide."
But as an Ambassador, where do you see a potential?
"There is potential amongst others in the renovation of the Russian fisheries fleet. We are talking major new investments from the Russian side, and Norway is ahead of the game in the maritime area. That is the background for many of the companies currently in Vladivostok. So at least that is one area."
Did the train leave the station, or are there still opportunities in oil and energy?
"There are limited sanctions in the oil industry. So if one stays clear of these, there may still be possibilities."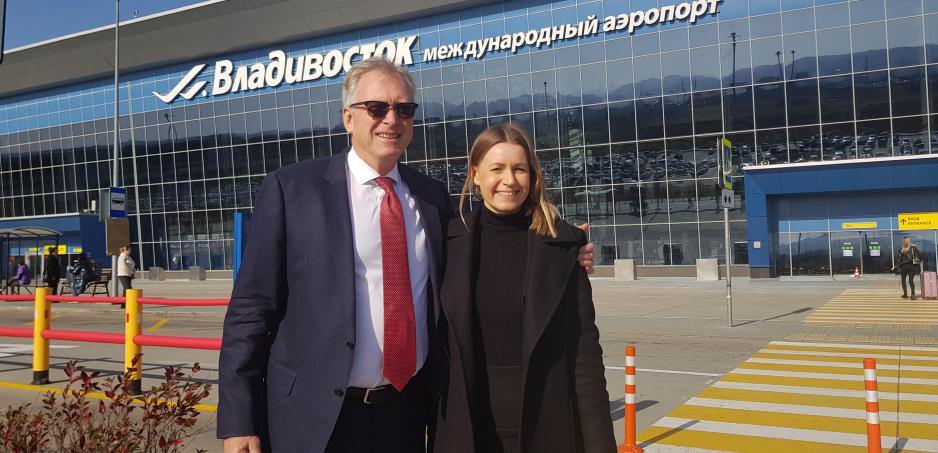 Greater Norwegian wiggle room
Ambassador Rune Resaland focuses on the current situation being different from in 2014 and that he himself also has greater leeway.
"We are in a better place with the bilateral relationship. We have established better political contact on different levels, just as some other countries have. We have also resumed public official consultations about various foreign policy issues, which gives us more insight into the Russian positions in these areas. First and foremost, it matters that we in 2019 have had one meeting between our Prime Minister and president Putin and that the Foreign Minister has had talks with Foreign Minister Lavrov four times in a year. So, there are differences between today and 2014, for obvious reasons.
Is it also easier to be Norwegian Ambassador in Moscow today than it was five years ago?
"That depends on how you define 'easy'. It is a different situation, which allows us to perhaps have more wiggle room than we had in 2014", Resaland says to High North News.
Lack of knowledge, and a wrongful impression created by the media, is the reason why Norwegian businesses do not look at the Russian market with a  greater appetite.
Easy to run business in Russa
One of those currently entering the Russian market at full speed is the Norwegian business man Trygve Birkeli. He focuses on busting what he refers to as 'myths'.
"Norwegian business is by and large characterized by stereotypical imaginations", Birkeli says. In Vladivostok, he fronts two large Norwegian clusters and companies. Global Maritime is a Stavanger-based oil service company, whereas Gexcon, based in Bergen, is a global leader in security and risk management.
"Many people think doing business in Russia is so hard. But as long as you understand he setting you are operating in, it is both simple and rewarding to operate in Russia", says businessman Birkeli.
"Lack of knowledge, and a wrongful impression created by the media, is the reason why Norwegian businesses do not look at the Russian market with a  greater appetite."
Even if Tryge Birkeli has worked towards and with Russia for years and years, the companies he represents this time are just on the point of entering the Russian market.
"The timing has been right for a long time; however, we are talking about major projects and we have spent some time finding out how to attack this. You cannot just travel around and try selling the kind of products we offer. There has to be an incitement from Russian authorities, both centrally as well as locally. We have set up a game plan together with the Russian embassy in Oslo, and then we used Norwegian representatives to make this known to Russian shipbuilders and investors, and potentially also foreign or Norwegian investors".
Birkeli's companies operate in a wide range of areas, including the oil and gas sector. Referring to the western sanctions against Russia, he says:
"To our companies, it means we have to read and study the sanctions regime and make sure our principals are not involved in activities included under the sanctions. To us, the sanctions have not caused much of a problem", Birkeli says.
Norwegian clothes giant
Director Helena Christensen of Bergans also has long experience from cooperatin with Russia. She is Director of the Bergans outdoor clothes company, born in Leningrad and raised in the Soviet Union; toay St. Petersburg and Russia.
Helena Christiansen concurs that the Russian market is not particularly politically complicated. To her and Bergans, the challenge is more about making the Russians hit the outdoors.
"We started our market initiative towards Russia in 2012 and started deliveries in 2013, i.e. one year before the sanctions in 2014. That means that the end user had already understood that our products had a quality quite different from what they were used to, and they thus return to buy more."
Bergans is a Norwegian company selling high-end sports and leisure clothing, both nationally and internationally.
Is Russia an important market for Bergans?
"Bergans started by producing clothes for Norwegians. Every second Norwegian owned a piece of Bergans clothing. We were to be the premium brand. Then we decided to increase export of our products and perhaps limit or keep the local market on the same level. We created a European office in Germany, then offices in the USA and Russia. Sadly, we closed down the US office, however, Russia is currently our biggest market after Sweden and German-speaking countries."
Do you notice political challenges to your business relationship to Russia?
"Not at all. Norway has an amazing reputation with Russians. They trust everything that is Norwegian, and in the textile industry the relationship is the same. You can trust Norway to understand wind and waterproof. It also matters that Norway and Russia always compete in winter sports."
Norway has an amazing reputation with Russians. They trust everything that is Norwegian, and in the textile industry the relationship is the same.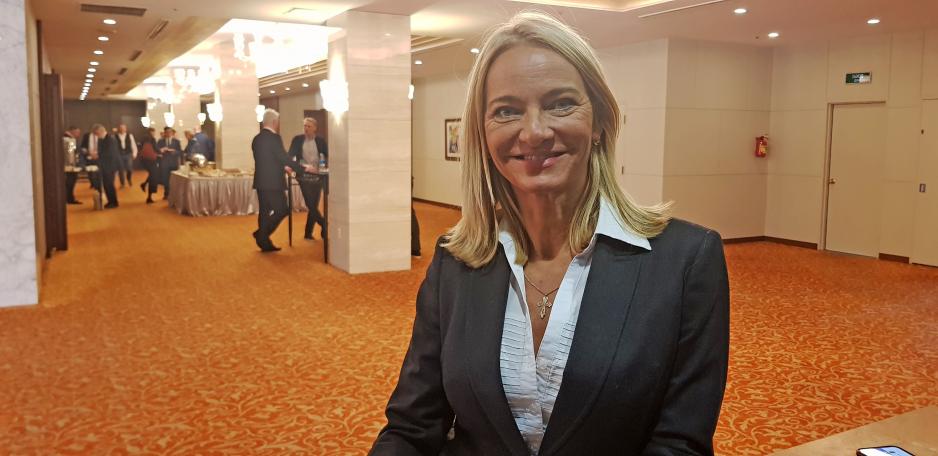 Own Russian brands
The current challenge for Bergans in Russia, says Helena Christiansen, is that the Russians want to replace all products from other countries with their own products.
That is in particular a result of the western sanctions that triggered a Russian goal about being self-supplied in an increasing amount of sectors.
"Thus, there is stronger competition for our products. In addition, a demand is imposed on Russian state authorities to only buy Russian products. There is just a narrow opening if there are no equivalent products in Russia", Helene Christiansen says to High North News.
Starts fish-farming in Russia
Another seasoned – to put it mildly – business man operating it he Russian market is a North Norwegian guy who formally lives in Bergen, on the Norwegian west coast. Lars Sundquist uses the company Northern Productions to sell capelin roe mainly to Japan and Korea, following his being hit hard by the Russian ban on fish imports. He earlier ran a business exporting fish from North Norway to Russia. Today, he has no activities in Russia but announces that he is on his way back.
"I have cooperated with a Russian partner and friend for almost 20 years, and we have done various things in Russia, amongst others 'clondyked' pollock in Norway. My Russian partner had a freezing vessel that we placed outside Lødingen in Northern Norway and then we freeze pollock there. 100 tons of pollock every day, caught in the local fjords and aimed for the Russian market. As long as the pollock was frozen on a Russian vessel, the pollock changed origin from Norwegian to Russian and could thus be brought to Russia toll-free. We did the same in Finland, freezing sprat and Baltic Sea herring. In addition, we have had some minor business going on, amongst other some fish trucks in St. Petersburg. In that area, I have been more of an investor than an active owner, and I cannot really say that these investments have paid off much.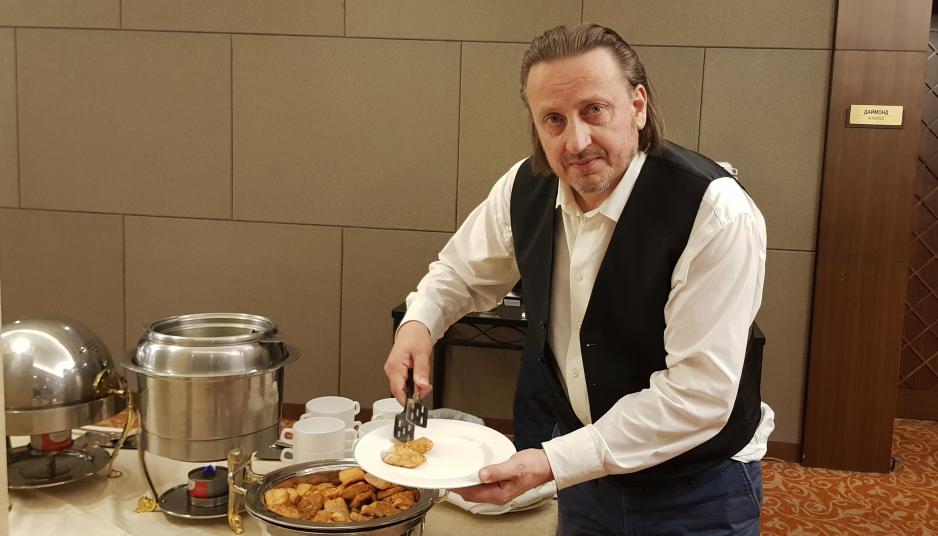 The only Norwegian
But now, Sundquist aims for Russia again. This time through his Russian company Lafor. The business idea is trout farming in the gigantic Lake Ladoga, which is located in the two republics Karelia and Leningrad.
Lake Ladoga is Europe's largest freshwater lake.
"The name Lafor is a combination of Ladoga and forell, i.e. trout", he explains.
"Now we have complete funding of the equipment. Next spring, we will put out the fry and during 2020, we will reach a production of 1,000 tons. Lake Ladoga is not only the largest in Europe, it is also considered the cleanest. It is so large that the waves during bad weather can reach a height of 4 meters. Aquaculture is not new there; there are some 30,000 tons farmed there at present, largely trout. This is not a pioneer project, however, I will be the only Norwegian there. 1,000 tons next year will later be increased to 3,000 tons", says Sundquist.
Lars Sundquist has been to Russia on what he refers to as a regular basis sine 1990. However, this is the first time he is in 'the Far East'. He has a master's degree in Russian from the University of Tromsø, in addition to being a construction engineer.
"I hold a very weak engineering degree, so if you need an engineer, please do not call me", Sundquist says.
Closed overnight
He believes, however, that he knows a fair bit about Russian fish farming of trout.
"I believe in this. I do not think it will be giant amounts; however, I believe it will be pleasant. So far, I have made my money in Norway and spent them in Russia. Now, it is time to turn that around. I am in Vladivostok to explore the opportunities in this geographical region. Here are vast resources and I would not mind looking more into the fisheries sector. Aquaculture is somewhat tricky due to the weather conditions, however, what is really evident here is the proximity to large markets. Across the strait you find Japan, and both Korea and China are just around the corner. These markets are much closer here than they are for salmon that is flown from Norway."
What have the sanctions meant for your opportunities to do business in Russia?
"A whole lot. We exported fish and capelin roe to Russia; however, that ended over night when Russia implemented its counter-sanctions. Though for us that was not really a crisis, it was rather a question of readjusting to new markets, Sundquist says. Like many other Norwegian companies, he now aims big for the Russian market.