Verdens største oljeselskap, saudiarabiske Aramco, ønsker å kjøpe en stor andel av Novateks LNG2-prosjekt, med flytende naturgass i. Den store utviklingen i russisk energisektor, støtte fra Kina og nå sannsynligvis Saudi-Arabia, vil fortsette å påvirke Norge.
Pågående diskusjoner mellom Russlands største privateide naturgasselskap og Saudi Aramco, verdens største oljeselskap, om samarbeid på det nye arktiske LNG2-prosjektet ventes avgjort i de kommende månedene. Novatek vurderer å selge opptil 30 prosent av aksjene i sitt nyeste arktiske eventyr "hvis betingelsene er fordelaktige", forklarer selskapets administrerende direktør Leonid Mikhelson.
Tidligere rapporter indikerer at saudiarabiske Aramco var intressert i å investere opptil 5 milliarder dollar i det arktiske LNG2-foretaket, Novateks andre og største prosjekt i produksjonen av LNG i Arktisk og eksport via Den nordlige sjøruten. Prosjektet er planlagt iverksatt i 2022-2023 og vil levere 19,8 millioner tonn LNG årlig. Selskapets første prosjekt, Yamal LNG, kom i produksjon i desember 2017 og har levert mer enn 10 millioner tonn LNG til markedet i Europa og Asia siden den gang.
Utvikling av russisk Arktis skjer kanskje langt fra de mer sentrale strøkene, men dens økonomiske og potensielt miljømessige effekt kan merkes langt utenfor regionen. En vesentlig andel av den russiske LNG-transporten transporteres gjennom norske farvann i vintermånedene, når opptil 300 store LNG-lasteskip opererer i farvannet utenfor Honningsvåg for å overføre gass fra isgående fartøy til ordinære LNG-takere. Råolje fra det russiske Arktis fraktes også langs norskekysten.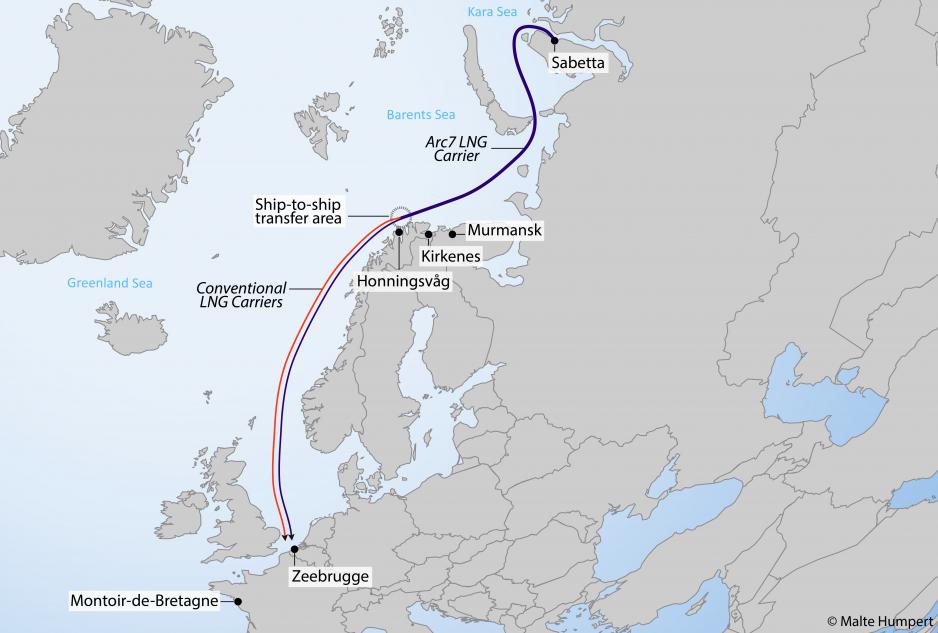 Voksende samarbeid mellom Russland og Saudi-Arabia
I etterkant av samtaler med Saudi-Arabias energiminister Khalid al-Falih bekreftet Mikhelson at diskusjonene er inne i siste fase og forventes fullført de nærmeste månedene.
Dette seneste møtet følger etter tidligere og pågående diskusjoner mellom de to landene. I 2018 signerte de to selskapene en intensjonsavtale om samarbeid om LNG-prosjekter, og i oktober 2017 var Saudi-Arabias kong Salman bin Abdulaziz Al Saud i Moskva på landets første statsbesøk dit noensinne. Den gangen ble det sett på som innledningen på en ny æra med bilateralt samarbeid.
Russland og Saudi-Arabia har stadig styrket båndene mellom de to landene i energisektoren, som tidligere rapportert av HNN, ikke minst som følge av de gjeldende vestlige sanksjonene mot Russlands energisektor. De to landene samarbeidet tidligere om å kutte den globale oljeproduksjonen med 1,8 millioner fat per dag i 2017 i et forsøk på å stabilisere råoljeprisen.
"Saudi-Arabia er veldig interessert i å utvikle forholdet med Russland, særlig som en internasjonal motvekt mot sitt langvarige forhold til USA", forklarte Mark N. Katz, professor i statsvitenskap ved George Mason University, den gang.
Diversifiserer bort fra råolje
Denne seneste utviklingen føyer seg til Saudi-Arabias nylig annonserte initiativ for å bli en av verdens største aktører innen naturgass og diversifisering bortfra råolje.
Eksperter tvilte innledningsvis på Saudi-Arabias interesse for arktisk olje- og gassutvikling, men den vellykkede lanseringen av Novateks første LNG-prosjekt, Yamal LNG, som attpåtil fant sted tidligere enn planlagt, virker å ha økt Saudi-Arabias interesse for å bli partner med LNG i det andre prosjektet.
Begynner bygging av Arctic LNG 2
Tidligere denne måneden kjøpte den franske energigiganten Total en 10 prosents andel i prosjektet med en antatt kostnad på 20-21 milliarder amerikanske dollar, med en opsjon på å sikre seg en 10-15 prosent direkte andel i ethvert fremtidig Novatek LNG-prosjekt på Yamal og Gydan-halvøyene. Det franske selskapet eier allerede 19,4 prosent av Novatek, noe som gir det en total andel på 21,6 prosent i Arctic LNG 2-prosjektet.
Novatek signerte nylig kontrakter med en rekke selskaper for å begynne byggingen av infrastrukturen til Arctic LNG 2-anlegget, inkludert gravitasjonsbaserte strukturer, det vil si konstruerte plattformer som senkes i grunt farvann for å utgjøre grunnlag for det nye anlegget.
Rosatomflots 'Sevmorput', verdens eneste atomdrevne containerskip med isbryterklassifisering, forlot Murmansk tidligere denne måneden for å levere 17.000 tonn tung utstyr for LNG 2-prosjektet, og anleggsarbeidet på stedet er allerede i gang.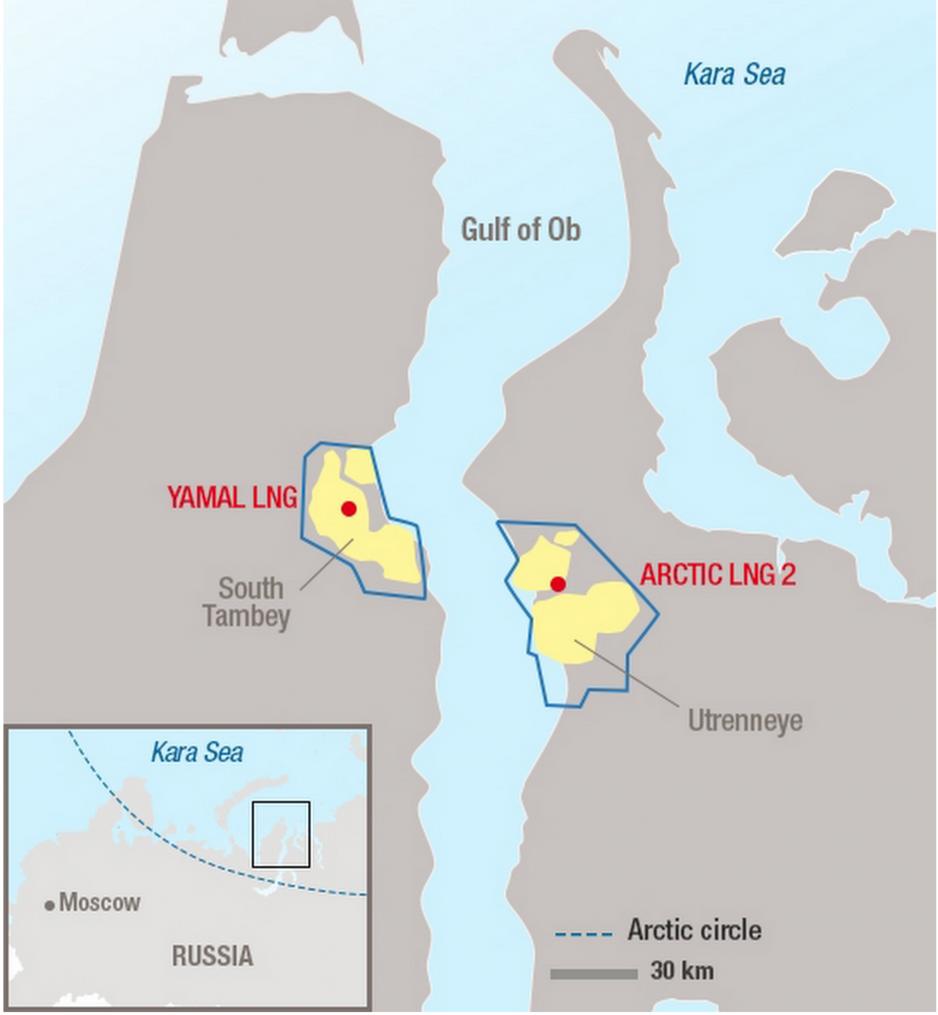 Økt transport langs norskekysten
Novatek planlegger å bygge en permanent base for LNG-overføringer nær Murmansk, noe som vil fjerne behovet for skip-til-skip-overføring utenfor Honningsvåg. Imidlertid vil vi fortsette å se en rask økning i transport av hydrokarbon-relaterte produkter langs norskekysten.
Yamal LNG og Arctic LNG 2 vil sammenlagt produsere nærmere 40 milllioner tonn LNG årlig, og mye av dette vil fraktes innenfor norsk økonomisk sone på vei mot Europa. Dette gjelder særlig i vintermånedene, når isforholdene er for krevende til å sende naturgassen til Asia. Novatek har dessuten allerede begynt prøveboringer for ytterligere prosjekter som for eksempel Arctic LNG 3.
Andre utviklinger som for eksempel Gazproms Novy Port, som også ligger på Yamal-halvøya, og Prirazlomnaja-offshoreplattformen i Pekorahavet bidrar ytterligere til økt skipstrafikk i regionen. I 2018 produserte disse to prosjektene til sammen 8,5 millioner tonn råolje, og mye av det ble transportert ut fra Arktis gjennom Barentshavet og Nordsjøen for å nå raffinerier blant annet i Serbia. I løpet av de siste fem årene har selskapet transportert mer enn 20 millioner tonn råolje på denne måten, og årlig produksjonsnivå vil øke med opptil 13 millioner tonn per år.