Russia's Rosatomflot Launches Third New Nuclear Icebreaker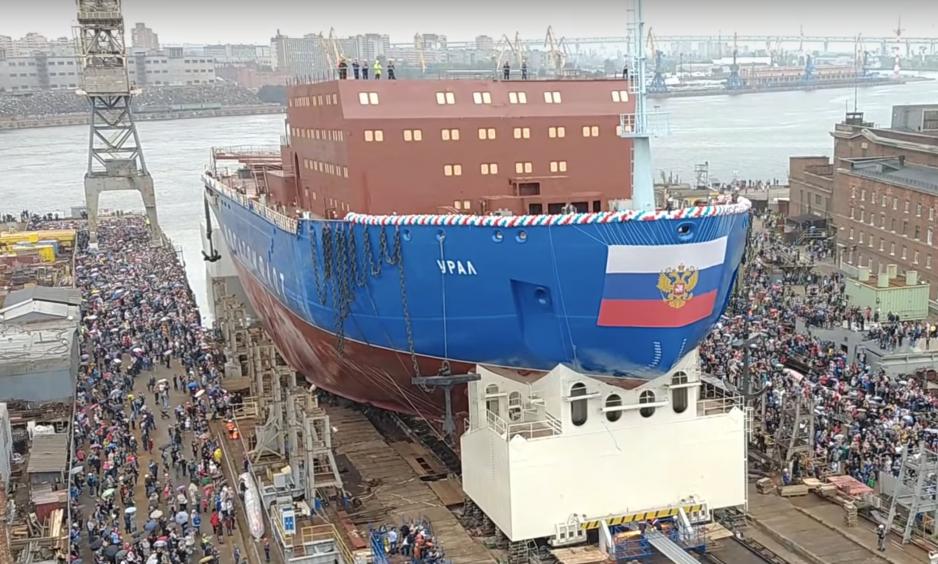 Russia further cements its position as world's largest operator of icebreakers. With this week's launch of Ural the country has constructed three massive nuclear icebreaker in less than six years.
Russia's continues to modernize and upgrade its fleet of icebreakers and ensure access to and navigation of the Northern Sea Route even during winter at a respectable pace, especially in comparison to efforts of other Arctic states. The U.S. aims to launch just a single conventional icebreaker over the next five years. Two additional icebreakers – which have to yet receive funding – may be launched but not before 2027.
Earlier this week Russia's Rosatomflot launched the third vessel of the Project 22220 nuclear icebreakers constructed by the Baltic shipyard in St. Petersburg. The Ural follows the initial vessels Arktika and Sibir, which left the dry dock in June 2016 and September 2017.
These new icebreakers, also referred to as Type LK-60Ya, are the largest and most powerful icebreakers ever constructed and will replace the aging icebreakers of the original Arktika-class, of which only two Yamal and 50 Let Pobedy remain in service. The new vessels will be tasked with escorting growing amounts of shipping traffic, including from Novatek's natural gas project Yamal LNG, along the NSR.
"It is with the ships of this series of new-generation icebreakers that we associate hope with the development of the Northern Sea Route. This is a fundamentally new ship," explained Deputy Prime Minister Yury Borisov during the launch ceremony.
In order to cope with the forecasted levels of traffic and fulfill President Putin's goal of 80 million tons of cargo on the route by 2024, Rosatomflot is expected to place firm orders for two additional LK-60Ya icebreakers this year at a cost of $1.5bn. Such plans were confirmed at the end of 2018.
Ural receives upgrades
All three icebreakers feature a variable draft design allowing them to operate in the deeper waters of the Arctic Ocean, but also in shallower coastal areas and rivers. With more than 81,000 horsepower – nearly twice as much as the U.S.' new icebreaker – they will be able to break through up to three meters of ice and travel on the NSR year round.
Ural received an additional power boost over Arktika and Sibir. It employs a new modular reactor design generating up to 5 percent more power. About 95 percent of the vessel in terms of value was constructed within the country Aleksey Kadilov Director of the Baltic shipyard explained; a testament to Russia's domestic expertise when it comes to building icebreakers.
Unlike its two predecessors, Ural was launched with the two nuclear reactors already installed. This should help speed up the final outfitting and commissioning of the vessel.
A rush to commission the new icebreakers
Even with more than 60 years of experience when it comes to constructing nuclear icebreakers, Russia's LK-60Ya series has not immune to delays. While Arktika was originally scheduled for commission in June 2019 this date has been pushed back to April 2020. Similarly, Sibir will be ready for service in 2021 rather than 2020 and Ural will also face a twelve-month delay pushing it back to a  2022 debut. According to Rosatomflot, a domestically-built steam turbine was completed behind schedule resulting in the setback.

The delays will require an operating extension for Yamal and two other nuclear icebreakers Taimyr and Vaigach, all of which would otherwise be taken out of service by 2021. An extension of their lifetime will allow them to remain in service until the mid-2020s and bridge the gap until all new LK-60Ya icebreakers have been commissioned.