Russian Strategic Bombers With New Flight Over the Western Barents Sea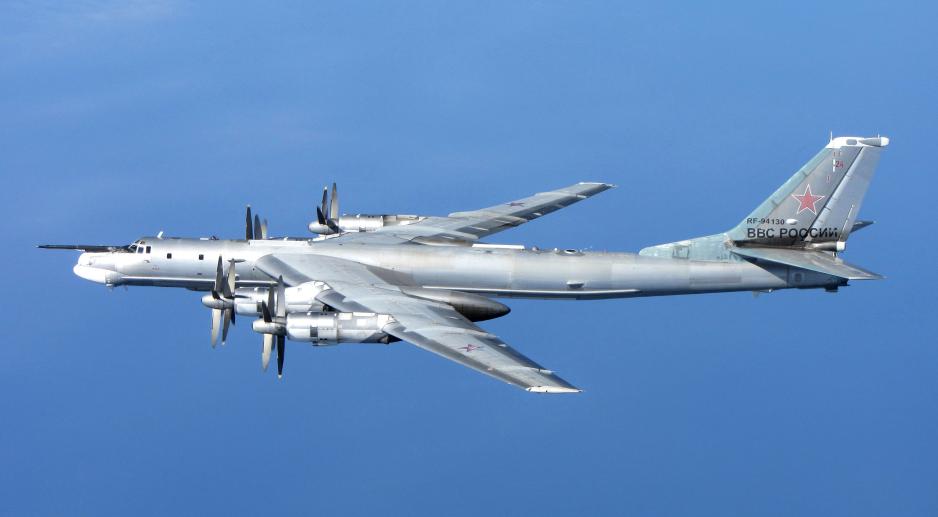 On Monday, two Russian Tu-95 strategic bombers flew in international airspace over the western part of the Barents Sea. They were accompanied by four MiG-31 fighter jets, as well as two II-78 tanker aircraft. The group was identified by Norwegian F-35 fighter jets.
"Two Tu-95MS strategic missile carriers have carried out a planned flight in the airspace over neutral waters in the Barents and Norwegian Seas over the course of about five hours," stated Russia's Ministry of Defense to the Russian news agency TASS on Monday. 
The strategic bombers were escorted by MiG-31 fighter jets from the Russian Aerospace Defence Forces and the Russian Northern Fleet's air forces. 
On the Western side, American B-1B strategic bombers and the Gerald R. Ford Carrier Strike Group participate in training activities in the High North during the Arctic Challenge Exercise. This large-scale live air exercise is taking place across Norway, Finland, and Sweden with its main activity occurring in the north.
"Two Norwegian F-35 fighters in QRA readiness at Evenes Air Station moved out in the early hours of Monday. They identified a group of Russian military aircraft consisting of two Tu-95 strategic bombers, four MiG-31 fighters, and two II-78 tankers in international airspace north of the coast of Finnmark, Northern Norway," says the spokesperson for the Norwegian Joint Headquarters, Petty Officer Marius Vågenes Villanger, to High North News.
According to Villanger, the group of Russian aircraft did not cross the border to the Norwegian Sea but stayed in the airspace over the western part of the Barents Sea. He also specifies that no investigation has been conducted into whether the group crossed the aforementioned border.
Expected
"We are in a period in which we expect major allied and Russian military activities in Norway's immediate areas. It is also expected and routine for Russian forces to keep an eye on what we are doing and vice versa," Villanger points out and continues:
"The group of Russian aircraft acted professionally in line with the Incidents at Sea Agreement between Norway and Russia – which is to prevent dangerous incidents as the countries' military ships and aircraft operate close to each other."
According to Villanger, Russian military aircraft regularly fly in international airspace over sea areas in the High North.
"Last year, Norwegian fighters carried out 24 QRA missions in which they identified 43 Russian military aircraft. This number was a little lower than previous years," he says.
QRA (Quick Reaction Alert) refers to the NATO mission of continuous combat aircraft readiness which is solved by the Norwegian Air Force at Evenes Air Station. Two Norwegian F-35 fighters are always ready to move out to identify and document unknown aircraft in the vicinity of Norwegian airspace – and, if necessary, prevent them from illegally entering said airspace.
Regular strategic flights
Russia's Ministry of Defense also notes that aircraft under the country's long-range flight command – which is part of its strategic nuclear forces – regularly carry out flights over neutral waters in the Arctic and the North Atlantic, among other regions.
All such flights are carried out in strict accordance with international rules for the use of the airspace, the ministry also emphasizes.
In April, Russian strategic bombers carried out two flights over neutral waters in the Barents Sea and the Norwegian Sea:
25th of April: Two Tu-160 strategic bombers conducted a 14-hour flight, accompanied by three MiG-31 fighters and two II-78 tankers.
14th of April: An unknown number of Tu-160 strategic bombers, likely also accompanied by fighters and tankers, carried out a similar flight.
The Norwegian Armed Forces' QRA statistics for recent years
2022: 24 calls with 43 identified aircraft
2021: 34 calls with 58 identified aircraft
2020: 50 calls with 96 identified aircraft
2019: 38 calls with 83 identified aircraft
2018: 57 calls with 100 identified aircraft
2017: 37 calls with 59 identified aircraft
This article was originally published in Norwegian and has been translated by Birgitte Annie Molid Martinussen.