Arne O. Holm says

Our Russian Friends Need A Shoulder to Cry On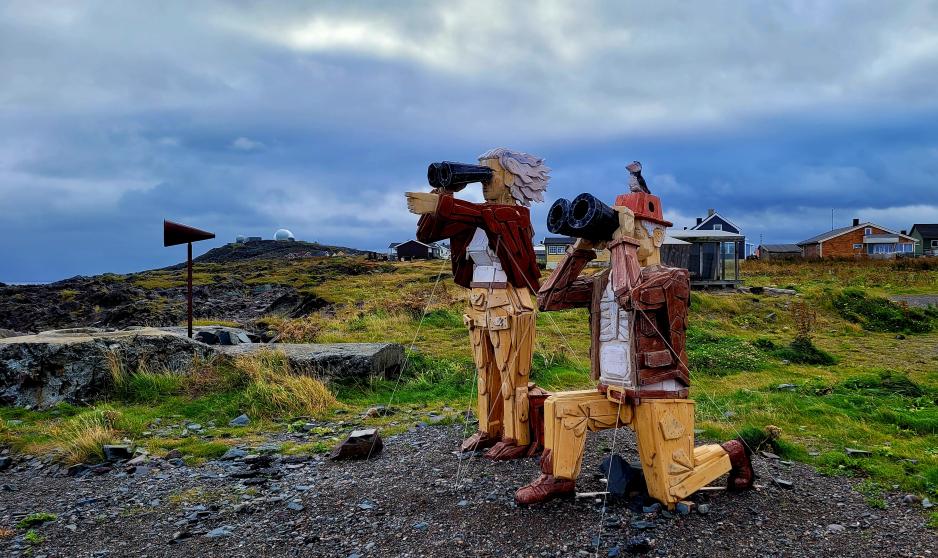 (Commentary) Vardø: There is a place in the doghouse for those who, after the Russian invasion of Ukraine, condemned the Barents cooperation. Had they taken a deep breath before sharpening their tongue, they could have listened to the voices of oppositional Russian artists pleading not to be forsaken.
I have spent a few days in Vardø, a town so far east in Norway that, measured by eastern longitude, is in another time zone than the rest of Norway. East for St. Petersburg, to be more precise, and almost as far north as the northernmost part of Siberia.
Therefore also a town strongly affected by its close relationship with Russia, both politically and materially. 
Stubbornness and resignation
A town affected by stubbornness and resignation in perfect harmony. A vertically divided home in Vardø can be newly renovated and inviting towards the West, while its siamese twin in the East stands unpainted with a leaky roof and broken windows. 
Here, among Norwegian artists who have entered the old school building in Vardø to spread knowledge and experiences, emotions are given free rein. 
Once again, I read my own newspaper, High North News' interview with Russian oppositional artists on both sides of the Russian border. I read with a lump in my throat because these are people who still dare to challenge their war monomaniacal leadership with resistance.
A fresh breath of freedom.
They do so with the hope of avoiding the prison walls who summon anyone who dares shout towards Moscow. At the very least, with the hope of survival. 
Evgeny Goman both works in Kirkenes and runs a theater in Murmansk and tells the story of what will happen if independent artists in Russia are forsaken. 
"If they are cut off from the outside world, they are left with propaganda and depression. It will contribute to Putin's project of controlling Russian minds," he says.
Cooperation with Norway
The artist Ulyana Podkorytova in Moscow is currently showing her film in Bodø under the auspices of the project Border / No Border. 
"The cooperation with Norway is a great support for me. I have lost five projects abroad because of the war. This chance to show my art in Bodø is like a fresh breath of freedom for me," she says to High North News. 
She herself cannot be present.
The producer is Ekaterina Sharova, now living in Norway.
"Many I know in Russia is against the war. Some of them are risking their lives and health to protest against it. But this is rarely mentioned in the media," says Sharova. 
Buried on the altars.
The testimonies of life as an oppositionist are strong, but at the same time pleading.
Risk-free
It is a plea to not be forgotten. The Barents cooperation, completely innocent in the war waged from Moscow, must therefore be kept alive. Not buried on the altars of those who, at a safe distance from Vladimir Putin's iron grip, wish death upon the Barents cooperation.
It is approximately the same distance from Tromsø to Moscow as from Murmansk to Moscow.
The similarities also end there. To criticize the Barents cooperation from Tromsø is risk-free. To beg the neighboring countries to keep it alive from Murmansk, can be fatal.
These thoughts occupy my mind while I look out from Vardø into a gray and somewhat frightening horizon. Perhaps someone is sitting where the ocean ends and Russia begins, looking toward the west. 
If they could sail, they would have made landfall in Grense Jakobselv or Vardø and met people who are still proud of the border-crossing cooperation we have achieved. People who refuse to hang their heads in shame, and instead meet their oppositional friends from the other side of the border with a shoulder to cry on.
This article was originally published in Norwegian and has been translated by Birgitte Annie Molid Martinussen.