Orphaned, hungry, and cold: Russia's War Children Are the Last Witnesses of A Man-Made Tragedy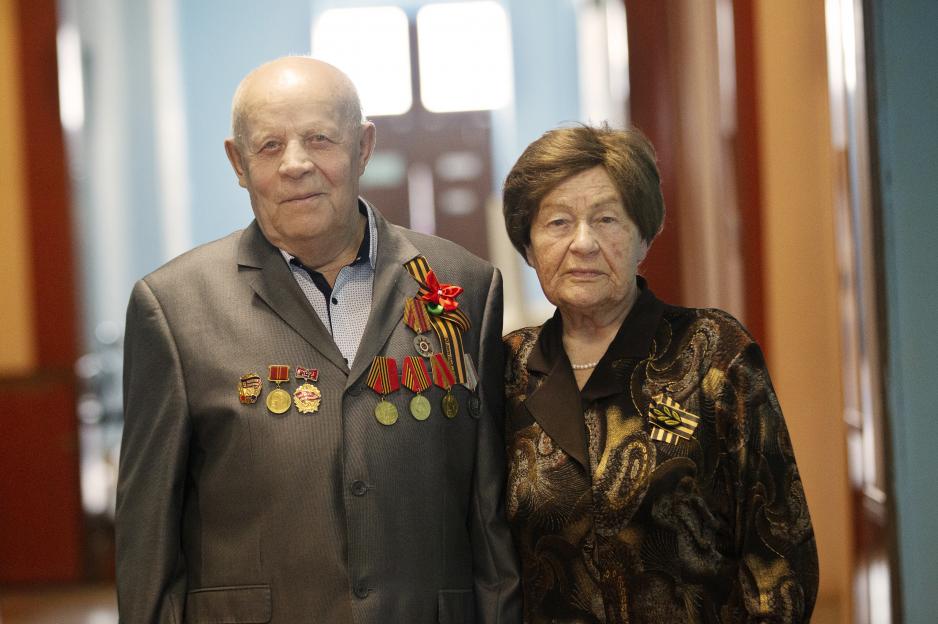 Time witnesses from the Soviet Union's great patriotic war are about to die out. However, those who remain now warn of the disastrous and inhumane consequences a new war would have.
NIKEL, RUSSIA: "No one is forgotten, nothing is forgotten" says the memorial along the Nikel High Street, in a Russian border town about an hour's drive from Kirkenes, Norway.
Maria Kiselyeva (86) discreetly put down her three red carnations, to commemorate the war cruelties. She stands completely still for a few minutes, then says a quiet prayer.
Last week, Russia commemorated the 74th anniversary for the victory over Nazi Germany. The human sufferings of the Soviet Union inhabitants through the four long war years are hardly fathomable.
An estimated 27 million Soviet Union citizens died from war,  hunger and sufferings. Every Russian family has its history.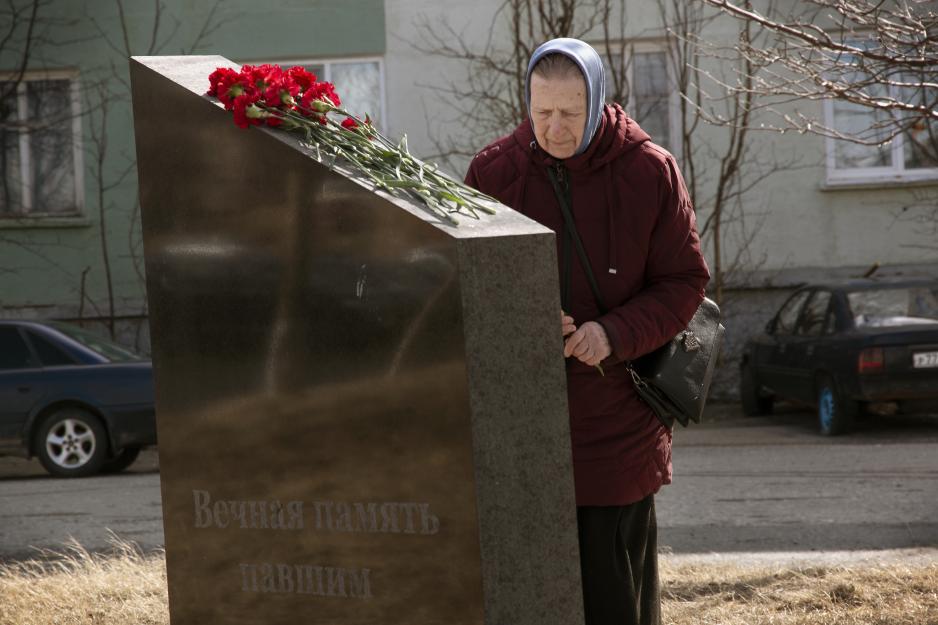 Maria Kiselyova was just a little girl when she lost both her parents. Her mother was a housewife, at home with three children, while their father was sent to the front.
- I am a pre-war child and remember the war very well. The three of us were left on our own, abandoned. My mother died, I remember her well. My father died too, though I do not have strong memories of him. Every day I look at his photo at home, Kiselyova says.
Kiselyova originally comes from a village near Voronezh, south of Moscow. The town was taken by German forces in the summer of 1942, and the Red Army took the areas back in the winter of 1943.
She remembers the war conditions well, and remembers the sufferings it inflicted on the civilian population.
- Every Russian family has lost someone. There were so many orphaned children. Families with eight or nine children were common at the time. We will never forget this, of course, in particular the starvation. This was our childhood, says Kiselyova.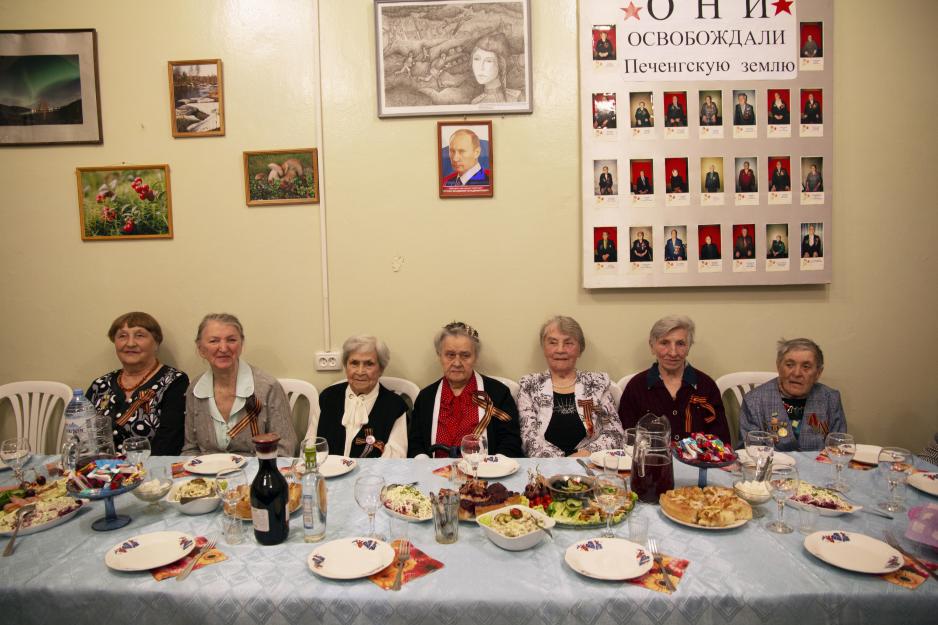 Veterans' club in Nikel
Preparations before the 9 May event is in full swing at the Veterans' Club in Nikel. A high number of salads, cakes and pirogues will be on the table when the war veterans once again convene to mark the victory day event.
Aleksey Kashtanov's (90) strongest memory from the war is the outbreak itself. He was then living with his family in the town of Vologda, north of Moscow.
- I had five brothers and one sister when the war broke out. My father was sent to the front. The  following year, in 1942, my oldest brother Pavel was also sent to the front. My sister enlisted as a nurse. I was only 12, but started working at the kolkhoz, the collective farm, Kashtanov says.
In a small room in the Nikel Cultural Palace, the veterans have a meeting place. The walls are decorated with pictures, flags, posters and maps. The book shelves are filled with gifts from home and abroad. A small collection of trolls have come from Norwegian visitors.
The veterans' club is a place with many sad destinies, of courage and suffering, and also a place where the end of the war is celebrated. That is why 9 May is a day of joy, with toasts in both vodka and wine.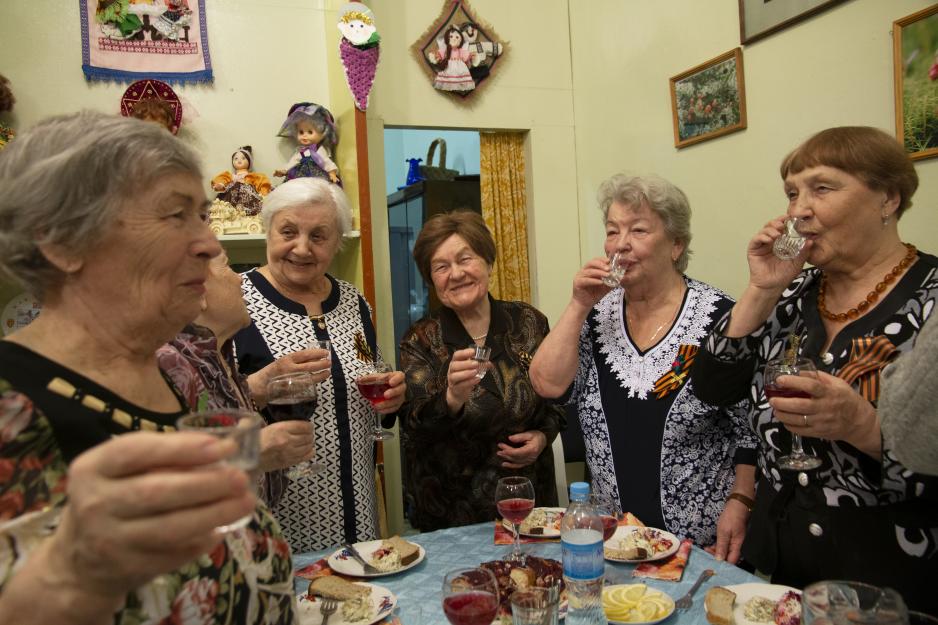 The only living person left in Nikel who fought with arms in hand on the front line is Nikolay Motorin (95). He drove tanks and was involved in the battle about Königsberg (today's Kaliningrad) in 1945.
His suit jacket is decorated with a series of medals and distinctions, amongst others the Order of Zhukov – a distinction awarded to soldiers who fought during the war. Zhukov was the highest decorated general in the history of the Soviet Union.
Motorin tells us about hard battles. He was repeatedly wounded. The 95-year old's health is reduced, and he would rather not talk much about what he went through during the war.
- There is not one single memory that stands out. I have strong and terrible memories from the entire war. I try not to think too much about them, Motorin says.
Alexander Morozov, Mayor of Pechenga municipality, drops by the veterans' club. There tare talks and toasts in memory of Mother Russia, for women, and for those who died.
Both soldiers and civilians of the Soviet Union alike paid a high price for World War 2. A poster shows pictures of soldiers who were on the Finnmark Campaign in the fall of 1944. An estimated 6,000 Soviet soldiers were killed or went missing during the campaign, which eventually led to the freeing of Kirkenes (Norway) on 25 October, 1944.
In Norway, nearly 100,000 Soviet prisoners of war were put to hard labor to build roads, fortifications, railways and factories. 13,000 of them died on Norwegian soil.
Worry about harsher rhetoric
The war children of the Veterans' Club know the human cost of war. That is why they are increasingly concerned about what they perceive to be increasingly harsh rhetoric between the East and the West, and about the poor relationship between the two nuclear powers Russia and the USA.
- If you have seen war with your own eyes, you will never want to see it again, says Rimma Panova, one of the enthusiasts of the veteran club. She was three years old when war broke out. Her family lived in a military village, as her father was an officer. Two days after the war broke out, he was sent to the front. She never saw him again.
- Do current heads of state not understand what war means to people?
- It is hard to know the minds of current heads of state. They certainly do not think about people, they only think about themselves. They want to rule the world. Why? There is space enough for all of us, says Rimma.
- Of course I fear that there may be a new war. But if anone attacks us, we will respond, says Kasctanov with a smile – before getting serious again:
- We oppose war. Of course we do.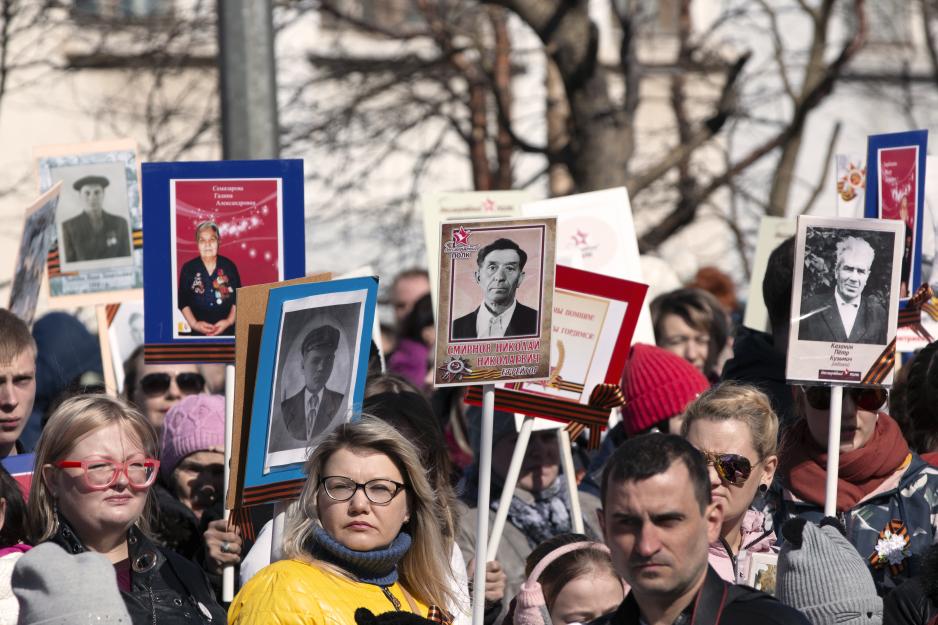 This article was originally published in Norwegian and has been translated by HNN's Elisabeth Bergquist.