Novatek Signs Contract for Construction of Arctic LNG 2, Orders New LNG Carriers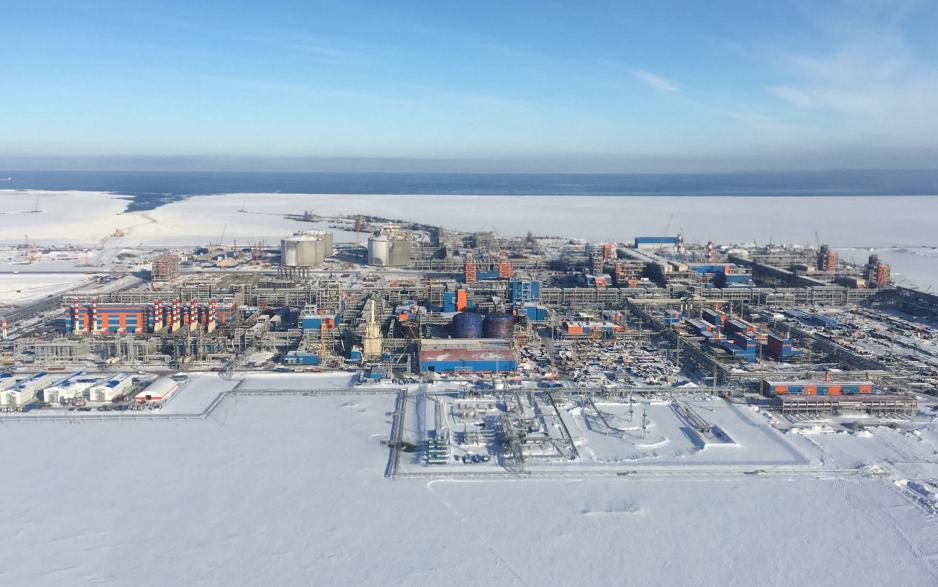 Novatek's Arctic endeavours continue as it moves ahead with the construction of its new $20bn Arctic LNG 2 project. In an effort to overcome a potential shortage of LNG carriers and logistical challenges it will partner with Sovcomflot in ordering four new Arc7 LNG carriers.
Novatek, Russia's largest privately-owned natural gas company, announced that it contracted TechnipFMC, a UK-based company that provides complete project life cycle services, to engineer, procure, supply, construct, and commission the Arctic LNG 2 liquefied natural gas (LNG) facility on the Gydan Peninsula. This project will be Novatek's second LNG plant in the Arctic following the successful launch of Yamal LNG in December 2017.
That facility was also constructed by TechnipFMC, and according to Novatek's Chairman of the Management Board Leonid Mikhelson, the company is "confident that the accumulated experience of mutual cooperation on the construction of LNG plants in the Arctic zone will also ensure the successful and timely implementation of our new project Arctic LNG 2."
Novatek aims to substantially reduce construction costs, from $27bn for Yamal LNG to $20-21bn for the new project. The company cites TechnipFMC's track record of commissioning Yamal LNG ahead of schedule and on budget. "The team, which implemented the unique Yamal LNG project in record time and on budget, has now joined an even larger and more innovative project," Mikhelson stated.
Putting the pieces into place
Arctic LNG 2 will consist of three LNG trains, or production lines, each with a capacity of 6.6 million tons per year, for a total of 19.8 million tons. The first train is expected to come online in 2023, with subsequent trains following in 2024 and 2025. Together with Yamal LNG's 17.5 million tons, Novatek will account for between 5-8 percent of global LNG production with its two Arctic mega projects.
Construction of gravity-based structures, which are engineered platforms towed into place and then intentionally sunk in shallow waters to serve as foundation for Arctic LNG 2, began earlier this year.
The projected opening of Arctic LNG 2 by 2023 places a firm deadline on Novatek to overcome the logistical challenges of exporting its LNG to Europe and Asia. This past winter the company utilized ship-to-ship transfer of LNG off the coast of Northern Norway near Honningsvåg to optimize the usage of its fleet of specialized Arc7 carriers. However, in the medium-term Novatek's operation will depend on permanent transshipment hubs to be built near Murmansk in the West and in Kamchatka in the East.
Too much gas, too few ships?
However, even with these new yet-to-be constructed hubs, experts calculate that Novatek will require at least another five to ten Arc7 carriers to complement its existing fleet of 15 carriers. This will allow it to maintain a continuous flow of LNG to Europe and Asia, explains Mikhail Grigoriev of Arctic consultancy Gecon.
Even more challenging will be the year-round supply of LNG to Asia, as the Northern Sea Route along which the Arc7 carriers travel, is currently impassable during the winter without nuclear icebreaker support. Experts caution that only the 120 MW "Leader-class" nuclear icebreaker, more than twice as powerful as any other nuclear icebreaker, will be capable of keeping the route open. That icebreaker, however, has yet to progress past initial discussion stages and would at the earliest become available by 2027.
Nonetheless, Novatek remains confident that it can shift the majority of its LNG exports from Europe to Asia by 2023. "If Atomflot provides us with a speed of seven to eight knots, we have no doubt that we will make a transit point on Kamchatka by 2022. We are very clearly oriented that 80–85% [of LNG], no matter what they say, will be delivered to the East, " asserts Mikhelson.
Building LNG carriers in Russia
Novatek and its shipping partners are also constrained by political interests to reinvigorate Russia's domestic shipbuilding industry. While the original 15 carriers were constructed by South Korea's Daewoo Heavy Industry, the Russian government aims to construct subsequent vessels at the Zvezda shipbuilding complex in the Far East, in cooperation with Daewoo.
In this regard, Sovcomflot, Russia's largest shipping company, placed an order in April for one additional Arc7 carrier to be built by Zvezda by 2023, to coincide with the opening of Arctic LNG 2. Today Novatek, Sovcomflot and Zvezda agreed on the construction of an additional four vessels, at a unit cost of $375m for delivery by 2025. This order would potentially close Novatek's projected shortage of Arc7 carriers. However, unit costs are around $50m or 15 percent higher than in South Korea. The price difference, up to 20 percent, will be covered through subsidies from the Russian state budget.