- Norwegian trade with Russia hurting more than necessary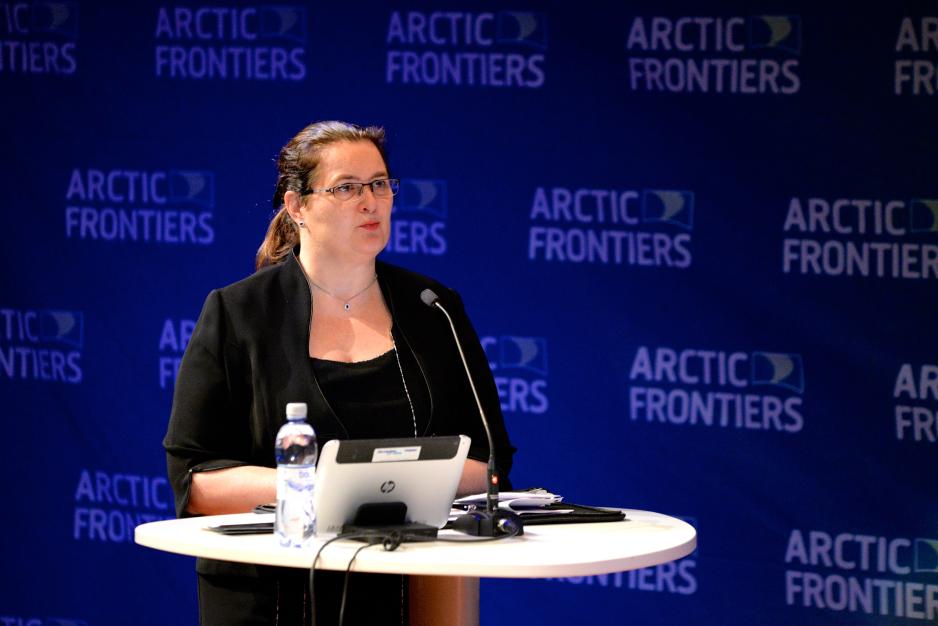 - Norway's export to Russia measures about 2 billion Norwegian kroner (NOK). It should be 15 billion, says the Norwegian-Russian Chamber of Commerce.

- Norway's export to Russia measures about 2 billion Norwegian kroner (NOK). It should be 15 billion, says the Norwegian-Russian Chamber of Commerce.
Chairman Liv Monica Stubholt of the Norwegian-Russian Chamber of Commerce (NRCC) goes a long way in confirming the Russian Ambassador Teimuraz Otarovich Ramishvili's statements to High North News a few days ago:
"A serious decrease"
"There has been a serious decrease in trade, and Norwegian exports to Russia has decreased with 74.5 percent from 2013 to 2016, measured in Norwegian kroner, and 82 percent measured in American dollars, the Ambassador says.
Measured in Norwegian kroner, the numbers from the Embassy mean that the decrease has gone from 8.5 billion kroner in 2013 to 2.1 billion kroner in 2016. Measured in US dollars, the decrease has gone from 1.4 billion US dollars to 260 million US dollars".
Hurting more than others
- The Norwegian export to Russia should be 15 billion kroner, not 2 billion, as it is now. Norway suffers under the restrictive trade regime – to a larger extent than many OECD countries, Liv Monica Stubholt says to High North News.
The Chairman of NRCC elaborates:
- This is due to several conditions, among other the fact that the joint trade has been insufficiently diversified, and last but not least the fact that oil and gas operations in the Arctic waters are particularly targeted by the restrictions. Without the introduction of restrictions on oil and gas activities that were introduced in 2014 that industry would have been an important arena for bilateral trade.
Develop new areas
Norwegian seafood export also became subject to Russian countermeasures, Stubholt stresses.
However, this does not mean that the NRCC foresees a dark future for Norwegian-Russian joint trade.
- It will be important to develop other areas in which Norway has a strong standing, for instance in shipbuilding and aquaculture, also regarding construction.
Stubholt also argues that the NRCC plays a vital role, among others because they work continually with developing markets and areas that are not subject to sanctions.
Ready when the restrictions are lifted
- We look at all of Russia, not only the already established cooperation regions, and we work to maintain relations and arenas for cross-border business cooperation.
We work to prepare the ground for the day when the politically motivated restrictions, which limit trade, can be downscaled or lifted altogether.
- How do you work to prepare the ground for the day when the sanctions are lifted?
Study trips and market visits
- The Chamber has initiated a broad cooperation in the maritime sector in cooperation with maritime businesses on the west coast of Norway, with realization of various workshops and market visits to various Russian shipyards. We recently conducted a study trip to the Russian Far East for later market initiatives in the region later this year. It has been years since the last time joint efforts in the Russian Far East were facilitated.
The development of the region is a high priority of Russian authorities. And last December we facilitated a market trip to Kazan in the Tatarstan republic, and we are currently planning similar initiatives towards other regions in 2017.
The Russians are also active
Russians authorities are also busy in this area. Furthermore, we have several projects that are under consideration with the Ministry of Foreign Affairs at present, and these cover amongst others facilitating Russian business delegations to Norway as well as Norwegian delegations to Russia. In short; it is about continuing our work with the markets even though sanctions apply to some sectors, Liv Monica Stubholt emphasizes.
- Does the NRCC also work politically to have the sanctions lifted?
- The NRCC accepts all legislation as a matter of course, and through that also regulations about restrictive measures.
Orientation and influence
The Board of the Chamber of Commerce has, ever since the moment the restrictions and counter-embargo came into force, considered it our job to inform Norwegian and Russian authorities about the effects thereof.
The Board of the Chamber of Commerce holds the view that politicians and diplomats must work without delay and communicate to find a solution to the conflict, which would erase the foundation for the restrictions, Stubholt says.
Business takes the brunt
- Businesses in Norway and Russia adhere loyally to whatever politicians decide. Now, more than three years after the trade restrictions came into force, it is obvious that businesses – perhaps particularly in Norway – bear the brunt.
The results of our work are evident very concretely in our permanently emphasizing the need for dialogue within various working groups, and in the economic commission between Norway and Russia, through input to various requests from departments who want to hear our view.
Active participation
We also promote our views in dialogue with our partner in Russia, the Russian trade chambers. There is, in short, a permanently ongoing work from the trade chamber in contexts like this one. Now we are in the run-up to meetings in the Working Group for Regional and Near-Border Cooperation and the Working Group for Shipbuilding, and we participate actively in both.
Furthermore, we will participate in the bilateral Commission for Economic, Technical and Industrial Cooperatoin in Moscow towards the end of April. Participation and influencing executive authorities is always a vital part of the NRCC's work, says Chairman of the Board Liv Monica Stubholt.

Also read:
Fear intensification may make Norwegian companies exclude Russia (Norwegian only)
Dramatic drop in Norwegian export to Russia (Norwegian only)










Les artikkelen på norsk.