Norwegian Fisheries Minister: "We Must Increase Land-Based Profitability"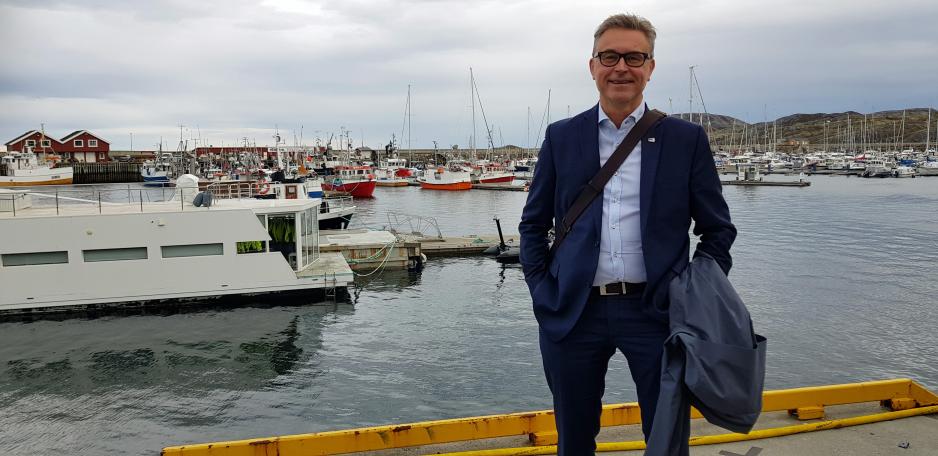 Waves run high in the Norwegian fish industry. Debate surrounds quota regulations and travel restrictions for incoming foreign workers, and coastal municipalities warrant lasting value creation. "We have to do a better job here", says Fisheries Minister Odd Emil Ingebrigtsen (Conservatives).
Norwegian Fisheries Minister Odd Emil Ingebrigtsen (Conservatives) has in many ways grown used to leading an industry in which conflict and opposition is pretty much the order of the day.
"The fish industry culture is loud-mouthed", says the Minister and refers to the phenomenon as engagement.
Nevertheless, he does not consider the industry more conflicted now than before.
"Fish is a finite resource and there will always be conflicting interests around fisheries", Ingebrigtsen says.
Redistribution from ocean to coast
Current work in the Ministry of Fisheries is largely about introducing the new quota regulations [following the adoption of a 2020 whitepaper]. That has been – and is – a time-consuming process, according to the Fisheries Minister.
The 2021 regulations means that the new regulations are to be implemented, and these involve a certain redistribution of resources, from ocean-going vessels to coast-based fishing vessels.
This week, the mayors of Båtsfjord, Berlevåg, Lebesby, Hammerfest, Skjervøy and Vestvågøy submitted a proposal warranting exactly that, more year-round activity in coast-based communities. Their proposals are based on a Nofima report and what they want, is for a larger part of the fish caught to be landed and processed in Norway.
More flexibility
Will the Ministry follow up the proposal about introducing a fresh fish scheme for the part of the trawler fleet that is subject to landing obligations?
"Parliament agreed to proposals to some modifications of obligations in relation to its processing of the quota whitepaper [last year]. Following up this, the Ministry of Trade, Industry and Fisheries made modifications to the regulations about landing obligations, effective 1 January 2021", Ingebrigtsen says to High North News.
It is a huge industry and the chance of getting caught if you cheat is limited today.  
"The Standing Committee on Trade, Industry and Fisheries also has a majority note about a more flexible processing obligation for companies owning trawlers with landing obligations and having multiple plants, and then opens up for specializations amongst these plants. We are currently working on that."
Ingebrigtsen adds that in his perception, there is cross-party agreement about enabling more value creation and employment along the coast.
"Thus, taking a closer look at the report and the submitted proposals would thus be a natural thing to do. I want us to create more and include more", the Fisheries Minister says.
Attractive jobs
"What is special, is that fisheries have gone from being subsidized by the state to becoming profitable and self-going. In this respect, we have succeeded in managing resources", he argues.
He believes correct exploitation of resources in the High North is important for creating attractive jobs and making people live there.
Social dumping is an issue in fisheries. Why is the land-side of the industry often accused of paying too low wages in an industry that has been around for some time, after all?
"On the fishing side, profitability is great. On the land-based side, however, there is not much profitability. It is time we do a more thorough job, amongst others to help the land-based part of the industry perform better."
Easy to cheat
Accusations about cheating in the seafood industry are abundant and have been for years and years. Why is this not possible to control?
"It is a huge industry and the chance of getting caught if you cheat is limited today. We have strategies for this, though what we need is to get smarter resource control in place", the Minister says.He argues that the only way through which to control this is to apply new technology.
"After years of investigating, we now have technology-based solutions that are almost ready. We are talking about tracing vessels and approving landing scales on land. Tracing technology is to be implemented in 2023 and will include a one-off cost of NOK 20,000 (appr. € 2,000) per vessel", Ingebrigtsen says.
Expecting losses
A season of losses following a hard winter is predicted for land-based fish companies. Is it possible to prepare better?
"We do not interfere with the market. We have had seven or eight golden years now, and the market will fluctuate. That is natural. We did not order the pandemic, and we all have to relate to it now. The focus in contributing is on stable arrangements and stable framework conditions", the Fisheries Minister says.
A scheme has been introduced, amongst others, in which up to ten percent of annual quotas may be transferred to next year.
"There are many small details that make this industry a very complicated one. We are trying not to make too big changes."
Wants more visibility
You recently started a large control action initiative towards the fish industry. What do you expect to find?
"Last year, we cancelled this control due to the Corona situation. This year, we simply want to be more visible. Much of this is about supervision. Experienced people run the initiative and they mainly have to deal with minor issues. The main problem with fish crime is lack of documentation. But with better control, the goal is to avoid people being caught unnecessary", Ingebrigtsen says.
Border crossings are still closed, and the Minister is fully aware that not all companies have enough staff for the winter fisheries. In Vesterålen, the famous skrei fisheries have commenced, while Lofoten is still waiting for the fish influx. All in all, a good sign, given the situation.
"Import infection will have major consequences for small communities and it hits so sudden. Thus, the borders had to be closed. The Vesterålen region has managed, whereas others like Røst and Vågan municipalities still need people. This crisis makes us have to think differently", the Minister says, and adds that the fish will not disappear, after all.
"Fish that is not caught this year will move north and return to be caught next year. The resource as such does not disappear."
Everything is uncertain
What will happen next year?
"The rule of the fish industry is that everything is uncertain. It is an advantage that those involved with the fish industry are accustomed to nature's fluctuations. We do not know what next season will be like, however, we have provided extra funding for export guarantees", Fisheries Minister Odd Emil Ingebrigtsen says and closes:
"Some 15,000 people are employed in the seafood industry. We have to try and facilitate for an important industry for the coast and for Norway."
This article was originally published in Norwegian and has been translated by HNN's Elisabeth Bergquist.