Nike and Ocean Conservancy Call On Companies to Join Pledge Against Arctic Shipping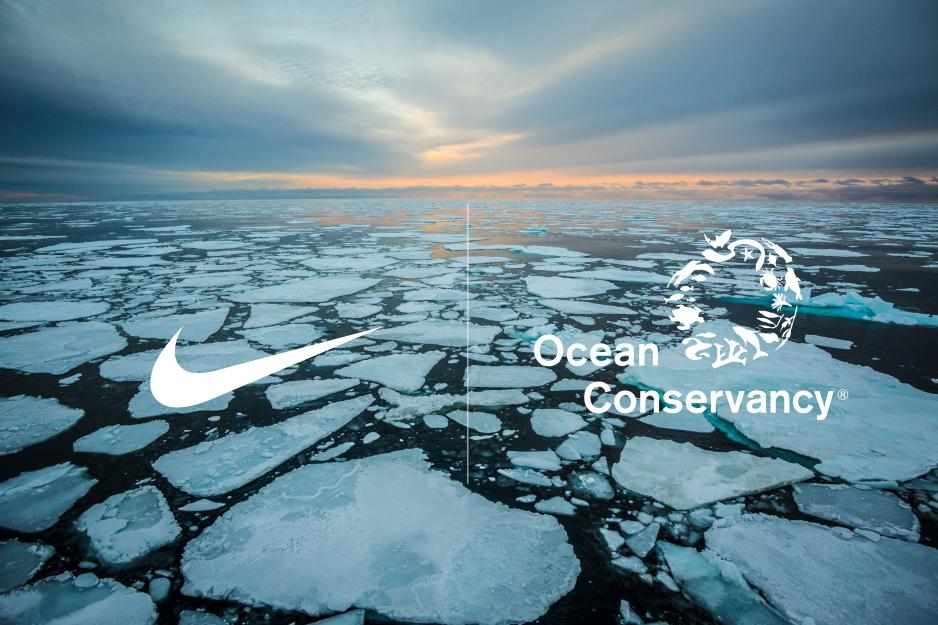 American sportswear company Nike has partnered with environmental advocacy group Ocean Conservancy to launch a global campaign against Arctic shipping routes.
Nike's efforts against Arctic shipping are the latest in a string of global companies speaking out against using the region's emerging shipping routes. As part of its Arctic Shipping Corporate Pledge, Nike urges businesses and industry to make commitments to not ship their goods via the Arctic Ocean.
Over the past three months, major shipping operators, including Germany's Hapag-Lloyd and France's CMA CGM, have walked away from Arctic shipping. With Nike, the issue has reached one of the world's largest suppliers of sportswear known for taking on global societal issues as part of its marketing campaigns.
"Through this pledge, we've made a clear choice – to help protect the planet and preserve the Arctic," explains Hilary Krane, EVP, Chief Administrative Officer and General Counsel of Nike.
Colliding visions for Arctic Ocean
More than a dozen global companies have already joined Nike's efforts highlighting two colliding visions for the future of Arctic shipping. 
For Russia and its closest economic partner in the region, China, maritime transport in the Arctic will be key to bring natural resources, including oil and gas, to markets in Europe and Asia. Shipping volumes  on the Northern Sea Route have already grown 8-fold over the past 6 years reaching almost 20 million tons in 2018. Arctic shipping is of such importance to Russia that it considers setting up a subsidized state-run shipping company to attract business to the region. 
On the other hand a growing list of major shipping companies and global manufacturers like Nike, H&M, Gap and Columbia, who rely on shipping to transport its goods, have joined calls to not ship via the Arctic Ocean.
Moving Beyond a HFO Ban? 
Environmental organizations have long argued that increasing vessel activity across the region results in unacceptable and potentially devastating environmental hazards. Advocacy groups have put pressure on the International Maritime Organization to implement a ban on Heavy Fuel Oil, the dirtiest type of marine fuel, in the Arctic. But a ban is still at least three years into the future. 
With a rapidly growing list of companies pledging to not ship via the Arctic Ocean, a ban on HFO may just be the first step in protecting the Arctic Ocean. 
Growing trend against Arctic Shipping
Following pledges against Arctic shipping by shipping companies CMA CGM, Hapag-Lloyd, and MSC - some of the world's largest container shipping companies - earlier this fall environmental groups and shipping experts were unsure of the larger implications for the prospects of Arctic shipping. 
"It is difficult to know at this point in time if this is the start of a trend. In recent weeks we have seen shipping company Oldendorff Carriers choosing to use the Northern Sea Route for the first time and some companies, such as COSCO expanding their operations in the Arctic, however what it does demonstrate is that there are shipping companies that are taking their environmental responsibilities seriously," explained Dr. Sian Prior, Lead Advisor to the Clean Arctic Alliance, an advocacy group pushing for a ban of HFO, earlier this month.  
As more and more companies join in these efforts it may become increasingly difficult for others to not follow suit. "What is sure is that if several other shipping companies say they give up on Arctic shipping, then it will be increasingly difficult to remain silent on the issue," confirmed Frédéric Lasserre Arctic shipping expert and Professor at the Université Laval Québec. 
Nike's announcement may lend additional credence for the start of a global trend for companies to come out against Arctic shipping, a hope confirmed by Nike's partner on the issue, Ocean Conservancy. 
"The dangers of trans-Arctic shipping routes outweigh all perceived benefits and we cannot ignore the impacts of greenhouse gas emissions from shipping on our oceans," says Janis Searles Jones, CEO of Ocean Conservancy. "Ocean Conservancy applauds Nike for recognizing the real bottom line here is a shared responsibility for the health of the Arctic—and believes the announcement will spur much-needed action to prevent risky Arctic shipping and hopes additional commitments to reduce emissions from global shipping will emerge."