- Local Cooperation With Russia is Underestimated, says Ine Eriksen Søreide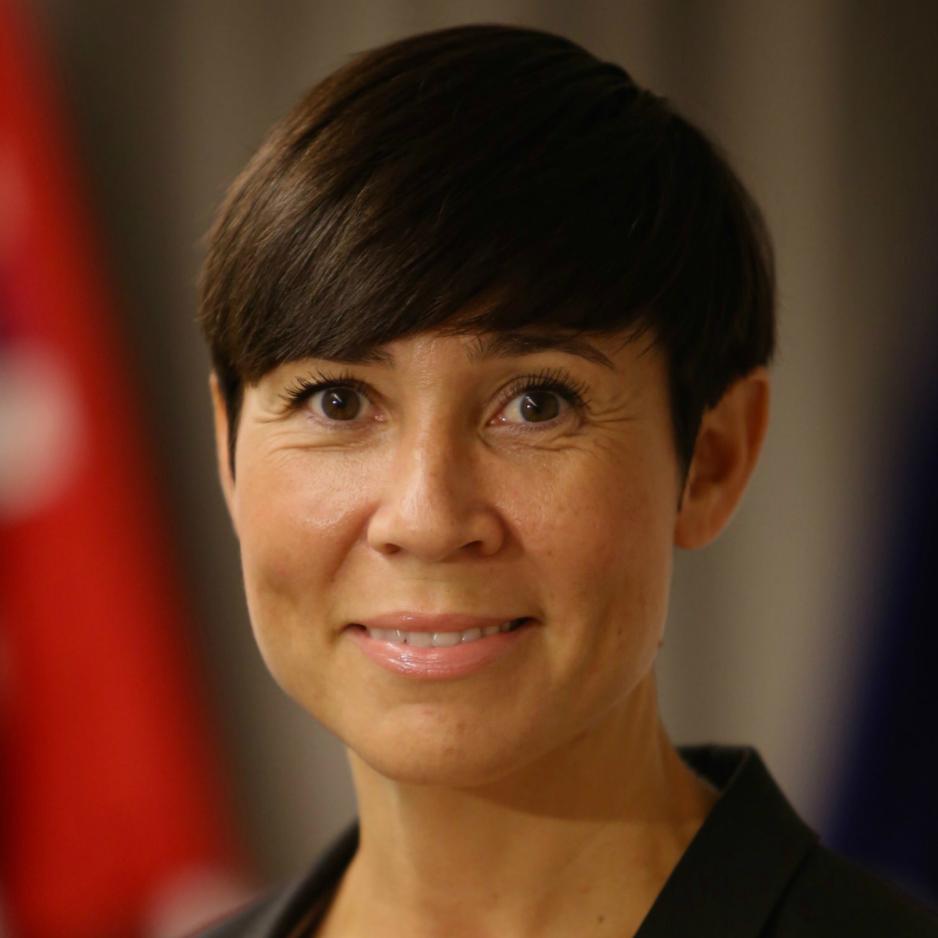 Kirkenes: Foreign Minister Ine Eriksen Søreide travels with Prime Minister Erna Solberg to Russia to have a political dialogue. - Meetings like that provide us with an opportunity to talk about how cooperation between our two countries works, and where it is problematic, says Eriksen Søreide to High North News.
We meet the Foreign Minister immediately after her announcing that a high-level Norwegian delegation will attend Putin's grand conference in St. Petersburg in April, "The International Arctic Forum 2019".
In this interview, she talks about dialogue with Russia, both opportunities and challenges. She talks about the Svalbard Treaty, about challenges and changes to Norwegian foreign policy, and not to mention about the significance of the local and regional cooperation with Russia in the High North.
We have a dialogue with Russia
Ine Eriksen Søreide describes the planned attendance at the Russian summit as a continuation of a political dialogue that is already ongoing, and she also rejects Russian claims that it is more about Norwegian "statements" than political dialogue.
- I strongly disagree with that, Eriksen Søreide says.
- We have an ongoing dialogue in a series of areas, such as for instance fisheries management and nuclear safety. Climate and Environment Minister Ola Elvestuen's visit to Moscow last week represents that. If the Russians chose to refer to disagreement as an expression for lack of dialogue, they should feel free to do so. In my experience, Russians also respect that. I also experience Russian interest in these dialogues. Furthermore, we meet in common forums like the Arctic Council and others. At the same time, we are still very clear about Norwegian foreign policy and Russia knows our position about the Crimea.
- These are the frames for the dialogue we have. We cooperate where it is natural, and we state it when we disagree. When we take part in restrictive measures, that comes as no surprise to the Russians, says Eriksen Søreide
Changed foreign policy
- During the Arctic Frontiers conference earlier this year, you expressed a slight change in Norwegian foreign policy. A more cynical policy, from what I gather?
- I would not call it cynical at all. We are working on a White Paper on multilateral cooperation. It has been an informal truth through all times that Norway's chair shall never be empty. That works rather well most of the time. However, today we see that multilateral cooperation is under pressure. The UN is under pressure, the WTO is under pressure, human rights and many other issues are under pressure. We have to spend more resources than we have been used to in order to defend a number of things, compared to how it was just a few years ago. We are not the only ones who have to do so, however, and that also means that we have to reprioritize our resources in some areas. It will obviously be important to Norway to maintain a rule-based trade system, and we have to use a lot more resources than we did even only two years ago, in order to achieve this. It will also be incredibly important for Norway to not see a setback in for instance women's rights issues in UN resolutions. We have to redirect more resources towards such issues. We simply have to regroup our resources and put them to work where we need it the most.
Demanding processes
- Will this have consequences for our work with the bilateral relationship with Russia and Norwegian High North policy in general?
- The High North is the most important strategic area, and it will always be a high priority. That is what we use to aligh much of our foreign policy. We spend significant resources on achieving a good political development. And of course, conditions are not always suited for that, but then at least we continue cooperating about practical issues. There are no changes in our use of resources through Arctic 2030, nuclear security efforts, the Barents Secretariat or other areas in the High North. However, I do believe we must be honest and say that we should have a sober and realistic approach to how we can use our forces and our resources for Norwegian interests in a good way.
- Nor is it only about programs and transfers; it is also about human resources and competence. Three years ago, hardly anyone thought we would be spending extreme amounts of resources on Brexit and its consequences for Norwegian interests. Nor on the consequences of US trade policies. That has forces us to push a lot of resources into these areas.
The Svalbard Treaty
- Next year marks the 100th anniversary of the Svalbard Treaty. We have not seen any official signals so far that this will be marked in any way?
- We have not started thinking about that yet.
- Will there be an official event?
- I strongly believe there will. I cannot imagine that there should not be some form of official event.
- So it is not the case that Norway is looking to keep its head down on Svalbard issues?
- I am quite sure there will be an event of some sort. However, how it will be and which form it will have, remains to be decided. As for the Svalbard Treaty, there is no disagreement about it, nor about Norwegian sovereignty.
- There are obvious disagreements in the interpretation of the Treaty, such as for instance in questions related to the Svalbard continental shelf?
- Some claim to disagree, however, that does not mean that there is a disagreement. I do not consider that a problem.
The local aspect matters
- Regardless of this treaty, you yourself have expressed a certain skepticism towards renegotiating international agreements, simply because that may cause them to crumble?
- These are genuine problems. We do for instance have conventions against torture, where there is an expressed desire to open up the conventions in order to solidify them. To put it bluntly, no one in their sound mind will want to do that, because there is a great risk that the convention then would crumble into pieces.
- In your speech here in Kirkenes, you touched on the issue of whether or not Norway as a nation understands the significance of local involvement and presence for our relationship to Russia?
- Norway as a nation understands this very well. We are, unlike some other countries, well integrated and without major regional differences. However, I do believe that the value of that is sometimes underestimated. To us, this is a key rotational axis for the work we manage to do, in particular people-to-people work. [That is] Work with longstanding traditions that enables us to also find new areas and ways in which to cooperate. That is important both for the region and for Norway. Nevertheless, I believe that the extent is sometimes overlooked if you are not right in the middle of it. However, we have clearly acknowledged the fact that it happens, and that it is a key element of our foreign policy.
New cooperations with Russia
- What is the next step in our relationship with Russia?
- The initiative we took on marine pollution is an excellent example of how to expand some forms of cooperation that are important to both parties. We also had a very good round in the Barents Secretariat, where we received feedback on civil society and the current difficulties in Russia. I have asked for concrete input on how to direct our support in order to see results in areas where people-to-people cooperation is essential, but where we as authorities depend on advice from those who work on it. Most of it is halted due to agent laws and other legislation, so that the channels that we are used to apply in order to provide support for civil society are not working the way they used to, says Foreign Minister Ine Eriksen Søreide to High North News.