"I am Focused on Good Processes", Says Norwegian Svalbard Minister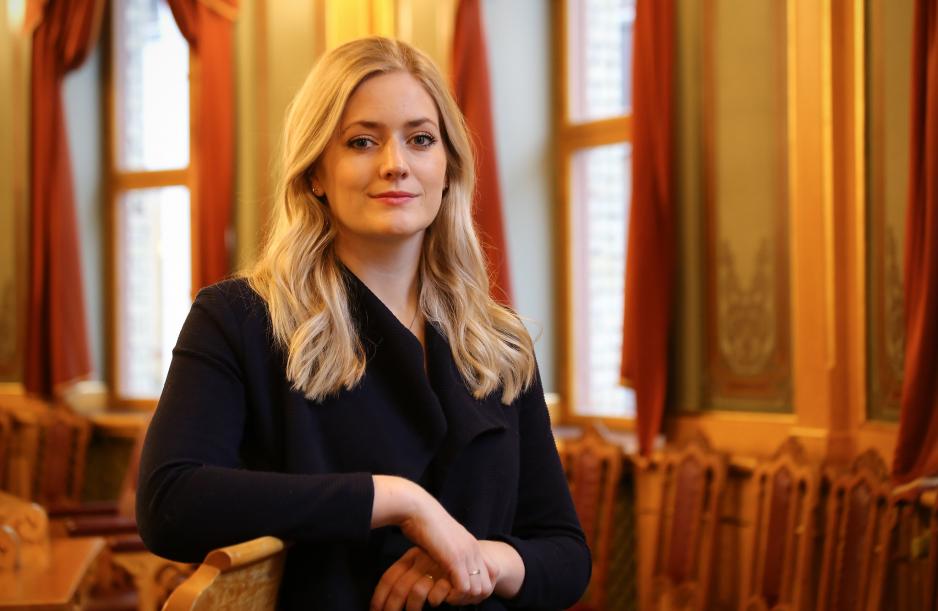 Yet Svalbard Minister Emilie Enger Mehl (Center Party) says it is too soon to tell how the new government will relate to voting rights, environmental legislation and education.
Two weeks ago, High North News wrote that national authorities were tightening the reins on Svalbard. Four major hearings (see fact boxes at the bottom of this story) have been introduced in the past year. Local actors worry about the consequences. The authorities are amongst others considering removing local voting rights from foreigners, limiting how much special education the school is to provide, increasing protection of nature, and introducing stricter requirements to field safety.
Now, Minister of Justice and Svalbard Emilie Enger Mehl (Center Party) answers.
What position does the new government take on these hearings?
"It is too soon to tell how we will relate to these issues. We have to revert to that. Generally speaking, I have noticed that people in Svalbard have not felt sufficiently heard in matters that have a bearing on their everyday life and business there. I am sure there will be cases in the future too on which we disagree", Mehl responds.
"However, I am focused on good processes and on facilitating input from people who on cases by which they will be affected, as far as possible", the Svalbard minister says.
Broad political agreement
In its foundational document, the Hurdal Platform, the new Norwegian government writes that Svalbard carries major strategic significance for Norway's opportunities in the High North and Arctic. the Svalbard policy is thus an integral part of the government's High North policy. It wants to further develop the Svalbard policy in a  way that secures Norwegian interests and Norwegian settlement and maintains a sustainable development in the Arctic.
How will you achieve this?
"The overall goals of the Svalbard policy have been firm for years and years. The broad political agreement about these goals have led to the governance of Svalbard being characterized by continuity, that it is predictable and follows the longer lines. When Stortinget [the Norwegian parliament} processed the latest whitepaper about Svalbard in 2016, Longyearbyen was in a transition phase due to the shutting down of coalmining in Svea", Mehl writes to High North News.
"The community is still in transition and there will also in the near future be a need to consider measures and facilitations that contribute to maintaining the Svalbard policy goal about a viable and diverse local community in Longyearbyen", Mehl says.
Svalbard Policy Goals
The five overall goals:
Correct and firm asserting of sovereignty
Correct asserting of the Svalbard Treaty and controlling its being adhered to
Preserving peace and stability in the area
Preserving the unique wildlife nature of the area
Maintaining Norwegian community on the island
Maintain Norwegian community
Will you make changes, compared with the previous government?
"At the moment it is too soon to tell, other than that we are concerned with the longer lines of the Svalbard policy and with maintaining a form of governance that is predictable and marked by continuity. Maintaining a Norwegian community on the archipelago has long been an important goal of the Svalbard policy and is firmly anchored in Stortinget. Longyearbyen is the administration center of the country's northernmost region", Mehl says.
"In order to meet the goal about maintaining a Norwegian community in Svalbard it is important to facilitate a well-functioning business life in Longyearbyen. The government will consider measures supporting this goal on an on-going basis. Initially, it was important for me to make sure avalanche and landslide security measures for the Vannledning Valley was included on this year's budget, and I am glad we were able to allocate NOK 40 million to improve safety in Longyearbyen", the Svalbard minister says.
Pressure on infrastructure
Do you want fewer inhabitants in Longyearbyen?
"The number of inhabitants in Longyearbyen is fairly stable, however, in recent years it has increased. There is currently pressure on infrastructure and public services. The population mix has also changed with Longyearbyen having developed from being a company town based on mining to becoming a more diverse town based on more varied businesses. These are natural changes, however, they also lead to new challenges that the government will have to continue working on", Mehl says.
Do you want fewer inhabitants in Longyearbyen?
"Having a balance in the relation between Norwegian and foreign citizens in Longyearbyen is important."
Wants to come to Svalbard
What measures will you potentially take to reach these goals?
"Employment as well as a well-functioning business and work sector are crucial for Longyearbyen to remain an attractive location for Norwegian families", Mehl writes.
Does the Svalbard minister have plans to visit Svalbard this fall?
"I have a desire to soon visit Svalbard, however, I will have to revert with a date for such a visit", Mehl says.
Hearing proposal about voting rights
Persons who do not hold Norwegian citizenship have the right to vote and are eligible for local council office only if they have previously been registered as inhabitants of a Norwegian municipality for the past three years before moving to Longyearbyen. (Today, they get the right to vote upon three years residency in Longyearbyen.)
The hearing deadline was 25 October 2021. 
Hearing proposal about the children and youth sector in Longyearbyen
For the primary school, the proposal limits how much special education Longyearbyen school is to offer. The Ministry also proposes that Longyearbyen Local Council shall not be obliged to offer either cultural leisure activities, homework assistance, school camps or other services normally available through mainland schools.
Longyearbyen Local Council is obliged to offer kindergarten to at least ten children aged 3+ and at least five children under the age of three.
Private actors may not offer kindergarten services.
The hearing deadline was 15 August 2021.
Hearing proposal – the Svalbard Environment Act with relevant regulations:
Regulate tourist operators' permission to enter land from boats in protected areas. Abandon the principle that entering is allowed as a main rule, and change it to the main rule being that it is prohibited in protected areas other than in 42 specifically defined areas.
Cruise vessels navigating in the protected areas may have a maximum of 200 passengers onboard.
Tightening ban on seeking out polar bears and a requirement about keeping at least 500 meters distance.
Ban on motorized travel on sea ice in several areas from 1 March
Ban on breaking permanent ice and ice that is forming, with the exception of the ports in Longyearbyen, Barentsburg and Ny-Ålesund
Speed limit at sea of 5 knops within 500 meters from selected bird mountains from 1 April to 31 August.
Minimum distance of 300 meters to walruses' resting places when entering from sea.
Ban on using underwater vehicles.
Requirements to applications for tent and camp stays for tourist, field, research and education purposes. Others have to apply if they are to tent in  one and the same location for more than one week. Requirement about polar bear guard on-duty having to be awake.
Ban on drones and remotely controlled or autonomous devices in air and on the ground and under water in the protected areas. Ban on the use of drones closer than 500 meters to bird mountains for the period 1 April to 31 August.
Hearing proposal: Tourist Regulation Turns Field Safety Regulation
Requirements for Svalbard guides to be certified.
Tourist and field operators must apply for permission to travel and organize activity all over Svalbard. Previously, a notification requirement was in force.
Research and education activity will also be subject to insurance obligations, just like tourist and field operators.
Former residents are considered tourists/individual travelers according to the regulation.
Guns and deterrence means for chasing off polar bears outside inhabited areas will be required. Residents are responsible themselves for deciding when to bring a gun.
The [Norwegian] Package Travel Act shall apply to Svalbard.
Hearing deadline: 1 February 2022 
Business and Innovation Strategy for Svalbard since 2019:
New business activity in Svalbard should benefit naturally from using Svalbard's unique nature or location
Stable, year-round, profitable jobs are preferable
Business development and new activity should take place within environmental regulations and goals applying to Svalbard
New and expanded business activity should be based in Longyearbyen
It is not a goal for the Svalbard community to grow beyond its present level. The [Norwegian] government does not want to facilitate growth necessitating a need for major investments in new infrastructure
This article was originally published in Norwegian and has been translated by HNN's Elisabeth Bergquist.