Fish Landing Plant in Svalbard Put on Hold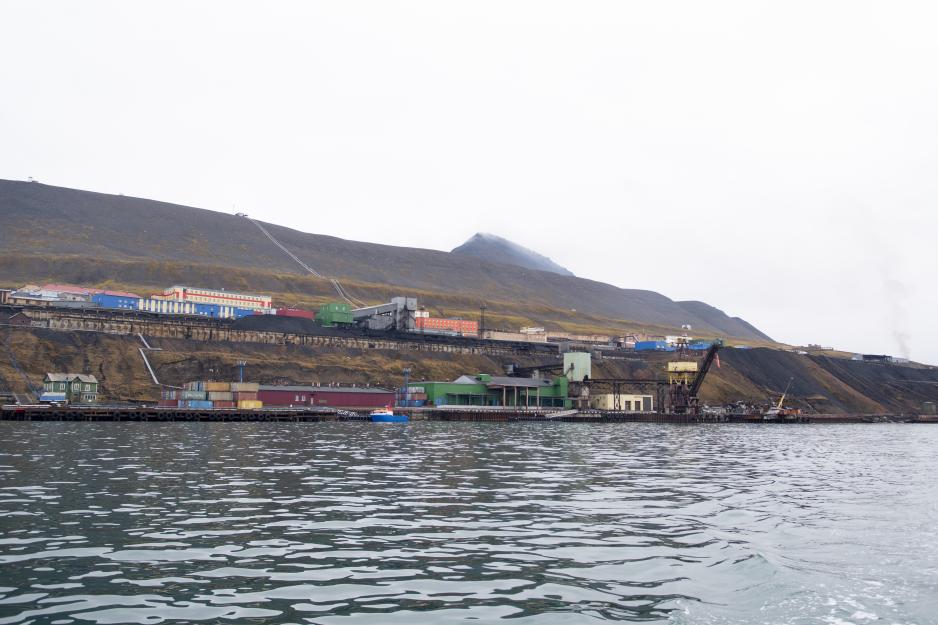 The plans for a fish and crab landing plant in Barentsburg on Svalbard have been put on hold. At the same time, Norwegian scientists are working to find out what it will take to establish local fisheries, for instance for gourmet crab.
Fishing vessels journey everywhere along Svalbard's coast. Though as per today, none of them can go to any local settlement to land their fish. An intricate knot of legislation has to be solved in order for fisheries to take place around Svalbard that can be landed and processed locally.
Expensive investigation
For nine years, Russian-owned Arctic Resource Norway AS has worked to established the required framework for a fish and/or crab landing plant in the Russian settlement of Barentsburg.
Now, Arctic Resource Norge has put the process on hold.
"The main reason for this is that the expenses for our investigations are higher than originally budgeted", says Irina Jakobsen, General Manager of the company.
Major risk
Last July, the Svalbard Governor approved of a program for exploring consequences. Arctic Resource Norway has started the job. The Norwegian Maritime Museum has looked for traces of cultural heritage under water, the Norwegian Institute for Nature Research has been to Barentsburg, and Multiconsult has looked into the geotechnical conditions.
Yet there is much that remains. In addition, the company does not know whether or not operating a fish or crab landing plant in Svalbard will ever be legalized.
"This is a very difficult situation for us and it costs a lot of money. If we were to use millions on an impact assessment without regulations changing, we would have wasted all that money", Jakobsen says.
Now, the company will analyze all risks related to the project.
"We were very optimistic at first. We no longer are. We need changes in the current legislation. Perhaps the new government will bring a change", Jakobsen says.
Norwegian crab project
Chair of the Svalbard Business Association Terje Aunevik has long worked to change the regulations so that a fish landing plant can be established in Svalbard in order to supply local high-quality food. He currently awaits the conclusions of the research project "Fiskeri på 78o" [Fisheries at 78o], which is lead by Nofima.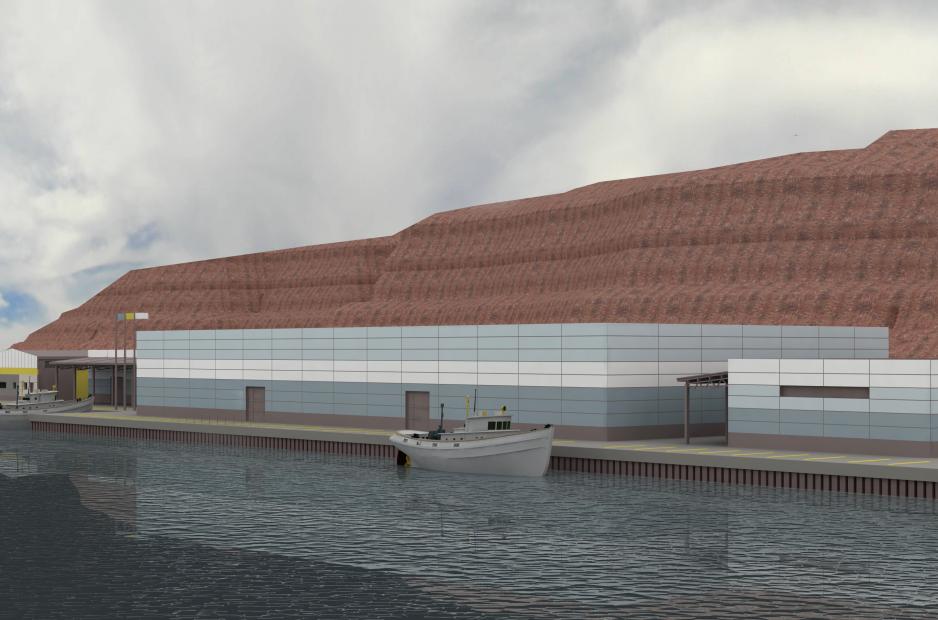 The project investigates the opportunities for making Longyearbyen a culinary destination based on a menu with local snow crab and red king crab. It wants to create an overview over current legislation, develop a detailed Svalbard plan for the catching, live storaging and processing of crab, and also present a concept for culinary food experiences.
We are currently working on establishing the facts  
Last Wednesday, Nofima presented its project at an open meeting in Longyearbyen organized by the Fridtjof Nansen Institute.
Aunevik is one of the local actors involved in the Nofima project. He is clear that if seafood industry is to be established in Longyearbyen, it has to be in keeping with Norwegian Svalbard policy both when it comes to environment, climate, and stimulating Norwegian residency.
If fish industry is to be relevant in Svalbard, it has to be in order to create a first-class brand as well as a high-tech production securing attractive jobs, he argues.
Such a project could exploit the Svalbard Environmental Act in a good way and spearhead a fish industry that leaves not trace, with emission-free vessels, waste used as a resource, as well as an industry working based on reward per kilo fish rather than on the number of tons of fish produced.
"No specific initiatives"
The most recent Svalbard whitepaper (2015-2016) refers to the Norwegian parliament Stortinget's having requested the government come up with proposals as to how increased fisheries and other harvesting of marine resources can lead to positive ripple effects for Svalbard. In the whitepaper, the then-government [which recently left office following elections] wrote that it will revert to parliament about this, and that it wants to facilitate a seafood industry tied to local food and tourism.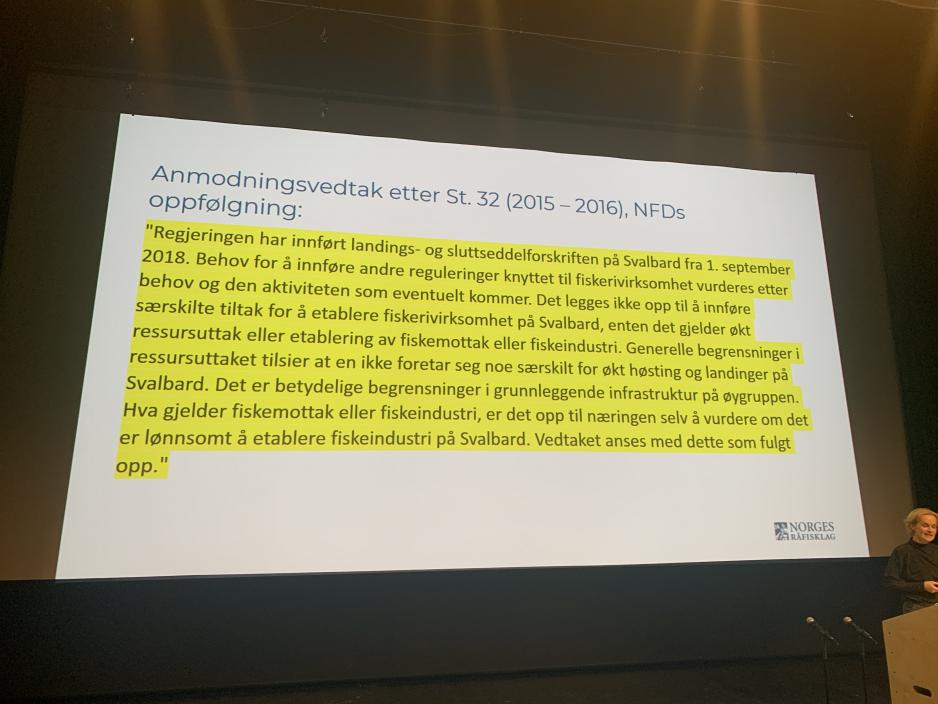 Two years later, it introduced an landing and delivery note regulation for Svalbard which a.o. allows leisure fishers to supply fish for local restaurants.
At the meeting in Longyearbyen, Legal Advisor Gerd Kristoffersen of the Norwegian Fishermen's Sales Organization referred to a note from the Ministry of Trade, Industry and Fisheries concluding that the whitepaper has been followed up.
"The need to introduce other regulations related to fisheries activities will be assessed on an as-needed basis and any activity that may ensue. One does not plan to introduce specific measures in order to establish fisheries activity in Svalbard, be it increased resource outtake or the establishing of fish landing plants of other fish industry", the Ministry writes.
Continue researching
The Fridtjof Nansen Institute, chairing the Svalfish research project, was the initiator of Wednesday's meeting.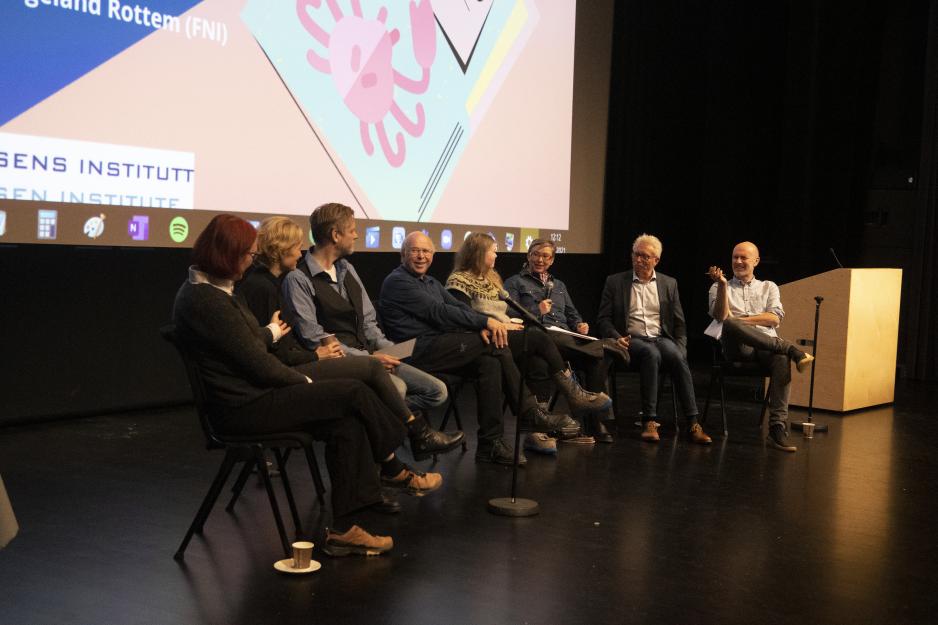 The institute is working on an overview over opportunities and challenges related to fisheries and the establishing of a fish and crab landing plant in Svalbard, and plans for several dialogue meetings in the coming year.
"We will map voices on this topic and highlight issues. So far, we are working on establishing facts. That will set the frame for a potential final product", says Senior Researcher Svein Vigeland Rottem of FNI, who moderated the dialogue meeting.
This article was originally published in Norwegian and has been translated by HNN's Elisabeth Bergquist.