Russian Initiative in Svalbard During Times of Crisis:

Russian Company Planning Fish Landing Facility in Barentsburg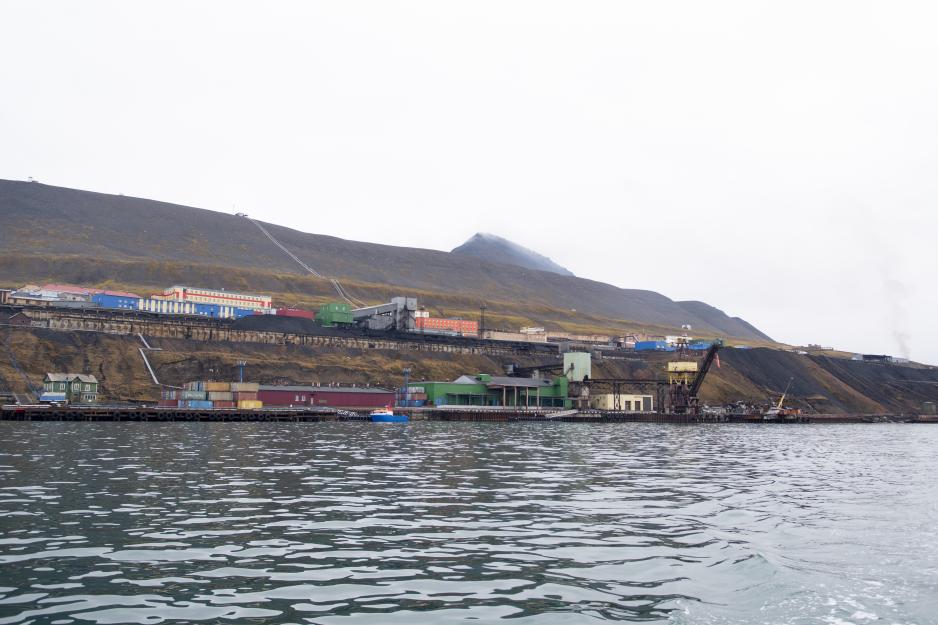 A Russian-owned company wants to start a fish and crab landing facility in the Russian settlement Barentsburg on Svalbard. No such thing exists in Svalbard today.
For eight years, Arctic Resource Norge [Norway] AS has worked to establish a landing facility in Barentsburg.
"The process takes a long time because no-one has done anything like this before. The authorities do not know what it takes to give us permission", says Managing Director Irina Jakobsen.
Arctic Resource Norge currently has a crab landing facility at Havøysund, a port in the northernmost part of Norway. A landing facility in Barentsburg would provide short distance from the catching areas and thus high-quality end products, according to the company.
"Our main goal is to create more jobs in Barentsburg. Both for Russians and perhaps also for Norwegians", Jakobsen says.
Have an estate
According to Erika Annette Vartdal of the communications unit at the Norwegian Ministry of Trade, Industry and Fisheries, a series of regulations and requirements must be met before the fish plant can be built. There currently are no obstructions in the fisheries regulations, however, there are strict environmental regulations in place in Svalbard.
In addition, companies wanting to operate a fish-landing facility must have a port as well as the infrastructure required, she writes in an email to High North News. Jakobsen says finding areas available will not be a problem.
"We have an agreement with Trust Arktikugol about renting an estate over time", she says.
That is one of the reasons why the company wants to establish its presence in Barentsburg, not Longyearbyen, which is closer to the airport and other infrastructure. In addition, the parent company of Arctic Resource Norge is Russian.
"We know that Trust Arktikugol wants more jobs, and perhaps something to bring life to this city. If we were to be successful with this production, there would be more life", Jakobsen says.
We will not destroy nature, but establish ecological production with little waste  
She points out that the landing facility will not be owned by Trust Arktikugol, however, that everything that will be done must be done with its permission.
"They say what area we may have, provide water, power and other infrastructure", she says.
The estate the company has agreed on has not been regulated for fish landing facility in the Barentsburg area plan. Thus, the plan must be changed in order to establish the landing facility can be built. LPO Architects are working on a new area plan on behalf of Trust Arktikugol into which the landing facility has been included.
Sceptical of crabs
The area plan must be approved by the Svalbard Governor. In addition, the Governor requires a most thorough impact assessment of a.o. what effects construction and operation of the fish landing facility may have for the local population, natural environment and cultural heritage.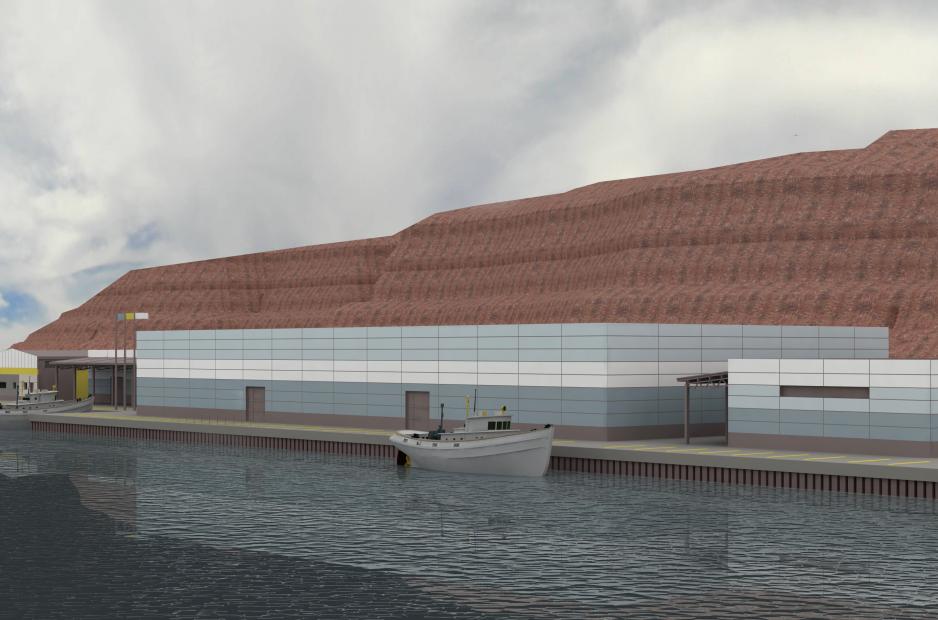 Arctic Resource Norge has hired LPO Architects to create a program for what the impact assessment should include.
"We are considering both fish and crabs and based on the outcome of the assessment we will see what is best", Jakobsen says.
According to her, a crab landing facility will provide far less waste than a fish-landing facility, among others because crabs are shipped to markets while still alive. Any fish would be processed on-site.
Fish waste could be pressed, frozen and transported out, perhaps on a Russian vessel to Murmansk.
"We are trying to work this out. We do not want to destroy nature, but rather to establish ecological production with little waste", she says.
In a letter to LPO Architects, the Svalbard Governor writes that it is highly unlikely that it will grant permission to introduce red king crab to Svalbard, as this is a foreign species. The same goes for snow crab.
The Governor also writes that the company my need other permits than those provided by the Governor according to the Svalbard Environment Act, amongst others in relation to food production and landing of fish and shellfish. The company has to find out about this itself.
Export challenges
According to Head of Division Torkjell Andersen of the Norwegian Food Authority's Section North, Troms and Svalbard division, there are no formal rules against starting food production in Svalbard.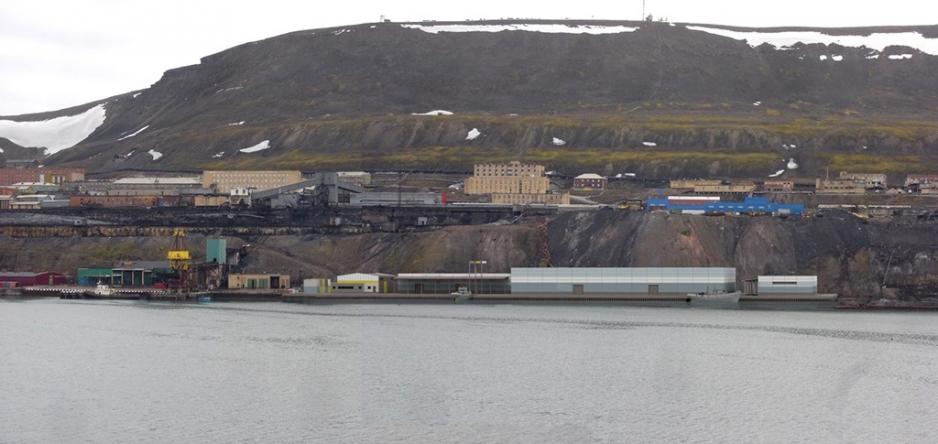 "However, the archipelago currently holds the status of 'non-listed 3rd country outside the EU/EEA". This means that foodstuff produced in Svalbard may not be exported to markets inside the EU/EEA just like that", he writes in an email to High North News.
Actors wanting to establish production should make sure beforehand that they get to supply its goods to a non-EU/EEA country. What countries this might potentially be, is beyond the overview of the Food Authority.
"Each country's individual regulations decide that", Andersen writes.
Circling
Arctic Resource Norge has worked on its landing facility plans for eight years, and there will be at least two more years before it could potentially start up in Barentsburg.
"We are still patient; this is so interesting for us. We are moving in a circle. No one says yes, and no one says no. As long as we are in this process, people have something to do. As long as anything goes on, there eventually has to be a conclusion. We hope it will be positive. We have spent so much money on this process already. Should we stop now?", she ask before answering:
"We think we have invested so much that there may just be a little more to go before we make it. These are baby steps, but we are moving forward."
Laws introduced
In 2016, the Sea Resources Act was extended to also cover Svalbard. The purpose of the Sea Resources Act is to secure sustainable and public-economical profitable governance of marine wild marine resources. The Act provides legal foundation for control and regulation measures.
"It is important to make sure new companies in Svalbard have the same solid framework conditions as those on the mainland, and these also secure solid control over our resource outtake", then-Fisheries Minister Per Sandberg said in a press release.
In 2018, the Landing Regulation, following from the Sea Resources Act, was introduced to Svalbard. This was done based on increased interest in landing fish on Svalbard, according to the Ministry of Trade, Industry and Fisheries, as well as the need to establish the regulations required.
The Landing Regulation provides rules about how to write a log note, what information it should contain and how it should be kept and submitted. The regulation further establishes requirements to the weighing of fish landed, journaling, marking and storing. All this is key information in resource control work.
Source: The Norwegian government/regjeringa.no
This article was originally published in Norwegian and has been translated by HNN's Elisabeth Bergquist.