Eimskip and Royal Arctic Line Commence Container Shipping Cooperation to Greenland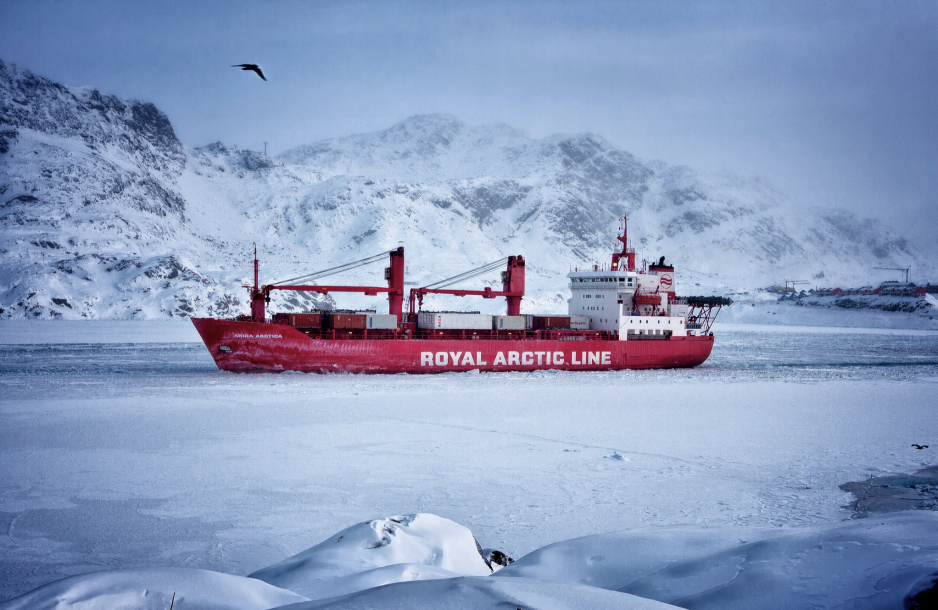 Icelandic shipping company Eimskip and its Greenlandic counterpart Royal Arctic Line (RAL) begin a long-awaited partnership improving service between Greenland, Iceland, and Denmark.
Royal Arctic Line's Tukuma Arctica concluded its first voyage between Aarlberg in Denmark and Nuuk in Greenland last week. The service is part of a new partnership between Iceland's Eimskip and RAL.
The two companies have been cooperating in the North Atlantic since 1993 and signed a letter of intent to share shipping capacity on routes between Greenland, Iceland, and Denmark in 2016. The following year they signed a formal agreement and proceeded to order three new-build container vessels.
"For Royal Arctic Line, this is an exciting and historic moment. We are entering a new time. 246 years of sailing to and from Greenland have changed. We stand at the beginning of an era with more flexible transport solutions for Greenland. Solutions that will make it possible to do business directly with Greenland, regardless of where you are in the world," says Verner Hammeken, CEO of Royal Arctic Line. 
With the new service it will be easier for Greenland to conduct business with the rest of the world. The cooperation will allow RAL to take advantage of Eimskip's route network connecting to ports in Scandinavia, Central Europe, and North America. Especially Eimskip's weekly service to Portland, Maine in the United States has seen rapid expansion.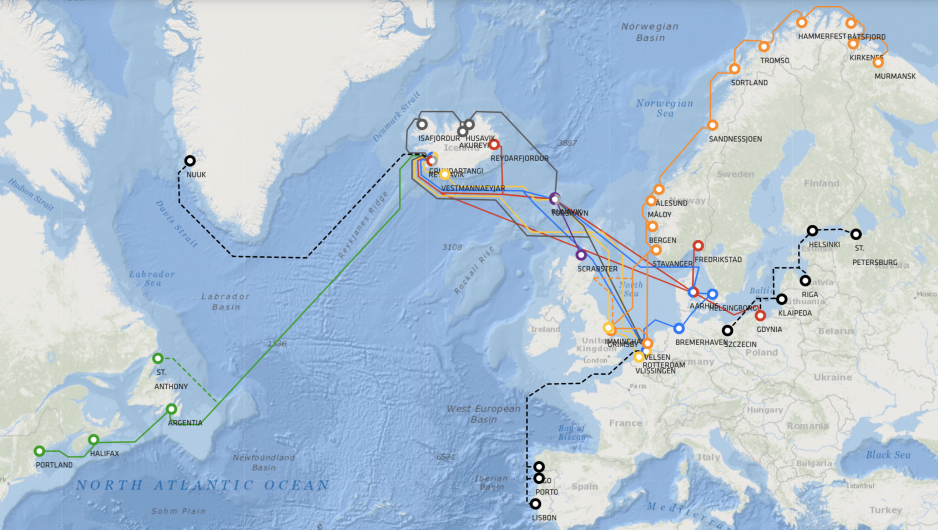 Partnership years in the making
When the cooperation was first announced the CEOs of both companies highlighted that it would increase the number of sailings between Greenland and ports in Iceland and Denmark.
"We assume that the cooperation will increase business activities between the Arctic nations, especially between Iceland and Greenland, where activities have been limited due to lack of frequency and direct services," explained Eimskip President and CEO Gylfi Sigfússon in 2017. 
However, the cooperation faced regulatory challenges, especially after Eimskip's competitor Samskip submitted an appeal to the Icelandic Competition Authority (ICA) arguing that the cooperation violated antitrust laws. Originally, the ICA had approved the agreement and granted a waiver until 2024 even though it violated parts of the Icelandic Competition Law Act. The ICA rejected Samskip's appeal in the Fall of 2019 paving the way for the cooperation to commence. 
New ships delayed
In order to offer year-round weekly service to Nuuk the two companies ordered three new container vessels from the Guangzhou Wenchong Shipyard in China. The service was originally intended to begin in 2019 but construction delays and a technical failure with one of the new ships resulted in a delay until June 2020.
As part of the cooperation Eimskip placed an order for two new container ships, while RAL purchased one ship, each costing $32m. The vessels have an ice class and are compliant with the Polar Code, including low emissions of Nitrogen Oxide and a built-in scrubber system to minimize Sulphur Oxide. Each ship is 180 meters long by 31 meters wide and has a capacity to carry 2,150 TEU containers.
With the modern vessels the weekly service will call in Reykjavik (Iceland), Helsingborg (Sweden) and Fredrikstad (Norway) on route to Aalborg in Denmark. 
RAL took possession of its new-build container ship, the Tukuma Arctic, in China on January 15 and the vessel arrived in Greenland for the first time in April after a lengthy voyage through the Suez Canal and the Mediterranean. Meanwhile, Eimskip is now also in possession of its first new ship, the Dettifoss, which had experienced technical issues with a shaft generator delaying its original delivery date in Fall of 2019 to May 2020.
Eimskip's second new vessel, the Bruarfoss, is also delayed from the shipyard until October 2020, requiring RAL's 15-year old Mary Arctica to take its place until the Fall. Once the Bruarfoss joins the fleet the service will expand to include additional stops in Aarhus (Denmark) and Torshavn (Faroe Islands).