Editorial: Noise and Fireworks – the Story of a Vilified Industry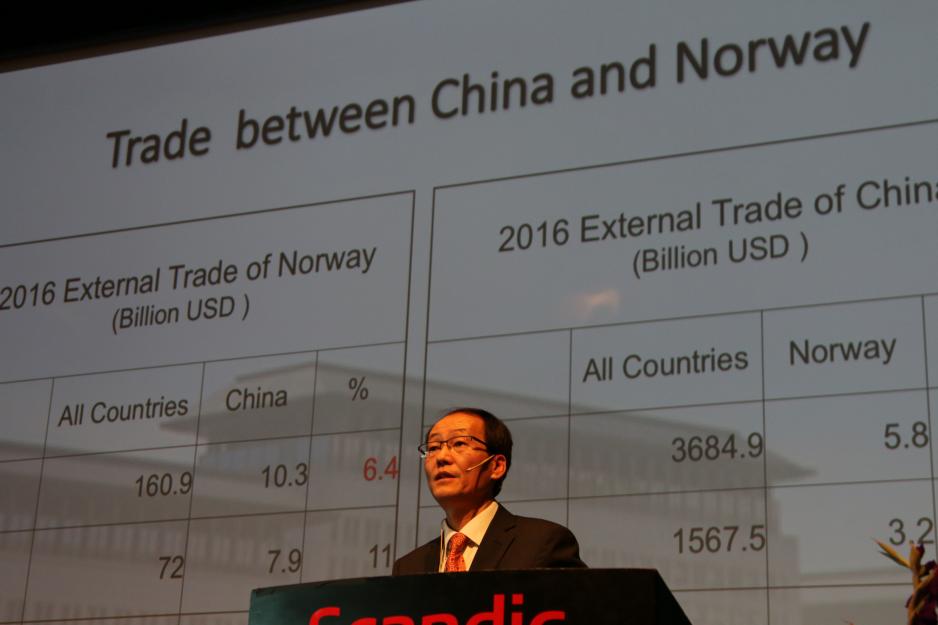 During the recent election campaign, there were intense debates about what Norway should live from in a post-oil era. However, when Norwegian industry rolled out its long-term future strategy at a conference in Bodø this week, national politicians were almost demonstratively absent, writes our Editor-in-Chief Arne O. Holm.

During the election campaign, there were loud discussions about what Norway should do for a living when the oil era ends. However, when the Norwegian industry sector rolled out its long-term future strategy during a two-day conference in Bodø this week, national political figures were almost demonstratively absent.
 The environmental lobby was more or less absent, too. Except for Bellona, a key NGO that is both funded by and working closely with the industry.
The Norwegian press was mostly absent too, the press that every day provides its readers with a guide on how to live.
LO, the main Norwegian workers' union, was present; however, as far as I could see there was not one single representative from the public sector, which is funded a.o. by the industry.


Many opinions – little knowledge
It is remarkable how Norsk Industri ('Norwegian Industry', the single biggest organization in the Confederation of Norwegian Enterprise) rolls out the Green Shift together with investors and industrial corporations without the critics showing up.
Remarkable, and sad. Because it goes to prove the myths about Norwegian industry. It becomes a debate with many opinions and little knowledge.
I also watched the debates about Norway's future during the recent election campaigns. Tourism and fisheries were pointed out _ad nauseam_ as Norway's most important industries in the future. Both industries are important, however, very few pointed to Norwegian industry as a part of the future.
It may be due to ignorance. But it may also be due to lack of courage.
The story of Norwegian industry is, erroneously, first and foremost connected with oil. The industry also carries a reputation of being dirty and old-fashioned. The post-war industrial growth hovers like a cloud over an industry that has taken quantum leaps towards the Green Shift over the past few years.
One small example from the Industri 2017 conference in Bodø.
Last year, Elkem Fesil bought Rana Metall AS. Yesterday, Managing Director Helge Aasen of Elkem announced that the company is now ready to invest some NOK 150 million in the plant. That is how they want to reduce emissions and increase efficiency.
Today, Elkem is a corporation fully owned by the Chinese. According to Aasen, one of the most important differences between the Chinese owners and the former Norwegian owners (Orkla used to own Elkem) is the long-term perspective.
And long-term perspectives, along with the profitability requirement, is what characterizes an industry that historically speaking has been through continual restructuring processes.


China and the US
That is just one of the reasons why a forward-leaning industry in sum lies way ahead of politicians in the chase for emission-free production.
Both Chinese and American investors were on stage in Bodø.
In their home countries, they struggle fiercely about an industrial world market. The differences are many, though they appear to have a joint investment strategy:
The money they manage, and we speak of sums that will make Norwegian industrial leaders appear as beggars by comparison, are withdrawn from polluting industries and shuffled into so-called 'green production'.
The investment shift is not justified from environmental-religious reasons. It is about profitability.
The Chinese will not survive if they continue the dramatic polluting of its cities.
The Americans turn their backs on Donald Trump's demonstrative opening of new and old coalmines, because they know that that is the wrong way to go to lift American industry back into the driver's seat on a global scale. Black Rock, the world's largest asset manager, and to investors a God above all other Gods, is steering its gigantic asset portfolio over to the parts of the industry that takes the Green Shift seriously.
For instance; not too long ago they forced Exxon Mobile to incorporate the Paris Accord into its strategy.
Michael Moore, an American investment strategist, argues that it hardly matters what Donald Trump does with regard to the Paris Accord.
"We are noisy, and it is going to be a lot of fireworks, but we are going to get there" is his description of the road to a new American industrial lead based on a changing environment.
Bank of Norway Assistant Manager Jon Nicolaisen heavily underlined the fact that Norway depends on having a modern industry for the future.
He demonstrated for the audience in Bodø how we as a nation have come through the decline in oil prices through moving activities and investments into the public sector, building and construction, and tourism.
- What we did made sense, but we cannot live from this. It still remains to figure out what we are to live from in the future – in addition to oil.


Missed by one year
Our newly elected MP's prioritized government negotiations and battles for leadership of the Parliament's standing committees over a much-needed crash course with Norwegian industry.
Stein Lier Hansen, Managing Director of Norsk Industry and having long-standing experience from the Labour party, was clear in his verdicts when he was asked to explain Labour's decline in the elections:
- (Party leader) Støre and Labour missed by one year. Everyone else realized that the crisis in Norwegian economy was over last year.
If politics are to be shaped by more or less random company visits during an election campaign, Norwegian industry is set to experience further mistakes.
Mistakes with larger consequences than just a poor election result for Labour.
If the myth of Norwegian industry as a climate destructor rather than a climate challenge solver survives, the recruiting to the industry will come to a halt.
That would be devastating. Because the young people of today are the ones who are to make sure that the climate remains a priority in the future, too.



This editorial originally appeared in Norwegian and has been translated by HNN's Elisabeth Bergquist.





Les kommentaren på norsk