Editorial Comment: What happens if Donald Trump makes decisions about the Arctic?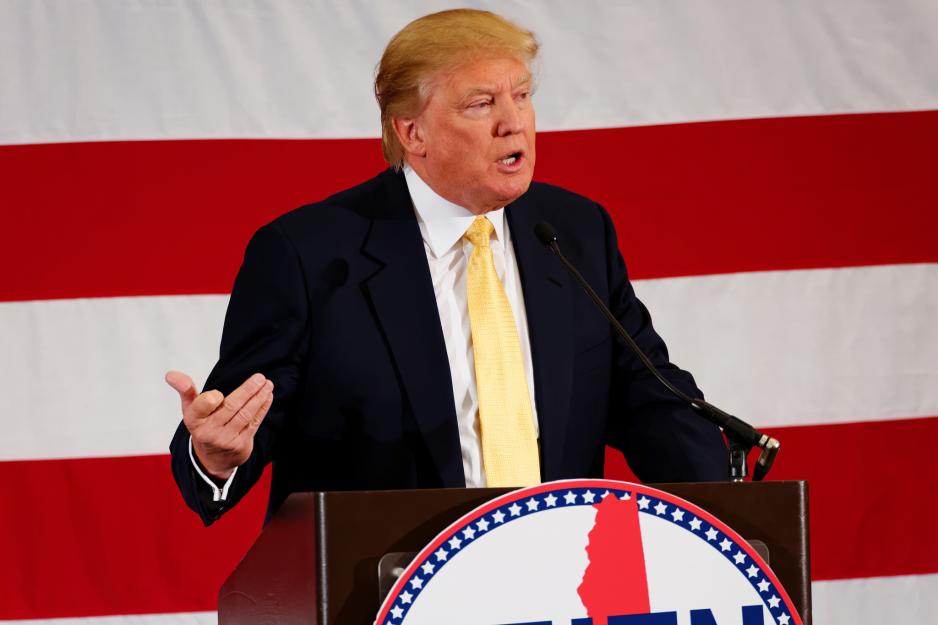 After "Super Tuesday", Donald Trump has moved considerably closer to the Republican nomination. For Europeans, this looks like a disaster waiting to happen. It may be time to ask an uncomfortable question: What would a president Trump mean for the Arctic?

After "Super Tuesday", Donald Trump has moved considerably closer to the Republican nomination. For Europeans, this looks like a disaster waiting to happen. It may be time to ask an uncomfortable question: What would a president Trump mean for the Arctic?

Click here for Norwegian version.
If you look for facts within his speeches so far, there is not much to go on. But that in itself may provide some of the answers.
In an interview with The Daily Caller, a conservative website, Trump in a rare moment said something about the Arctic.
- You look at Putin and you look at what he's doing in the Arctic and what he's doing with so many other places, including the Ukraine, but the Arctic to me is a very big deal. He's doing things in the Arctic that are not right.

Climate crisis created by China
And as far as I have managed to find out, that about does it for Trump's attention to the High North. The Russians are doing stuff not to his liking in the Arctic. On the topics of exactly what it is he does not like, and what he plans to do about it, he stays silent.
But indirectly, he has said quite a bit about the Arctic, such as when he talks about climate change. Most people realize and accept that there is a climate crisis happening. They also admit that it is man-made, and that it hurts the Arctic particularly hard.
In the world of Trump there is hardly reason to worry. He does argue that the crisis is man-made, although in his own peculiar way. This tweet from the presidential candidate makes one wonder:
- The concept of global warming was created by and for the Chinese in order to make US manufacturing non-competitive.
He has tried to explain away this quote as a joke, and emphasizes his deep knowledge on climate changes. This tweet from last October should put the issue to rest:
- It`s really cold outside, they are calling it a major freeze, weeks ahead of normal. Man, we could use a big fat dose of global warming!
This dovetails nicely with another Trump quote from 2014, where he deems global warming a hoax created to increase taxes on American voters.


European allies
There are European climate change deniers who agree with Trump. There are Europeans who share his worldview, including the lack of understanding of what happens in the complex north.
There are also Europeans who support his attacks on immigrants in general and muslims in particular. But in Europe, this kind of thinking takes voters to extremist political parties like the National Front in France. In the US, the political system makes it possible to envision such thinking moving into the White House, not just as an (increasing) part of a national parliament.
Trump has more in common with European extremists: An aggressive foreign policy, combined with extreme protectionism. His attacks on the US-Europe security policy cooperation are frequent, and he argues that Europe better be left to itself. For Norway, as a NATO country and neighbor to Russia, this could have severe consequences, detrimental to an already fragile security balance.


Disturbing the balance in the north
Trump is equally cynical in his attacks on international trade agreements, some of which are key for exports from Arctic countries. These are opinions shared by European politicians on both ends of the political spectrum. But according to leading US financial experts, Trump-style protectionism could cause a financial collapse. That would hurt us all, not least the part of the world dependent on exports.
Donald Trumps political message diverges sharply from the international governance model exemplified through organizations like the Arctic Council. The United States holds the chairmanship in an organization that has managed to continue its cooperation in spite of the recent Russian cold war message. The Arctic Council cooperation was tested by the past Canadian leadership. But that will prove to have been a cakewalk compared to a possible Trump-led chairmanship.
US foreign policy has until recently not had the Arctic as a priority. But this has changed during the Obama leadership. Recent US attention to the Arctic has increased considerably, as reflected in budget proposals and the president's rhetoric. The security situation in the north is fragile and could change. If that happens, the existing dialogue between the US and Russia in the Arctic Council will be of utmost importance.


Liquor and sex
But maybe Donald Trump feels closer to the Arctic than we think. And maybe he does not want to talk about it.
Gwenda Blairs book about the Trump family tells the story about Donald Trump's grandfather, Fred. He built the foundation of the family fortune during the Yukon gold rush in Northwestern Canada. Grandpa Trump also discovered gold – not in the earth, but in the pockets of the golddiggers. His hotel, The Arctic, catered to the crowds coming north, and Blair says that the bulk of his fortune came from the sale of liquor and sex.
She does not go as far as calling grandpa Trump a pimp.
But we may have to call his grandchild Mr President.