Chasing Investors to Establish Massive Data Center in Nordland - Without Danny Hayes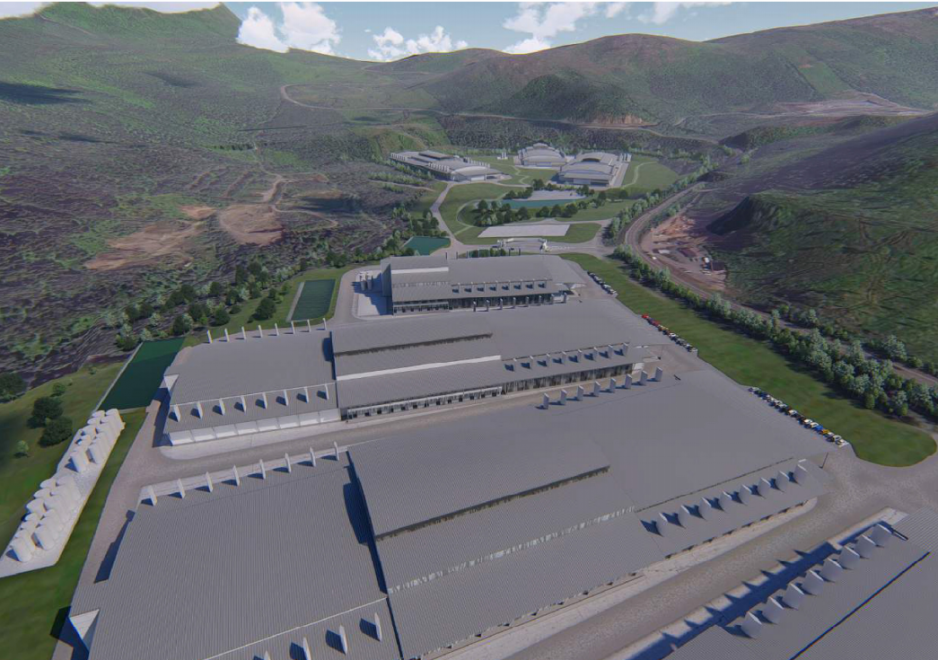 Two years ago, American Danny Hayes and his team launched plans for data centers and smart city solutions in Bodø and Nordland. The project fell apart when tech giant AECOM withdrew, allegedly following negative media coverage. Now, his former partners seek investors to realize the data center - without Hayes. The land is the same, the actors are the same and AECOM is back onboard.
Big money. Big plans. Big headlines. Airy promises. And a series of actors with varying interests. The story about American investors entering Bodø was plastered all over local and national media in the spring and summer of 2018, when the American Danny Hayes entered the stage during the Innovation Speech, promising billions to the city.
In brief; Danny Hayes' goal in Bodø was to establish a data center and use parts of the income from that to develop a smart city in Bodø, on the land that will be made available for city development once the airport is relocated, which will free large areas.
However, American business culture meeting local interests ended with a bang. Smart city solutions, enormous data centers and sponsoring of the local football team (Bodø/Glimt) and concert hall (Stormen konserthus) were ingredients in the pot, spiked with strong accusations about lies, fraud and threats of lawsuits.
Local media in hot pursuit, national dailies covering the story with Saturday long-read stories about the tall story from Bodø. National broadcaster NRK created a podcast about the story, a podcast everybody talked about and had an opinion on.
In a large documentary story from the autumn of 2018, local daily Avisa Nordland reviewed the case and the many actors involved.
One by one, the supporters of the project withdrew, though only when AECOM cut the ties to Danny Hayes' company did it come to a full close. That happened late in the autumn 2018.
Trying again
High North News has gotten hold of a project description intended for potential investors, a description outlining massive data center plans  at Fauske, near Bodø, in Nordland County, Norway.
The company Arctic Capacity AS (ACAS) and its partners develop data centers for internet, cloud and technology customers in Norway, the project teaser says. ACAS is focusing on planning, investment and construction of what is to become a state-of-the-art digital infrastructure project run by 100 percent green and cheap energy, strategically located in Northern Norway.
Arctic Capacity was established in 2018.

The purpose of the company is "Investing in real estate, including renting out, managing, buying and selling, as well as investing in shares and other securities, and everything related to this".

Arctic Capacity is owned by Nord Invest AS and Global Investments AS. Nord Invest is owned by Kjell Ivar Hansen Røsnes, and Global Investments is owned by Trond Arnulf Larsen.

The two Bodø entrepreneurs are the very ones who were involved in Danny Hayes' company Borealis Industries, but who withdrew due to disagreements with Hayes and his team in the summer of 2018.
To complicate matters: Another team member of Arctic Capacity AS is Balbir Bindra, who was previously Danny Hayes' lawyer. Bindra withdrew from the project around the same time as Røsnes and Larsen.
No comments
The company's website is password protected, but Trond Larsen and Kjell Ivar Hansen Røsnes tells HNN that they have been working on data center plans since 2015, long before Danny Hayes came on board.
Back in 2015, they bought the fiber infrastructure company Kysttele AS. And in 2017, they became members of EasyFiber, which is a Nordic organization of independent fiber operators, and which has customers such as Facebook and other data center players in the Nordic region.
However, beyond that they are secretive and taciturn about the project in Fauske. We have sent them a number of questions about investment needs, progress plan and whether they are concerned about whether investors may have been intimidated by the media attention two years ago.
They respond in an email that:
"We understand that High North News has access to confidential information regarding Arctic Capacity that we unfortunately cannot comment on. This is due to confidentiality agreements already signed." 
We understand that High North News has access to confidential information regarding Arctic Capacity that we unfortunately cannot comment on.
What we do know, is that the world's largest engineering company, AECOM, is back on board; several of the actors who were involved back in 2018 are the same; and that the land that Arctic Host has developed in Fauske is the same. In the document obtained by HNN, it appears that the process started back in 2018.
Through the British company Savills, ACAS is now looking for investors. It is proposed to issue shares for investments up to USD 15 million, shares giving the investor the right to economic advantages following from the realization of the first data center.
According to the invite, the company is out to collect USD 15 million this time around, with another USD 50 million next round.
Innovation Norway a grant partner
Innovation Norway is also mentioned as a grant partner in the project description. Monica Ahyee, Director of Innovation Norway Nordland tells High North News that they have provided advice and funds for a pre-project for Arctic Capacity.
"In addition, we have put them in contact with potential customers, investors and partners," she says.
And adds that "contact has been established between Arctic Capacity and Invest in Norway, which is Innovation Norway's investment promotion function for attracting and facilitating foreign direct investment in Norway."
Hopes to be up and running in a couple of years
Lasse Bang at Arctic Host, the developer of the land that has been identified as site of the data center, confirms to HNN that they are in dialogue with Arctic Capacity about establishing a data center.
"We are continually working on looking at opportunities for cooperation with actors in the market  who want to contribute to developing Fauske, and Arctic Capacity is one of the actors with whom we are in touch."
NOTE: In an earlier version of this article it was said that Arctic Host owns the land. The land is owned by the municipality of Fauske, but has been developed by Arctic Host.
Does that mean that you are speaking with several actors about the same land?
"We have come the furthest with Arctic Capacity. However, we are also working with other actors when it comes to development of projects elsewhere in the region. Nordland has an energy surplus and we are looking at different ways of exploiting that power, both when it comes to data centers, hydrogen production and fibers. These are all opportunities that will create local jobs."
I hope it can be realized in a few years.
Bang does not dare to try and predict when a potential data center may be realized.
"We have worked in this for a few years already, however, a lot still remains, both when it comes to the estate, fibers and energy. Thus, I dare not say anything about an estimated start date, though I hope it can be realized in a few years."
Arctic Capacity is looking for investors. Is it a point for data centers like this to be owned by Norwegian investors?
"Not necessarily. The most important thing is for it to provide jobs; whether the owners are local or external does not make that much of a difference", Bang says in closing.
What happened to Hayes?
Danny Hayes' goal in Bodø was to use the data center establishement and the income from it to build a smart city in Bodø, on the land that is freed when the airport in Bodø is relocated and a brand new district opens up for development.
Late in the autumn of 2018, Danny Hayes had exited the Bodø projects. His says his reputation was in shatters, as was that of his supporters. The word "fraudster" lay between the lines. But if he were a fraudster, what money was he trying to get his hands on? And from whom? These questions were never properly answered.
Danny Hayes has, nevertheless, remained in the local press in Bodø from time to time.
In October, it was revealed that local football club Bodø/Glimt has signed sponsor deal with two American companies. And Hayes had connected the football club with two sponsors; Silent Partner International, Inc. and Energy Everywhere. In brief, Bodø/Glimt is to play wearing green suits with the text "Action Now" printed on to promote the UN Sustainability Goals.
Not impressed
But what does Hayes himself think about the development "his" data center plans have seen?
Hayes claims the document in which Arctic Capacity AS seeks investors demonstrates that his former partners do not yet have the means needed to realize the project:
"While our group eventually went to Wall Street first to raise the money for the data center project, they are trying to raise the money last."
He admits that he and Bodø investors Røsnes and Larsen had differing views on what would be the best way to raise capital for the projects when they worked together in Borealis.
Argues that they "ran off" with AECOM
Danny Hayes says he was the one to establish contact between AECOM and Røsnes/Larsen.
"As CEO of Borealis Industries AS, I originated the company's relationship with AECOM, before Trond, Kjell and Balbir dissolved the company and ran off with AECOM."
Many investors will see it as a warning flag that they ripped off an idea they couldn't properly execute with relationships they did not originate.
Danny Hayes believes many investors will be scared by the past:
"There is no secondary market for unqualified data center operators. Many investors will see it as a warning flag that they ripped off an idea they couldn't properly execute with relationships they did not originate", Hayes claims.
No obligations
Danny Hayes also thinks it is a pity that the Arctic Capacity project does not appear to contain any commitments to give something back to the local community.
"Our announced plan at Borealis Industries and later at Borealis Engineering was to give 10% of data center revenues back to the city of Bodo. I see no mention in this document of any plans to do so in this document. This is very unfortunate for the citizens of Bodo", he says and closes:
"I had hoped that if their project was successful they would do the right thing and hold true to that plan so that the entire community, not just a small group of business people, could benefit from the project."
Positive
Simon Flack, who was the local Borealis alibi, says to HNN in a comment that:
"I am positive towards the project. Such a data center would be very positive for the region."
Such a data center would be very positive for the region.
High North News has been in contact with both Trond Larsen and Kjell Ivar Hansen Røsnes on several occasions and through various channels in recent days, to get them to explain the data center project, as well as respond to criticism from Danny Hayes.
"Arctic Capacity does not want to comment on Hayes' press statements and allegations in HNN," Kjell Ivar Hansen Røsnes wrote in an email Friday.