Biden Administration Extends Arctic Protections While Simultaneously Granting Oil Drilling Permits
The US government greenlit a controversial oil and gas project in Arctic Alaska but also greatly expanded areas in Alaska's National Petroleum Reserve that will remain off limits to future hydrocarbon development.
In a decision that raised at the same time acclaim and criticism from both environmentalists and from state and industry representatives, the US government announced that ConocoPhillips would be permitted to develop its Willow oil and gas project in the Alaska National Petroleum Reserve, albeit at a reduced scope.
At the same time the Biden administration set aside close to 16 millions acres in the National Petroleum Reserve and near-shore areas in the adjacent Beaufort Sea limiting future oil and gas development.
The announcement, which straddles the line between Biden's campaign promise to not permit new oil drilling on federal land and taking into account the demands of state politicians and industry pressures, drew a number of responses in support and opposition.
Praise and criticism from both sides
Environmental groups spoke favorably about the administration's initiative to protect 13 million acres in the Reserve and categorizing 2.8m acres in the waters of the Beaufort Sea as permanently off-limits to future oil and gas development.
The decision to allow drilling to go ahead in the Willow project area within the National Petroleum Reserve, however, led to strong rebukes.
We finally did it.
"We commend the Biden administration for conserving millions of acres of land and waters in Alaska – but we must still hold the line on the Willow Project. To avoid the most devastating impact of climate change, we must transition from oil and gas drilling now. If the Biden administration isn't willing to put a halt to new oil and gas development, the future is bleak for the Arctic and our planet," said Kay Brown, Arctic Policy Director, Pacific Environment, an environmental organization.
Meanwhile state lawmakers and industry representatives expressed support for the decision to allow the Willow project to go ahead, but were dismayed that only some of ConocoPhillips's plans were authorized. The project size was reduced by 68,000 acres and only three out of five drill sites were authorized.
The company said those limitations would present challenges but the project remained feasible. State representatives also expressed disapproval that significant parts of the Reserve would be permanently placed off limits to future oil and gas development. 
"We finally did it, Willow is finally reapproved, and we can almost literally feel Alaska's future brightening because of it. After years of relentless advocacy, we are now on the cusp of creating thousands of new jobs, generating billions of dollars in new revenues," Alaska Senator Lisa Murkowski said.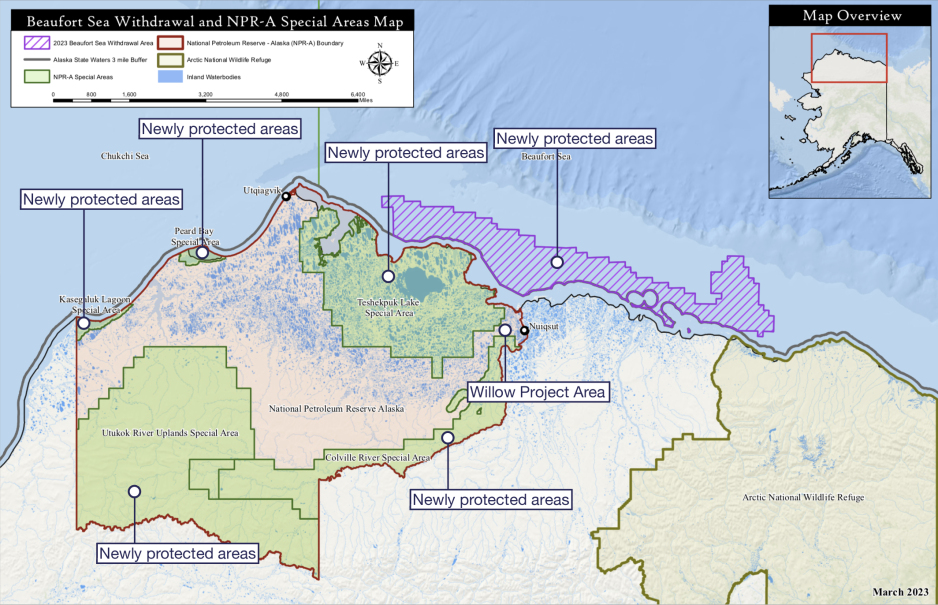 What is Alaska's path?
The Willow project, slated to produce up to 180,000 barrels of oil per day for up to 30 years, will provide crucial flow of oil in the Trans-Alaska Pipeline System, which for years has faced declining volume.
Murkowski's colleague, Senator Daniel Sullivan, criticized the administration's decision to permanently place 16 millions acres of limits.
"The fact that this Willow [decision] comes with the announcement of future legally-dubious resource development restrictions on Alaska lands and waters is infuriating and demonstrates that the Biden Administration's unprecedented lock-up of our state will continue," he stated. 
While industry and state representatives, including native Alaskan lawmakers, had pledged their support for the Willow project, local officials in proximity to the drill sites expressed their opposition.
Local leaders, including the mayor of the nearby community of Nuiqsut, Rosemary Ahtuangaruak, expressed concern about the project's impact on subsistence lifestyles and on local wildlife, such as caribou. 
Environmental groups, including Pacific Environment, pointed out how the decision to greenlight the project goes counter to the need to transition Alaska into a future less dependent on oil and gas resources and to quickly reduce the country's greenhouse gas emissions.
"Alaska needs to accelerate the transition to renewable energy and stop relying on climate-wrecking oil and gas projects like Willow. To avoid the most devastating impacts of climate change, scientists around the world agree the climate can't tolerate more new oil and gas development," concluded Brown.