During January and February observed temperatures across much of the Arctic Ocean stood well above average resulting in record low ice extent, especially in the Barents, Kara and East Greenland seas.

During January and February observed temperatures across much of the Arctic Ocean stood well above average resulting in record low ice extent, especially in the Barents, Kara and East Greenland seas.

Following a much-publicized "heat wave" in January with temperatures briefly reaching above freezing at the North Pole, the Arctic has seen a continuation of above-average temperatures. During much of the month of February mean temperatures across the region were between 5-8 degrees Celsius above normal.

Record Warmth Across Arctic
"The winter of 2015-2016 has been unlike any in modern memory with mean temperatures well above average for most of January and February and resulting record-low ice extent in January," said Andrew Freedman, Science Editor at Mashable.
Similarly, Mark Serreze, a sea-ice expert with the National Snow and Ice Data Center, stated "we have never seen anything like this in terms of how warm it was this January." According to  National Aeronautics and Space Administration, the Arctic experienced its warmest January since satellite-based record-keeping began 36 years ago.


Low ice extent across the Arctic
As a result of these unusually warm conditions, Arctic sea ice extent stood at a record low in January with 13.53 million square kilometers – around 1.04 million square kilometers below average, equal to about 2.5 time the size of Norway.
The growth of sea ice has stalled for much of the past two weeks and towards the end of February ice extent had fallen around 1.5 million square kilometers below the long-term average for this time of the year. While the low ice extent follows a continuation of declining sea ice in the Arctic over the past decade, the "sheer magnitude and wide scope of the warmth" is what really stands out, Freedman explained. The record-low ice extent follows a winter minimum record set just last March.
Climate scientists say that it is too early to determine if this year's ice extent maximum, which usually occurs in mid-March, has already happened or is about to occur or if there will be a late cold spurt with more ice forming in March.
But even if ice extent starts to grow again, whatever ice does form this late during the winter season will be weak first-year ice disappearing quickly once the sun rises above the horizon in a few week's time. "You don't have any time left in the season to grow thick ice," Serreze said.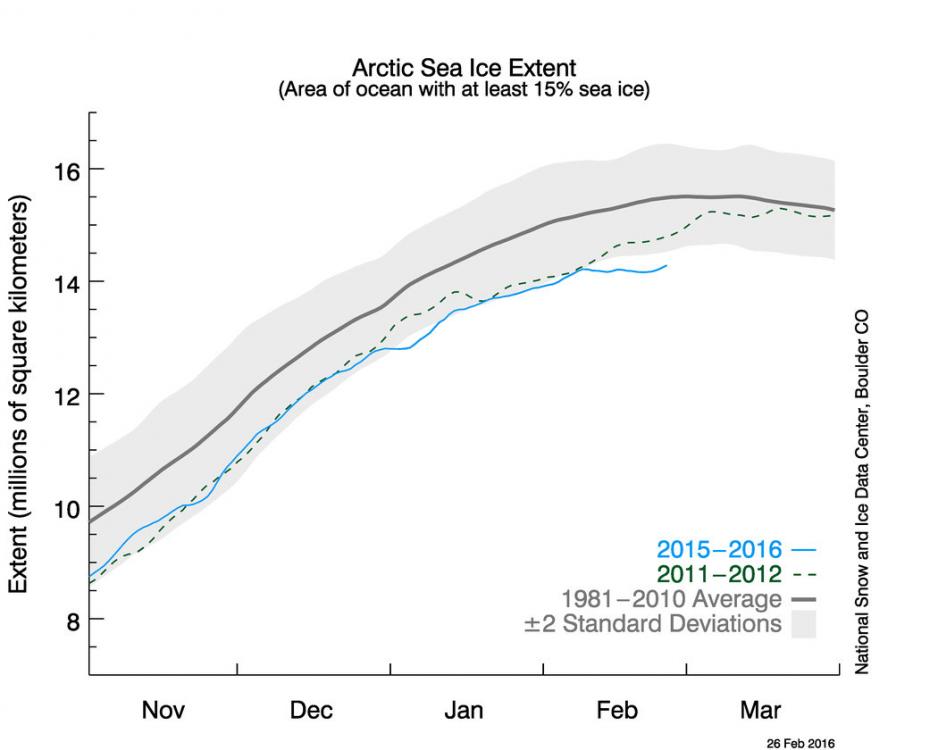 Little Ice Around Svalbard

The lack of winter ice has been most striking on the Atlantic side, especially near Norway's archipelago of Svalbard.
In addition ice formation is also low throughout the Bering Sea and Sea of Okhotsk in the Pacific.

A comparison of satellite-generated ice coverage maps of 2015 and 2016 for the day of February 26 illustrates the stark difference of ice coverage in the Barents Sea and around Svalbard. While at the end of February 2015 there was extensive ice coverage around Svalbard, currently only scattered ice floes exist around the islands. Even the Russian islands of Franz Josef Land, located a mere 900 kilometers from the North Pole, are experiencing a lack of continuous ice coverage.

Impact on Summer 2016

As to the question if warm temperatures throughout much of the Arctic this winter and the slow formation of ice will result in a new record-low summer ice extent come September, scientists caution that it is too early to draw definite conclusions as there is no clear correlation between low maxima in winter and subsequent low minima in summer.
While global climate change is the main driver of the long-term downward trend of ice extent, more short-term weather variables play a key role in the setting of individual annual ice melt records.
"Factors such as the Arctic Oscillation – a climate pattern of winds circulating in the Arctic at around 55°N latitude – and the resulting changes in cloud cover as well as wind and wave patterns have a significant impact on the summer melt season," explained Freedman. However, the fact that sea ice will emerge weakened out of this winter's season will make it especially susceptible to melting if the conditions are right, especially during the months of June and July when weak first-year ice disappears at a rapid rate.