A Eurovision for the North:

Arctic Music and Criticism, Politics and Sequins, Glitter and Reindeer Antlers!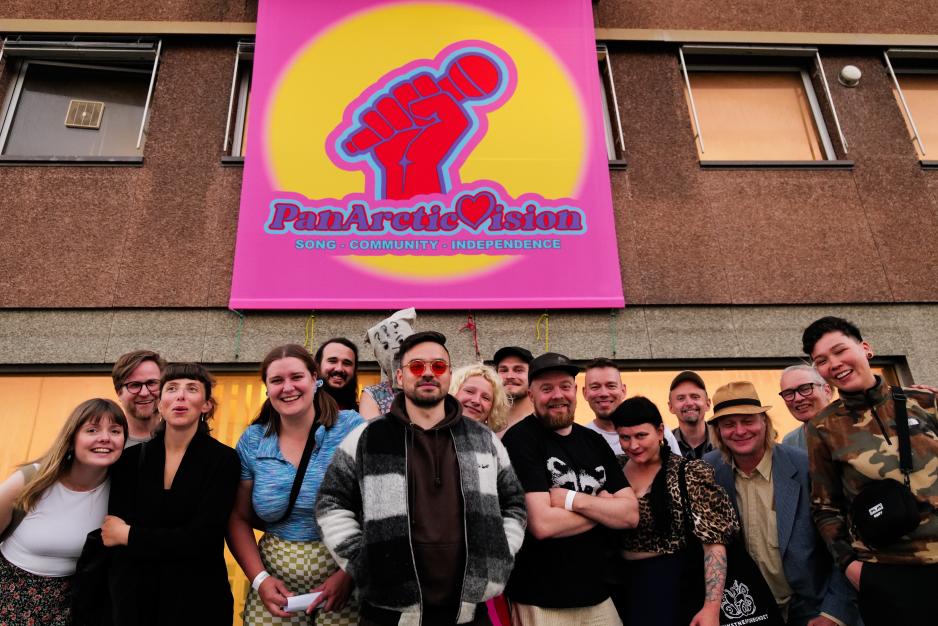 On Saturday, Pan-ArcticVision premieres in Vadsø, Northern Norway. A grand, crazy, and beautiful project, says Artistic Director Amund Sjølie Sveen – and welcomes us to the border-crossing building of the Arctic community.
A northern twist on the Eurovision Song Contest.
A collection of artists from almost the entire Arctic.
Scene: Vadsø, a Norwegian coastal town 70 degrees North. The show is part of the Varanger festival – with complete film production for international live streaming.
The PanArcticVision will be a completely new presentation of Arctic music and community, says the invitation from the initiator Nordting – an artistic popular movement in the North. 
"We are doing this because it is important to build community in the Arctic – across the nation states that we are usually so oriented within," says Amund Sjølie Sveen, Artistic Director of Pan-ArcticVision and leading figure in Nordting, to High North News.
"People in the circumpolar North have so much in common, but we usually travel south to the capitals of our countries rather than around the Arctic region. With this project, we want to entice border crossing – more contact and interaction – across northern peoples and cultures."
Sveen points to common denominators in history and geopolitical starting points; climate and living conditions – as well as experiences of being on the edge: be it on the map, the stage, or the agenda.
«Pan-ArcticVision – song, community, independence!»
– Saturday 12 August in Vadsøhallen, Eastern Finnmark
– Brings together several Arctic solo artists, duos and bands
– Live-stream from 18:00 (CEST / UTC +2 / GMT +2) at www.panarcticvision.org/
– The show is also shown on big screens in various places: Verdensteateret in Tromsø, Norway || Hiljaisuus-festivali in Kaukonen, Finland || Norðurlandahúsið in Tórshavn, Faroe Islands || Katuaq Kulturip Illorsua in Nuuk, Greenland || Old Fire Hall at the Yukon Arts Center in Whitehorse, Canada. In addition, screenings are planned in Anchorage, Alaska, in Iceland – as well as in Vilnius, Lithuania, for the Russian exile community. See Facebook-events here
– Organized by Nordting in collaboration with the Varanger festival and several other international partners
– Nordting is, in its own words, "a nomadic people's parliament for the North, a party for the periphery – and a separatist movement for the Arctic colony"
Power tensions
Pan-ArcticVision is also based on a northern power analysis.
"The idea emerged on my many travels in the Arctic, within the framework of Nordting, where I explored ideas around independence and self-government. The experience of the capital – the center of power – being far away is recognizable to many in the north of the world," says Sveen and continues:
"Among other places, I went to the Faroe Islands and learned about the Faroese idea of independence. 'It's not very high on the agenda now,' said someone I spoke to. 'But it ignites when attention is drawn to the fact that people cannot participate in the Olympics and the Eurovision Song Contest under their own flag.'"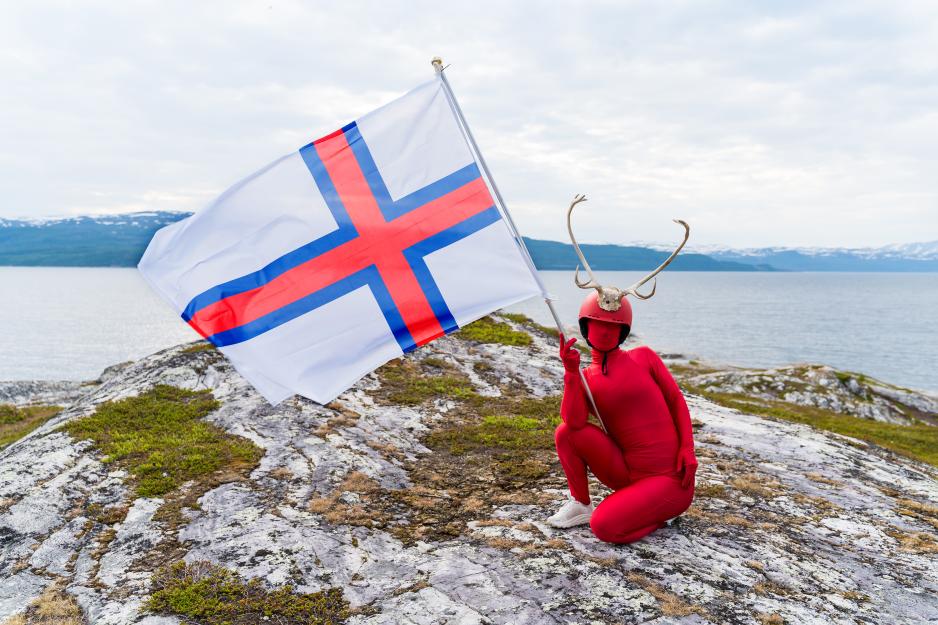 A spot on the podium
The artistic director brings things together:
"By extension, we will give the stage and podium to the northern territories, which cannot display their own flag and identity in various contexts. Like Greenland and the Faroe Islands, both parts of the Danish state. Alaska and Sápmi are also other examples."
Pan-ArcticVision is thus part of an ongoing discussion about independence in the North.
Also central to the project is creating a counterweight to geopolitical conflict between the states – and strengthening the basis for Arctic cooperation, which today has a fragile feeling to it.
Interaction at arenas such as the Arctic Council and the Arctic Arts Summit is partly on ice in the wake of Russia's war against Ukraine and Western counter-sanctions.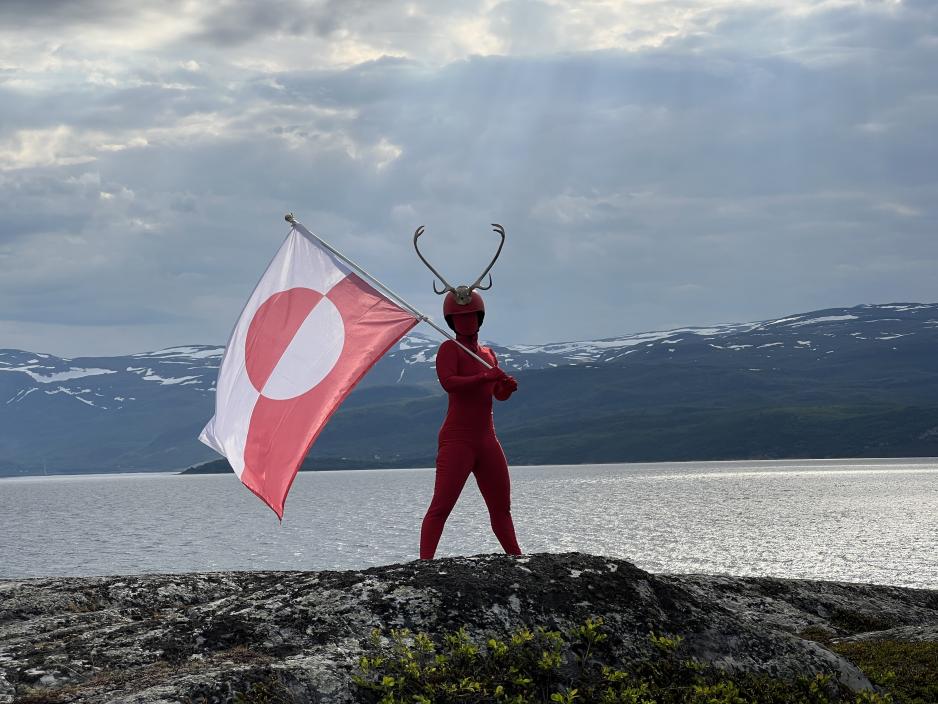 The political power lies in the south, the economical power lies in the south, the power of definition lies in the south.
Wild and beautiful
PanArcticVision is the biggest, craziest, and most beautiful project Sveen has been involved in.
The scale is, as mentioned, circumpolar. He elaborates on the madness and the beauty:
"Bringing together artists from such different geographical locations and time zones is a project against almost all odds. We are talking about traveling enormous distances – with challenging communications and many detours. It is both time-consuming and expensive. We will also show PanArcticVision in several countries. When we start in Vadsø at 18.00 Norwegian time, it is 08.00 in Alaska – and then we have all the other time zones."
"The beauty is found in people being so excited and engaged. I find that the idea has captivated many. They have likely seen Eurovision and got an impression of the European community that is created within this framework. In this project, we will build a different community. One that is between people of the North who live in small places and share many similar life circumstances and experiences. We are all, for example, familiar with snowy winters and bright summer nights."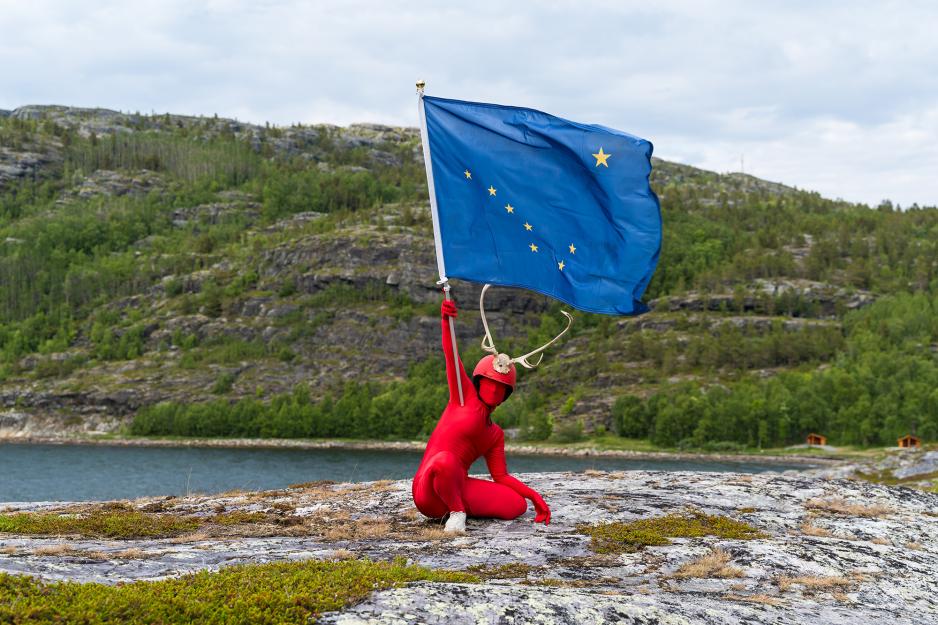 Easy to join
On Saturday evening, Sveen will host the event together with Dávvet Bruun-Solbakk. Journalist and activist Bruun-Solbakk has, among other things, led Sápmi Pride twice in Norway.
In the run-up to the show, Sveen gets the opportunity to make an appeal to people around the Arctic region:
"This event is open to everyone! We hope that as many people as possible will join us and create Arctic unity. Either physically, from your computer screen – or as an audience on big screen screenings in various countries."
There will also be no shortage of festivities:
"We promise you flags and confetti, politics and sequins, glitter and reindeer antlers, criticism and music, voting and points!"
Pan-ArcticVision's partners:
Varanger Festival – Vadsø, Northern Norway
Anchorage Museum – Alaska, USA
Yukon Arts Centre – Yukon, Northern Canada
Music Yukon – Yukon, Northern Canada
Katuaq – Nuuk, Greenland
The Nordic House (Norðurlandahúsið) – Tórshavn, Faroe Islands
Kaktus collective – Akureyri, Iceland
Hiljaisuus festivali (Hiljaisuus ry) – Kaukonen, Northern Finland/Sápmi
Artlab Davvi – Northern Norway/Sápmi
Pikene på Broen – Kirkenes, Northern Norway (Russian exile contact)
The project is also supported by the Norwegian Arts Council, the Nordic Culture Fund and the Nordic Culture Point
This article was originally published in Norwegian and has been translated by Birgitte Annie Molid Martinussen.