When Voters Fled, Støre Suddenly Started Talking About the High North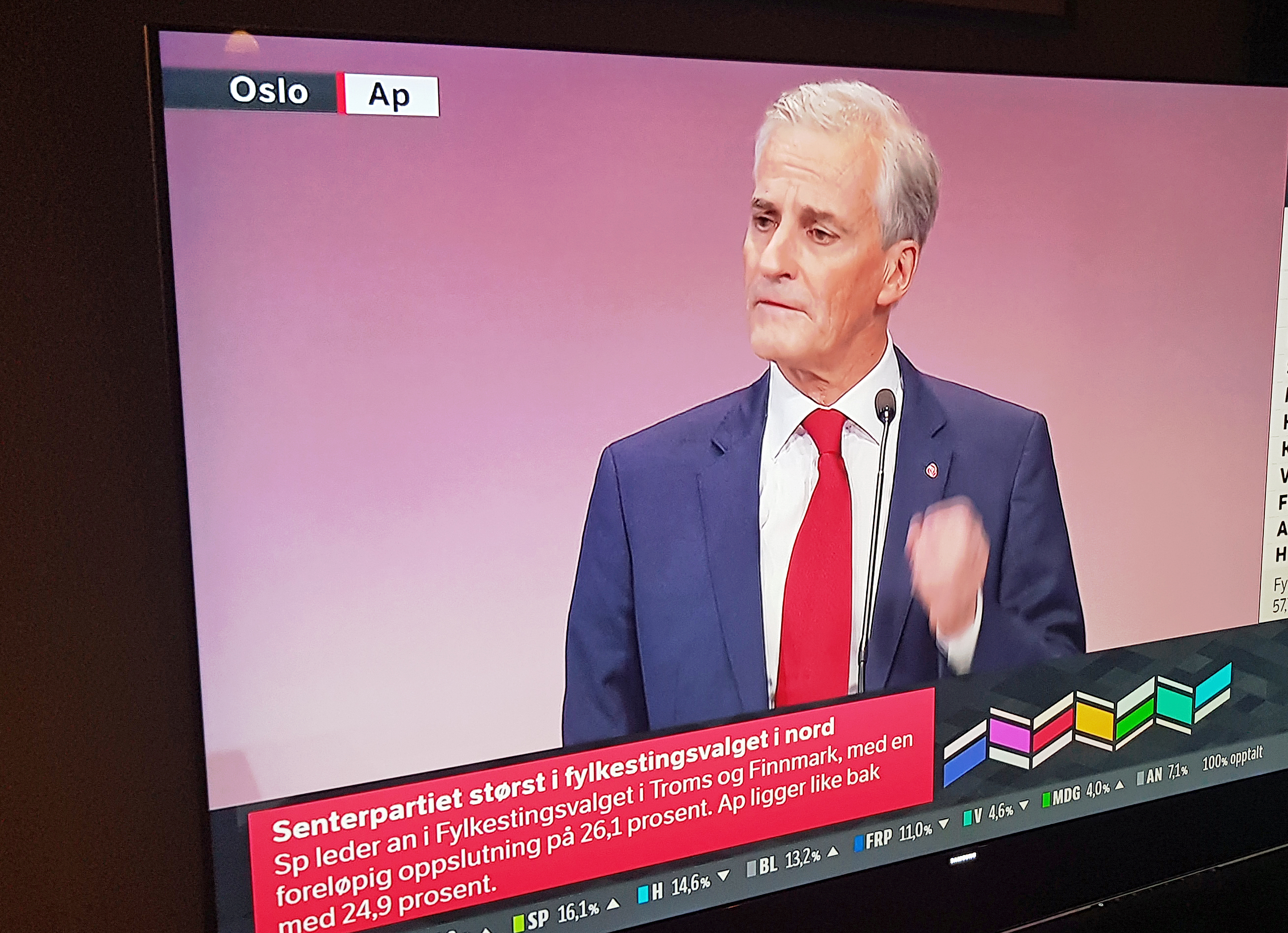 Norwegian Labor Party leader Jonas Gahr Støre kept his suit jacket on when entering the podium at the Labor Party's election wake last night. That has not been a habit of his. Then he started talking about the High North. That was also a brand new feat of his election campaign this year.
It was as if I were witnessing tongue speech when the Labor Party closed its election wake. Støre was on the podium, almost excited, reminding himself that he was the one who truly placed the High North on the agenda – almost fifteen years ago.
Some tripped along the way
He had every reason to take new measures, Støre, when the election results were announced. Because the traditional grip that the Labor Party has traditionally held over Northern Norway did not work anymore.
Voters fled in high numbers to the agrarian Center Party. Some voters tripped while on their way and ended up with the Socialist Left Party, in particular those in Troms County, and with the Green Party.
When Jonas Gahr Støre discovered this, he entered the podium and started talking about the High North. When depressing elections results started pouring in, he decided that this is what he is to spend his time doing for the next two years, until the next parliamentary elections.
- The High North and Arctic policies are close to my heart, Støre said.
He still had not taken off his jacked and rolled up his sleeves, as has been his custom. But he talked about the High North as if this were a part of politics that he had just discovered.
A key issue that he had nevertheless forgotten to mention during the election campaign.
Not even when the ruling government parties got stuck in road tax conflicts further south did Labor talk about the High North.
The Center Party's Magic Keys
Nor when Center Party leader Trygve Slagsvold Vedum brought out his party's Magic Keys, the keys that may close county and municipal borders that appear locked, keys that may also unlock schools, police stations and hospitals that have been shut, did Labor talk about the High North. True, some carefully worded phrases about both the police and regional reforms were uttered. There were some vague hints that perhaps, possibly, one should leave the role of a responsible governing party to rather go fishing in the parts of the political landscape that the Center Party aimed to reverse.
Not even when the governmental parties early on in the election period saw the issue of Northern Norway blow up in their faces did the High North become part of the election campaign.
In Nordland County, the Center Party is there times as big as the [in-government] Progress Party. In Troms County, the Socialist Left Party is bigger than the Progress Party, and together with the Red Party the two are equal to the Conservative Party.
A democratic process
However, the Center Party has not won this election through any High North initiative. The Center Party has won based on a deliberate emphasis of what they argue is the harsh reality of people's everyday lives. It is politics adjusted to an international opposition against concentration of power and centralization.
And the interesting thing is that while Europe and other countries are confronted with this expressed dissatisfaction through some rather extreme political directions, dissatisfaction in Northern Norway is channeled through established, democratic parties. There is no Boris Johnson, no AfD (Alternative für Deutschland), amongst north Norwegian fjords and mountains.
The outcome is that a blue government is to rule over an increasing number of red-green counties and municipalities. The ideological gap between the government and locally representatives is greater than ever. That may have many outcomes; one of them being the Labor Party dusting off its Arctic initiatives coat.
Hangover hurts
The Arctic and the High North is a part of the world undergoing extreme changes. It mostly has to do with climate changes, though it is also about an increasingly entrenched security policy situation, about business and industries' experiencing the growth pains of teenage youth and decreasing population numbers.
There is more than enough to work on for a party aiming to make a difference.
A political hangover is not kinder to its victims than are other self-induced sufferings.
Emphasizing the High North over the next couple of years may prove to be an effective cure.
Pain has a tendency to go away when one sets clear goals, goals that a new generation of High North inhabitants are able to recognize.
This op-ed was originally published in Norwegian and has been translated by HNN's Elisabeth Bergquist.