- We´re a nation proud of our Nordic connections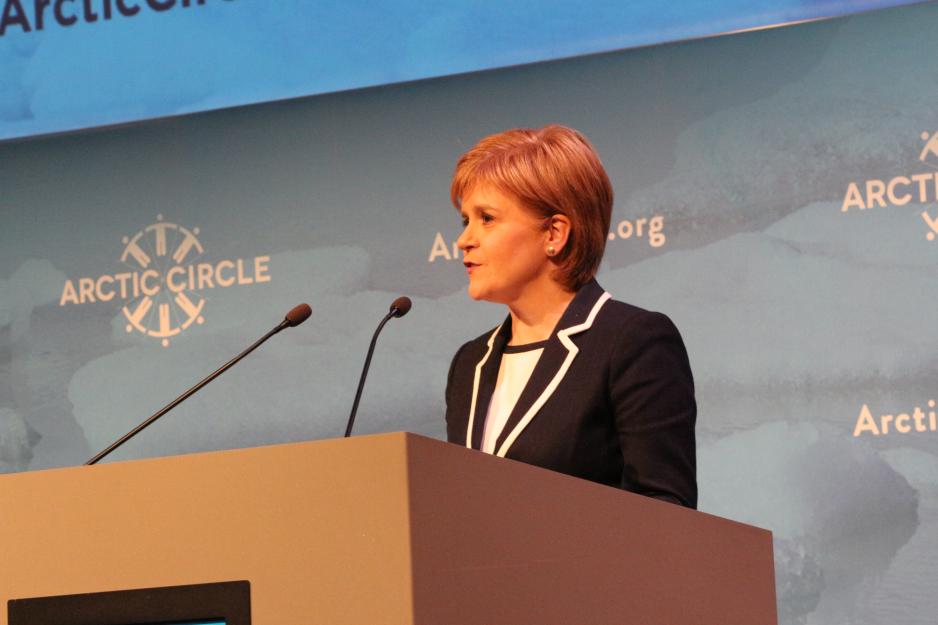 This year's Arctic Circle keynote speech was delivered not by a member of an Arctic nation, but by the First Minister of Scotland.

This year's Arctic Circle keynote speech was delivered not by a member of an Arctic nation, but by the First Minister of Scotland.

Nicola Sturgeon's speech harkened a connection of Scotland with their neighbours specifically  in the Nordic countries. Saying that Scotland is, "a country proud of our Nordic connections."  

A connection that R
achael Johnstone, a professor of Law at University of Akureyri who wrote
An Arctic Strategy for Scotland
in 2012, said to the HNN, "makes cultural and historical sense."  The bulk of the speech though was not geared towards shaping a northern rhetoric for Scotland, but instead
focused on climate change and climate justice.
 
Ms. Sturgeon emphasized that, "Scotland may not geographically be part of the Arctic Circle, but like every delegate here today we are committed to acting on climate change and limiting global temperature increases to below 1.5 degrees."

Ms. Sturgeon further spoke about the moral imperative that Scotland and the world has to deal with climate change, which
lead to the announcement of a
£1 million contribution to the Capacity Building Initiative for Transparency.

"That's the fund established by the United Nations after Paris, in recognition of the fact that many developing nations currently lack the capacity to measure their greenhouse gas emissions accurately."

She then went on to speak about how S
cotland also created a Climate Justice fund in 2012, the first nation to do so, and increased the support for it this year.  This fund has already helped 11 projects in sub-Saharan Africa.  Ms Sturgeon said, "
We know the most damaging effects of climate change are in developing nations and fall disproportionately on the very young, the very old and the very poor."
 
Ms.
Johnstone's overall thoughts were that, "the presentation is in line with a general policy of the Scottish government to present itself as an actor in international affairs. Scotland is trying to gather its identity as a "thing" in international relations."  

This is in line with what Ms. Sturgeon said when she focused on the importance on international cooperation, even in the face of Brexit:

"Fundamentally, Scotland will do everything we can to remain an open, inclusive and welcoming nation - working with our neighbours, playing a positive role in the world, and strengthening rather than weakening our partnerships with other nations. Our friendships and partnerships with the countries around us matter deeply to us. We will not allow them to be damaged by Brexit."