USA Plan for Potential Arctic Confrontations with "Northern Strike" Exercise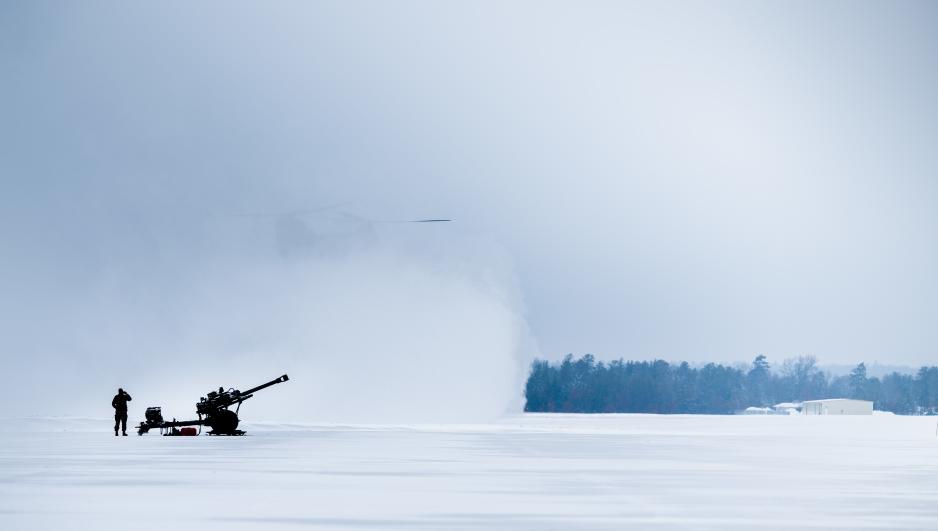 U.S. military units conducted a 10-day exercise in near-Arctic conditions to improve readiness to face Russia and China in the region. "We have realized the importance of the Arctic", says Army General Hokanson while visiting the training grounds.
For the past week and a half around 600 service personnel from the U.S. Army, Air Force and Marine Corps trained in near-Arctic conditions to hone their cold-weather skills and improve readiness to meet the objectives of the Department of Defense's Arctic strategy. 
The units traveled to wintry Northern Michigan to take part in Northern Strike 23, a 10-day combined arms exercise. The operation is part of ramping up the U.S. military's preparation for potential armed conflict in the Arctic. 
Larger and more frequent Arctic exercises are part of a shifted American understanding of the region's security following Russia's annexation of Crimea in 2014. 
"What we have realized over time is just the importance of the Arctic," explains Army Gen. Daniel R. Hokanson, Chief of the National Guard Bureau while speaking to media during Northern Strike.
"By focusing on the ability to operate in the Arctic, it will provide us just one more means to hopefully help deter aggressors from testing the United States," he continued.
Russian leadership has prioritized Arctic development
The melting of sea ice has allowed for increased economic and military activity in the region with Russia investing billions of dollars in oil and gas projects and building up military installations all along its Arctic coastline.
"Russian leadership has prioritized Arctic development - both economic development and military hardening - and so it is no surprise that the US military has increasingly eyed the Arctic as an area to sharpen skills and prepare for contingencies," states Rebecca Pincus, Director of the Polar Institute at the Wilson Center. 
Pincus explains that these latest comments by General Hokanson are largely in line with similar comments voiced by US military leadership for the past several years. 
However, at the same time the notion that the U.S. is planning for an actual conflict should not be underestimated says Rob Huebert, associate professor at the University of Calgary and a senior research fellow with the Centre for Military and Strategic Studies. 
"What we are now seeing in regards to these exercises and plans are efforts to engage upon the American abilities to respond to an actual conflict with Russia in the Arctic region. What was considered unthinkable is now very evident in American thinking and its current planning actions," Huebert elaborates.
We would have to do more than survive
Changing Arctic realities
The Northern Strike exercise allows U.S. military personnel to gain experience of what it is like to operate in a cold-weather environment, explains Hokanson. Such exercises are an important component to improve and maintain readiness and allow the U.S. to project power in the region.
"Many people look at it like 'well, you can survive in that'. Well, we would have to do more than survive. We would need to be able to survive and operate in that environment", elaborates Hokanson.
"And so when we look at Northern Strike, it gives us the opportunity to be in that environment and then learn how we would operate - what type of equipment works, what type of tactical adjustments that we need to do - because ultimately, we have to be prepared for whatever our nation asks us to do."
Bilateral and NATO cooperation
The U.S. military is also looking to learn from the operational experiences of its Nordic and NATO partners, including Norway. As part of a meeting with Norway's defense attaché, Maj. Gen. Odd-Harald Hagen, this week, Hokanson explained that the U.S. and Norway are working on an exercise coming up in the next couple of years to help learn from [Norway] about operating in the Arctic.
Over the past few years the U.S. has shown a renewed focus on bilateral cooperation and military exercises within NATO. The strengthening of bilateral security relations with each of the Nordic countries began in 2016 and 2017, explains Huebert. 
These efforts resulted in a number of joint Arctic exercises, including the massive NATO naval operation Trident Juncture in 2018, which saw a U.S. nuclear aircraft carrier venture above the Arctic circle for the first time in decades.
Shift in tone
The change in tone vis-à-vis Arctic security is also evident in the multitude of strategies for the region published by each individual branch of the U.S. military over the last few years. 
"Both the language and intent of these new strategies provide a very significant shift where tones of cooperation and support for a cooperative Arctic were replaced with language calling for the redevelopment of hard security capabilities," highlights Huebert. 
General Hokanson expressed a similar sentiment during comments to media outlet Military Times explaining that the Arctic is now a region of competition. 
"Now we are starting to see countries move into those areas. And there will be competition there. We have got to be able to go wherever that potential fight may be, and we need to provide [a] presence there," Hokanson concluded.