US Coast Guard Ships Encountered Chinese Warships Near the Aleutians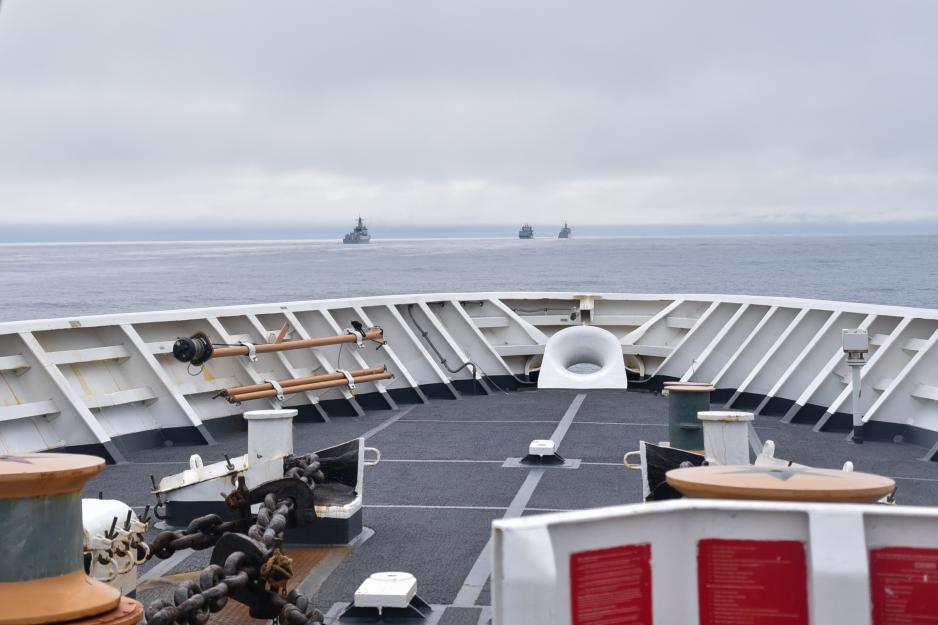 The US Coast Guard observed four Chinese warships sailing off Alaska, near the Aleutian Islands.
The Chinese warships were observed in late August by the US Coast Guard ships Bertholf and Kimball, during their deployment to the Bering Sea and the Arctic region. 
A press release from the US Coast Guard states that the ships from the People's Liberation Army Navy (PLAN) operated in the US exclusive economic zone, but the Coast Guard emphasizes that the ships complied with international law and at no time entered US territorial waters [12 nautical miles off the coast, journ. note.]. 
The closest the Chinese ships operated to the Aleutian coast was 46 miles. The Aleutian islands forms a southern border towards the Bering Sea and stretches from Alaska in the east to Russia in the west. 
The Coast Guard says the Chinese task force included a guided missile cruiser, a guided missile destroyer, a general intelligence vessel and an auxiliary vessel.
It is further stated that the Chinese vessels conducted military and surveillance operations during their deployment to the Bering Sea and the North Pacific Ocean.
An US Coast Guard official tells Business Insider that the ships were in the exclusive economic zone from 29 August to 1 September. 
Alaska Public Media has covered the case, and according to the news agency, Scott McCann, spokesman for the US Coast Guard, has stated that it has been several years since Chinese warships last entered the US economic zone outside Alaska. He did not want to speculate on the reason for the Chinese warships' visit. 
In 2015, five Chinese naval vessels were seen in the Bering Sea off the coast of Alaska. It is reportedly the first time Chinese military vessels have been seen operating in that area.