Updated Corona in the Arctic: Iceland has Tested Five Percent of Its Population

High North News continues its mapping of the spread of the coronavirus in the Arctic. Iceland has one of the highest infection rates in the world; however, this may derive from the Arctic state being one of the countries in the world testing the highest number of inhabitants for the virus.
The first case of Covid-19 was discovered on Iceland on 28 February. Since then, the number of people infected with the virus has grown steadily.
The latest figures updated by Icelandic authorities state that there are currently 1,319 confirmed cases of infection and 4 registered deaths as a consequence of the virus.
The Icelandic infection rate is 1 case per 357 inhabitants, which is one of the highest in the world. This may be, however, because Iceland is one of the countries in the world that tests the highest share of its inhabitants for the virus. So far, some 20,000 people have been tested, which equals five percent of its population.
Iceland's health care authorities have tasked deCODE Genetics, a medical research company based in Reykjavik, with assisting in the testing process.
The company's founder Dr. Kari Stefansson was interviewed by CNN last Tuesday. There, he stated that some 50 percent of those testing positive for the virus were asymptomatic. This might indicate that asymptomatic people have played an important part in spreading the virus.
On Monday 23 March, the Icelandic government introduced a ban on gatherings with 20 or more people. The ban is in force until 12 April 2020.
High North News will continue monitoring the development in Iceland and the rest of the Arctic.
Total number of confirmed cases of Covid-19 in Arctic Council Member States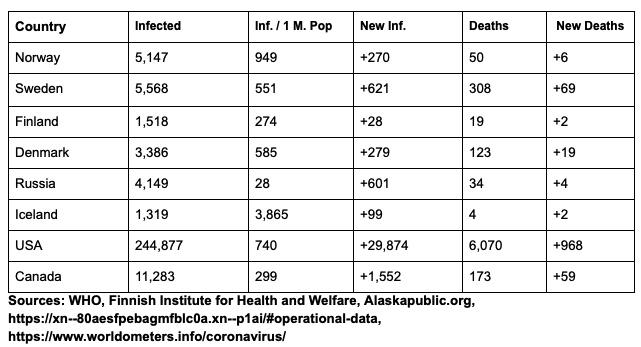 This article was originally published in Norwegian and has been translated by HNN's Elisabeth Bergquist.