The Kirkenes Conference 2023

The Thorvald Stoltenberg Award to Pikene på Broen and the Samovar Theater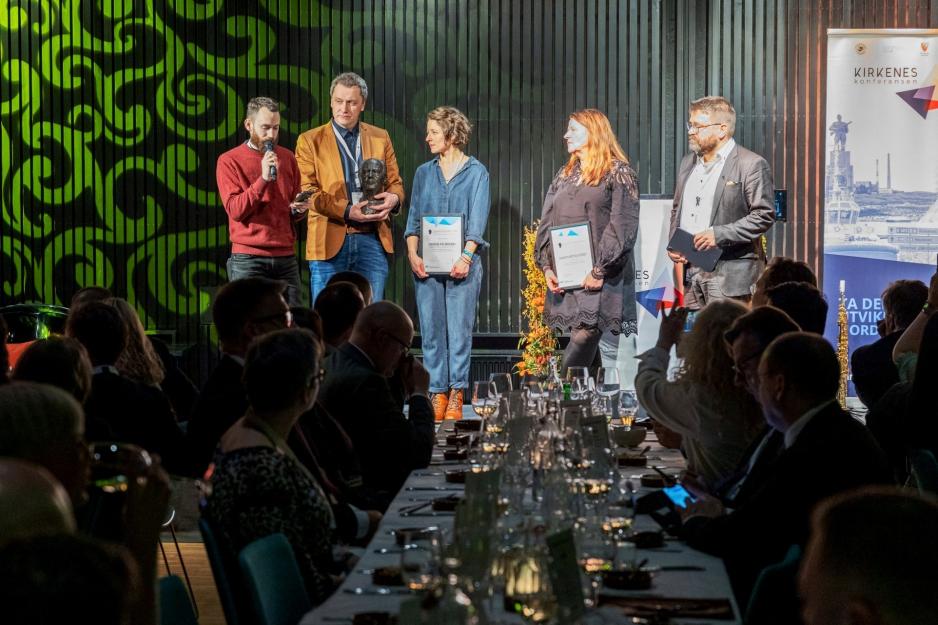 Kirkenes: Pikene på Broen and the Samovar Theater have received an honorary award for their years-long efforts to involve artists from the entire Barents region and convey its shared history. "Despite the current demanding situation, the actors are able to contribute to contact and tolerance between neighboring countries in the region," the jury states.
Last week, the Thorvald Stoltenberg Award was presented to Pikene på Broen (the Girls on the Bridge) and the Samovar Theater, two cultural actors based in the border town Kirkenes in Northern Norway. The award ceremony took place at the Kirkenes Conference.
The award is presented by the Barents Secretariat to actors who promote international dialogue and contact between neighboring countries in the Barents region – thus continuing the legacy of Thorvald Stoltenberg, Norway's Minister of Foreign Affairs in the early 1990s and the Barents cooperation's 'father'.
"Through many years, the two winners have contributed to this by involving artists from all the Barents countries in their projects. Through their work, they have also disseminated knowledge about our shared history in the Barents region to a wide audience. Despite the current demanding situation in Europe, these two actors are able to contribute to contact and tolerance between neighboring countries in the Barents region," conveys the jury's reasoning – read aloud at the ceremony by Thorvald's grandson Mathias Stoltenberg.
Important efforts
"Both actors have, in their own way, created important arenas for events that have given the audience a basis for new experiences, reflection, knowledge, and not least dialogue – which is also the main purpose of this award," the young Stoltenberg reads and continues:
"2022 has been a year in which Russia's invasion of Ukraine has put a strong damper on the Barents cooperation. Among other things, the Barents Secretariat put a stop to all support for projects that had any connection to Russian authorities. Nonetheless, it is perhaps more important than ever to keep in contact with independent art and cultural actors in Russia. These are particularly in need of support and contact with the outside world and this year's two award winners have contributed to just that. Both have been central actors in the Barents cooperation since the 1990s and still remain relevant."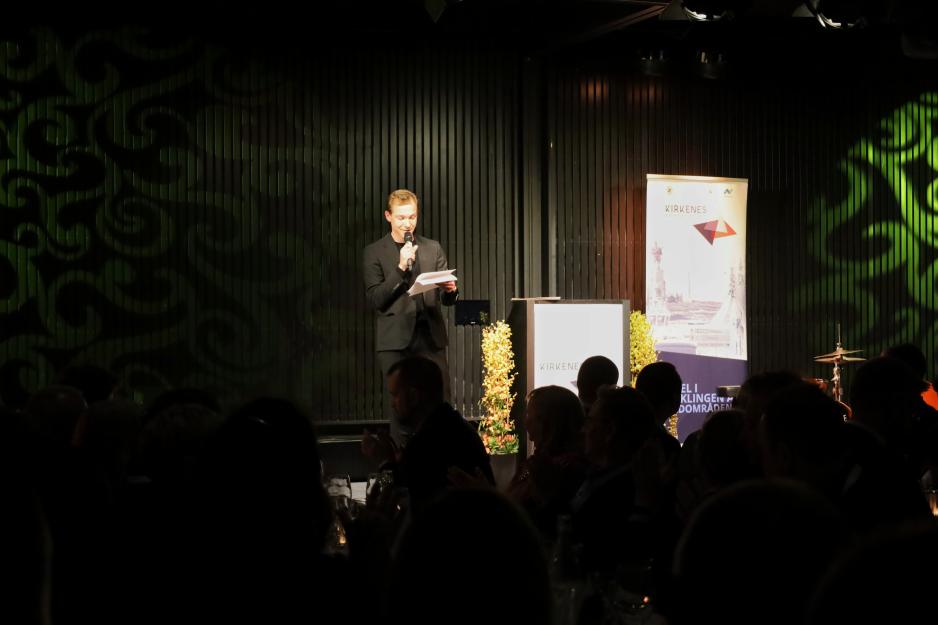 Highly topical
Pikene på Broen is a collective of curators and producers established in Kirkenes in 1996. After Russia's invasion of Ukraine, the collective has stood firm by its goal of creating meeting places and building bridges across geographical borders and art genres in the Barents region.
Last Friday, one year after the invasion, the collective opened its yearly border-crossing festival Barents Spektakel – including significant participation from Russia, as well as the other Barents countries Finland and Sweden.
"Thank you for this recognition of our work. We will continue to highlight societal questions through our residency program for artists, our showroom Terminal B, and our international festival Barents Spektakel. Pikene på Broen's role is to create meeting places and platforms, as well as fostering contemporary art and projects that address local and international issues," says Neal Cahoon, curator of the collective.
During this year's festival, the collective has raised questions about trust and doubt.
"This year, three decades after the signing of the Kirkenes Declaration which established the Barents cooperation, it is important to reflect on what trust was present at the time – and how conditions have changed. Trust is challenging and time-consuming to build, trust is vulnerable and complex. We addressed this theme at this year's festival to showcase this complexity and the value of genuine trust. Both through the content of our artistic program and through the ways of collaboration which made this program possible," says Cahoon.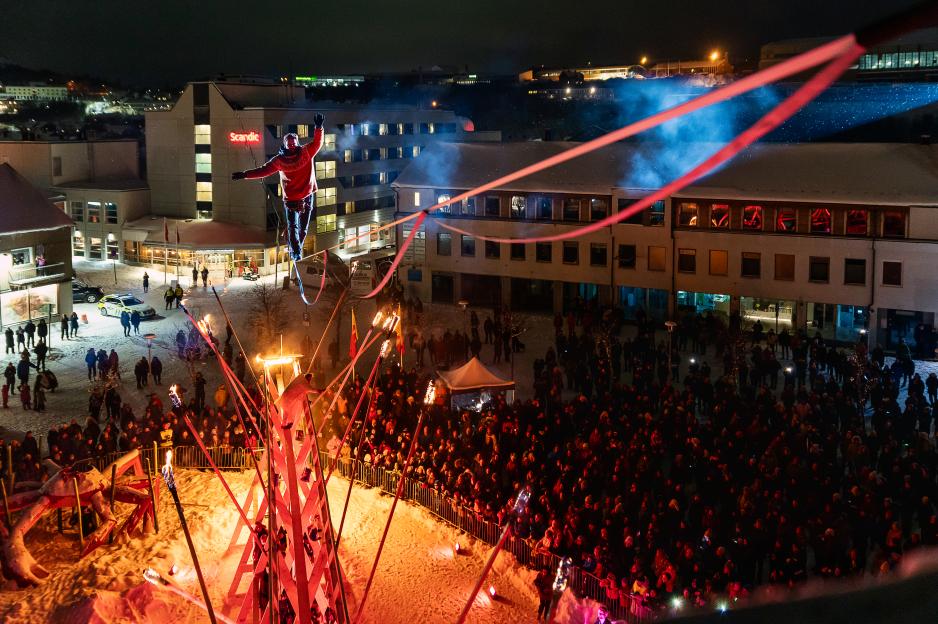 Stories from the North
The Samovar Theater is an international performing arts company established in Kirkenes in 1990 by Bente S. Andersen. The theater is concerned with stories from the North being told from the North – and they have produced over 65 performing arts productions, which have toured the Barents region, among other places.
Most recently at this year's Spektakel, the Samovar Theater has presented a show with an improvised collage about trust with dance, music, and moving images.
"When Bente Andersen came home in 1990 with new knowledge and a burning desire to make a difference, it was a time of glasnost [openness, ed.note] and new opportunities. Decisions that affected people at the border had always been made in the capitals. Now, people on both sides of the border were to be actors. Now, stories from the border region were to be told by people who lived by the border. For the Samovar Theater, new contemporary drama and stories from the North have always been the central field of work. We will continue to highlight stories from here and work on creating understanding between people across borders," says Rune Sundelin, Chairman of the theater, and gives the floor to Andersen.
"There are many who stand behind the work that has led to this award. Many different nationalities and professionals have contributed to making this possible. Thanks to them and thanks to the jury. And we are so lucky to share your grandfather, Mathias. It means a lot to us as performers here in Sør-Varanger  – and the future of art, democracy, and trust," she says.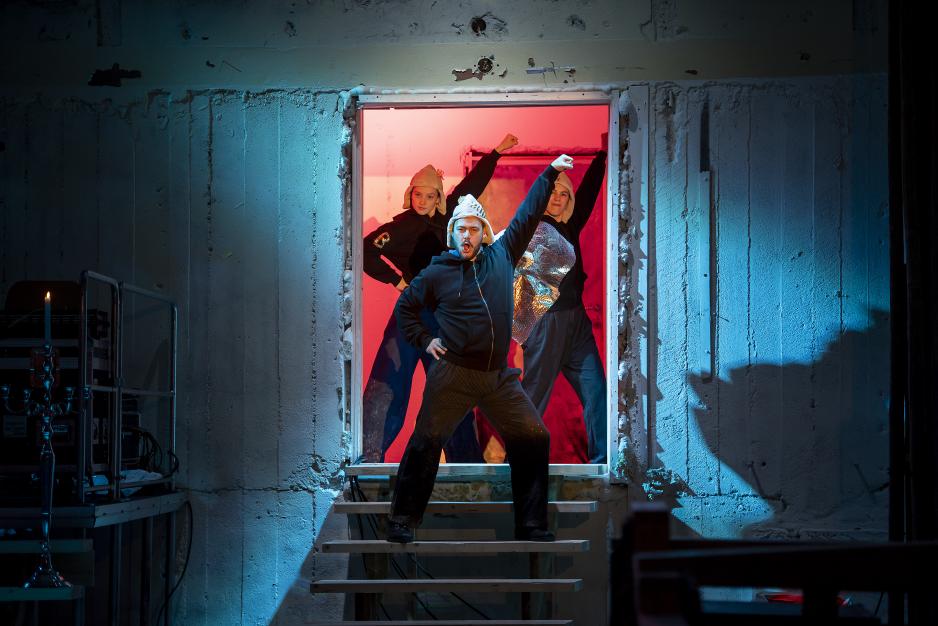 The jury and elaborated descriptions
The leader of the jury was Eilen Zakariassen, Special Advisor at the International Office in Nordland County. She was joined by representatives from Troms and Finnmark respectively: Lasse Jangås, Head of Communications of the Arctic Philharmonic, and Helga Pedersen, Mayor of Tana Municipality.
In more detail, they write the following about the award winners:
The jury about Pikene på Broen:
– At a time when it is demanding to keep contact across borders, Pikene på Broen has maintained contact with independent Russian artists and other partners. That has taken place largely through digital contact and a digital meeting series by the name "Kvartirnik". Kvartirnik is a term that originated in the Soviet era. It means "apartment" in Russian and denotes unofficial concerts and cultural meetings in people's homes, at a time when the authorities censored cultural expressions. Sadly, today's situation has once again made it necessary for Russian cultural actors who wish to be free in their communication to use such tools.
– Pikene på Broen otherwise holds exhibitions and activities in the Terminal B showroom in Kirkenes and they have a residency program in which they welcome around 60 international participants each year, including Russian artists and cultural actors.
– The award winner has also developed and sustained Barents Spektakel to become an international cultural festival, which was organized for the 19th time this year. In a time of unease, first with pandemic and now war, Pikene på Broen has been able to adapt to continue international cooperation, also across the Norwegian-Russian border.
The jury about the Samovar Theater
– The Samovar Theater in Kirkenes has been conducting border-crossing theater for over 30 years. The theater was established in 1990 by Bente Andersen, who has been a driving force in the theater for all these years. A central element in many of their performances has been borders and how borders affect and shape the lives of those who live there.
– Through democratic artist-led processes and topical themes, the Samovar Theater has included various languages and cultures from the Barents region in its performances. The Samovar Theater has developed its own methodology which builds on dialogue across ages, languages, gender, artistic background, and ethnicity. 
– Through this way of working, they have produced performances that depict life at the border and in the border area where people meet. At a time when borders close once again, knowledge about our neighbors is more important than ever, and the Samovar Theater contributes to this knowledge through its performances.
The Torvald Stoltenberg Award has been awarded since 2019. In 2022, the award was presented to Barents Games, and in 2021 to the Russian psychologist and human rights activist Valentina Likhoshva.
This article was originally published in Norwegian and has been translated by Birgitte Annie Molid Martinussen.