Sweden and Great Britian Reinforce Defense Cooperation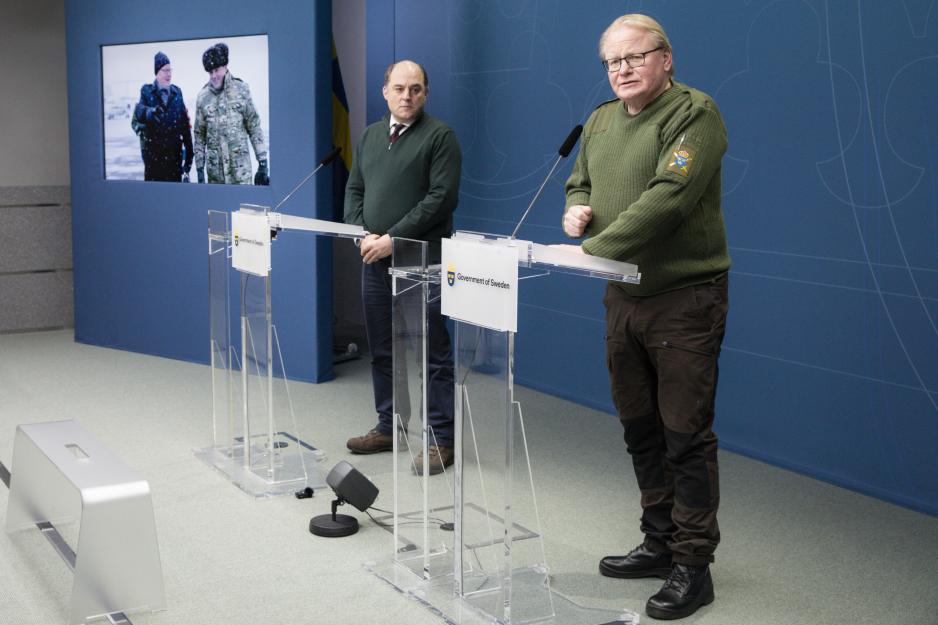 "We have had a very rewarding meeting and discussions about the shared challenges related to the security policy development in our immediate areas", Swedish Defense Minister Peter Hultqvist commented in relation to the British Defense Minister Ben Wallace's visit to Sweden last week.
Security policy development in the Arctic and the immediate areas was on the agenda when the two defense ministers met. At a joint press conference, Wallace expressed that Great Britain continues looking north.
"The High North is an area that is becoming increasingly important for Great Britain. It has always been part of our strategic plan", he said.
"An important part of Europe"
The British defense minister highlighted they key roles of Norway, Sweden and Finland in the north and pointed out that British marine troops have trainedyearly  in Norway for a long time. Now, the UK also has some 200 troops in Sweden to learn from its armed forces.
"One cannot overestimate how important this part of Europe is to us in Great Britain. These are our home beat; the North Atlantic, the Nordic countries, and the Scandinavian areas. This is where we patrol most with our submarines, and our navy sails in the High North. This is where we protect our friends and allies in Europe", Wallace added.
Defense cooperation in the North
Swedish Defense Minister Peter Hultqvist then said that Sweden and Great Britain have discussed how to expand their military cooperation and have agreed on a 42-point Memorandum of Understandng.
The agreement includes a point under "High North Nordkaloten" meaning that British troops will conduct winter training in Arvidsjaur and participate in the Swedish Armed Forces' exercises, according to Swedish broadcaster SVT.
"I am very grateful to Great Britain that we can be so clear in our message about the development in the security environment around us up here in the northern parts of Europe, and for our having a direct connection to the UK so that we together can take responsibility for the security situation."
"We have also had the opportunity to demonstrate Sweden's military capacity in a sub-Arctic environment in relation to our visit to K4 in Arvidsjaur, a unique capacity", the Swedish defense minister added.
The unit can operate in all Swedish environments, however, its war capacity in a sub-Arctic environment is its specialty and core, according to the Armed Forces. Last year, when presenting its long-term defense plan for the 2021-2025 period, the Swedish government announced that it would be re-opening the Swedish military regiment in Arvidsjaur.
Non-aligned, but realistic
Swedish Defense Minister Hultqvist in an interview with SVT explains that Sweden, like Finland, is not part of any defense alliance, yet cooperates with other countries through bi-lateral and multi-lateral agreements.
"There is nothing in these cooperation agreements that violate our non-alignment. However, one has to be realistic and realize that if anything were to happen in our part of Europe, all countries in this part of Europe will be affected. And we have to be prepared to interact in an emergency situation."
This article was originally published in Norwegian and has been translated by HNN's Elisabeth Bergquist.