Siri Gulliksen Tømmerbakke and Amund Trellevik to High North News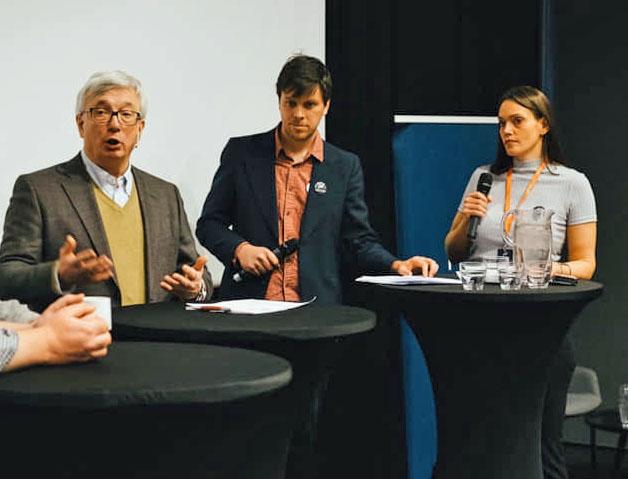 Siri Gulliksen Tømmerbakke and Amund Trellevik recently signed on as (respectively) News Editor and journalist at High North News. Gulliksen Tømmerbakke leaves her job at Avisa Nordland newspaper, whereas Trellevik comes from NRK Finnmark, the Finnmark district office of the Norwegian national broadcaster.
These hirings take place at the same time as High North News has launched its new web pages.
With Gulliksen Tømmerbakke and Trellevik on board, High North News reinforces its journalistic covering of the High North considerably. The online newspaper based in Bodø, Norway holds future plans about placing even more emphasis on investigative and thorough journalism from politics and business in the Arctic.
Siri Gulliksen Tømmerbakke (38) is well known for her investigative journalism, in particular in health politics. She has won a series of awards for this. Tømmerbakke has also led journalistic projects aimed in particular at young readers.
Gulliksen Tømmerbakke takes on a newly created position as News Editor of High North News.
More and better journalism
Amund Trellevik (34) is, in addition to being a journalist at NRK Finnmark, Chairman of the Board of Barents Press Norway and Chairman of the Board of the Svarte Natta [Black Night] journalist conference. Trellevik also chairs the electoral committee of SKUP, the Norwegian Foundation for A Critical and Investigative Press. Trellevik is in particular known for his journalism on the relationship between Russia and Norway in the High North.
- It is, of course, sad to leave great colleagues at Avisa Nordland; however, I look forward to taking on new challenges in a new environment and with a different audience from the one I have dealt with so far. Communicating about the opportunities and challenges facing the High North are more important than ever, both because of the world's current political situation as well as based on environment and business perspectives. I feel confident that the old and new staff of High North News will handle this together, says Gulliksen Tømmerbakke to HNN.
- When this opportunity came up, I never hesitated taking it. Siri and Arne O. are two people I am well familiar with, and I look forward to developing critical and investigative journalism about Arctic issues with them, says Amund Trellevik.
Very pleased
Editor-in-Chief Arne O. Holm is very pleased to hire Siri Gulliksen Tømmerbakke and Amund Trellevik.
- Siri and Amund are two of the country's most leading journalists with a northern base.
- Together with the rest of the editorial staff, including our foreign-based stringers, Gulliksen Tømmerbakke and Trellevik enable us to dig deeper and better into the political and economic development of the High North. It is in particular the tense situation between the East and the West that requires stronger journalistic efforts. And when world leaders do their best to undermine journalism, there is only one answer. More and better journalism, says Arne O. Holm.
Gulliksen Tømmerbakke and Trellevik will assume their new positions upon further agreement.