Russia to Reorganize Northern Sea Route Competencies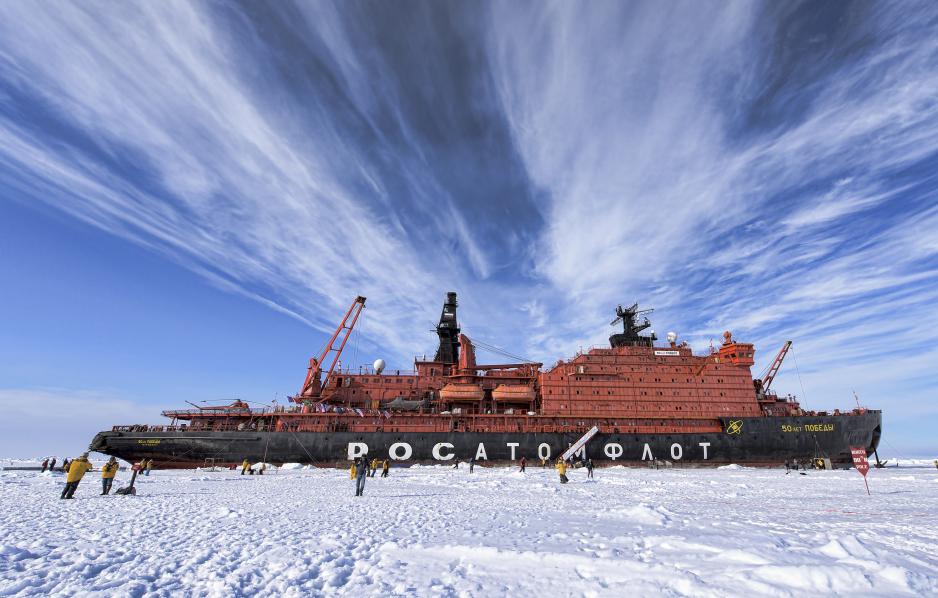 Russia aims to consolidate competencies for the development of the Northern Sea Route under umbrella of Rosatom. Will this restructuring address existing shortcomings?

Russia aims to consolidate competencies for the development of the Northern Sea Route under umbrella of Rosatom. Will this restructuring address existing shortcomings?
The Russian government appears to be close to finalizing its decision to reorganize Northern Sea Route competencies. Under the new structure Rosatom, a state corporation, would inherit responsibilities and assets from other agencies and be responsible for all maritime activities and management of state property along the route and adjacent territories.
In addition to Rosatom's fleet of nuclear icebreakers operated through Rosatomflot, the corporation would receive assets such as ports previously controlled by the Ministry of Transport as well as non-nuclear icebreakers operated by Rosmorport. The NSR Administration, a federal state institution tasked with ensuring safety of navigation, would also become part of this new "Arctic Division" at Rosatom, Morvesti Newspaper reports.
"[This process] really started early last year with a proposal from The Arctic Commission led by deputy prime minister Rogozin to create a 'unified logistics operator' for the NSR, primarily to exploit infrastructure, including icebreakers more efficiently," says Arild Moe Senior Research Fellow at the Fridtjof Nansen Institute. "It was unclear how this body would be organized, but it seemed like the idea was to create a new 'independent' organization."
Split responsibilities along the NSR
The proposed reorganization would signify a departure from the fragmented administrative structure of the past decade or so. Rosmorport, a government-owned corporation and part of the Ministry of Transportation, was created in 2002 and tasked with running sea transport infrastructure, including ports and conventional icebreakers, along the NSR.
Rosatomflot, also a government-owned corporation holds responsibility for the running and maintenance of the world's only fleet of nuclear icebreakers. It has operated under the auspices of the State Atomic Energy Corporation Rosatom since 2008 when some of its assets were transferred from the Ministry of Transport.
The NSR Administration, also part of the Ministry of Transport, was created in 2013 to effectively manage the growing traffic on the route. Its primary functions are related to the safe operation of the route including issuing of permits, information about ice conditions, and coordination of icebreaker usage and search and rescue operations.
Proposals to combine Arctic responsibilities
Two rivaling proposal for the reorganization of the management of the NSR emerged over the past year. In addition to the idea of an "Arctic Division" within Rosatom supported by Deputy Prime Minister Dmitry Rogozin and Alexei Likhachev, the head of Rosatom, an "Arctic Federal Agency" within the Ministry of Transport was suggested by President Putin's advisor Andrei Belousov.
"It was proposed to upgrade the Northern Sea Route Administration and put everything under the Ministry of Transport. There was even talk of transferring the nuclear icebreakers to them. This was of course vehemently resisted by Atomflot. Now it seems that developments have taken another turn again with this proposal of making Rosatom the centerpiece of NSR policy."
Under this latest development Rosatom's powers would expand significantly to include energy and transportation matters along the entire route, including ports, communications, navigation, and scientific issues. According to reports by Kommersant Newspaper  efforts to make Rosatom the key agency of future NSR development policy has received significant opposition by the heads of the Ministry of Transport and the NSR Administration.
Internal struggle for control
Several rounds of funding cuts for Arctic development may have intensified the internal struggle for control over policy by the various actors aiming to ensure continued influence and maintenance of budgets. Nonetheless, whichever agency will be selected to lead the state program for the NSR development, it will be responsible for a substantial amount of funding with a budget of 4.5 billion rubles for 2018-2020 and an additional 31 billion rubles (USD 520 million) for 2020-2025.
The currently-favored proposal may also be positive news for Rosatomflot's ability to secure sufficient funding to finance its long-proposed expensive next generation "Lider"-class icebreaker estimated to cost at least 75 billion rubles. According to Mikhail Burmistrov General Director of Infoline, a Russian analytics company, Rosatom would be able to secure additional funds of 100 billion rubles if it were to be placed in charge of NSR development.
"This looks like a very hard battle between different agencies and personalities. Some will attach importance to the fact that Rosatom's former leader, Kirienko, has become deputy head of the presidential administration. Large sums of money in the form of state investments and subsidies are involved," confirms Moe. "We should not conclude that the battle is over."
Uncertainty if new structure will address challenges
Russia's ability to effectively manage the economic development along and adjacent to the NSR will increasingly be tested over the coming decade. According to some Arctic shipping experts, the route may see annual cargo traffic of up to 80 million tons by 2030 placing momentous challenges on an aging icebreaker fleet and evoking questions about safety in light of limited enforcement of navigational rules.
In 2017 alone nearly 100 vessels violated the safety rules of the route highlighting the inability of the NSR Administration to properly enforce its own rules and regulations. It remains to be seen if the suggested administrative reorganization will address these and other challenges. Experts, like Arild Moe, are skeptical. "If everything is put under Rosatom, I would expect Russia's Arctic economy to become even less transparent than it is now. I am also doubtful that further centralization and monopolization will increase efficiency."