Russia and India set to Deepen Trade and Investment in Arctic Energy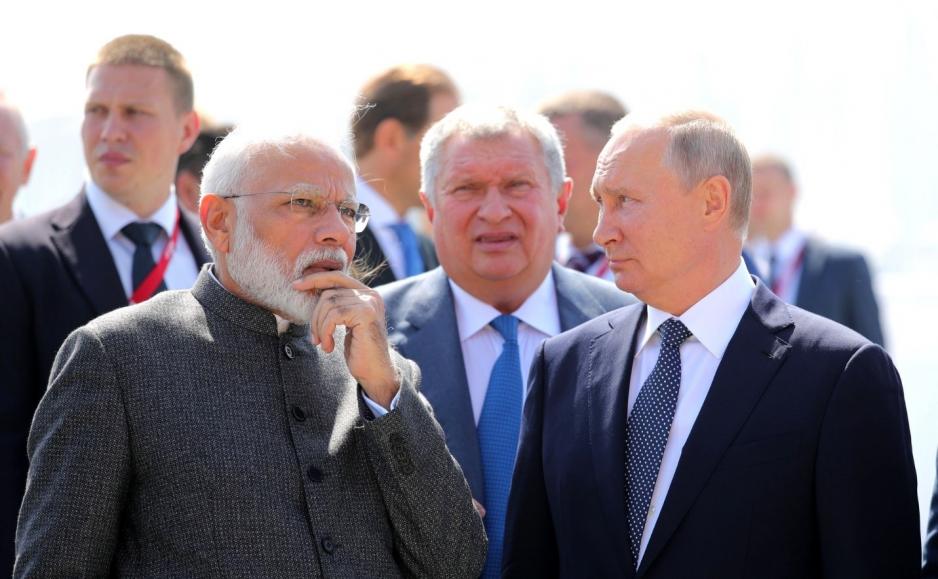 President of Russia Vladimir Putin met with Prime Minister of India Narendra Modi to invite Indian energy companies to participate in Russian extractive projects, including Arctic LNG 2.
In Vladivostok, President Putin met with the Indian Prime Minister, who has come to Russia on an official visit for the twentieth annual India-Russia Summit and to attend the Eastern Economic Forum.
Following talks with Modi, Putin told a press conference, "Indian energy concerns are… invited to participate in projects such as Far Eastern LNG and Arctic LNG 2."
Modi in Russia
Putin invited Prime Minister Modi to the fifth Eastern Economic Forum in Vladivostok as the event's main guest. "Our relationship has special chemistry," said Modi. "With each meeting, we get closer and our relationship grows."
This is the first visit by an Indian Prime Minister to the Russian Far East.
Modi said that the region's abundance of resources provides a great opportunity to develop a close and mutually beneficial relationship between the two countries.
During the visit, Putin and Modi adopted a bilateral cooperation statement titled, "Through trust and partnership - to new heights of cooperation."
The document expresses a mood to further deepen Russian-Indian ties in trade, investment and foreign policy. In the economic sphere, India is especially looking to the Russian Far East and Arctic for natural resources and minerals.
India's interest in Russia
"India is ready to conduct exploration work in the Arctic," said Indian Minister of Commerce and Industry Piyush Goyal during the Indian delegation's previous visit to Vladivostok in August.
The remote mineral and energy-rich regions of Russia provide great potential for India; the South Asian country is the third-largest energy consumer.
Moreover, Indian investment in the sparsely populated Far East and Arctic can provide Russia with labor. By investing in the Russian Far East, Indian firms also do not have to compete with Western companies.
Goyal also expressed that Russia and India should together develop the Northern Sea Route. He declared that they should jointly build ports as these projects will create new opportunities for both countries.
During the visit to Vladivostok, Prime Minister Modi and President Putin visited one of Russia's largest ship building yards, the Zvezda ship-building complex. 
The two leaders then made a proposal to develop a full-fledged maritime route between Chennai and Vladivostok. India and Russia signed a Memorandum of Intent on the development of maritime communications between the two major port cities.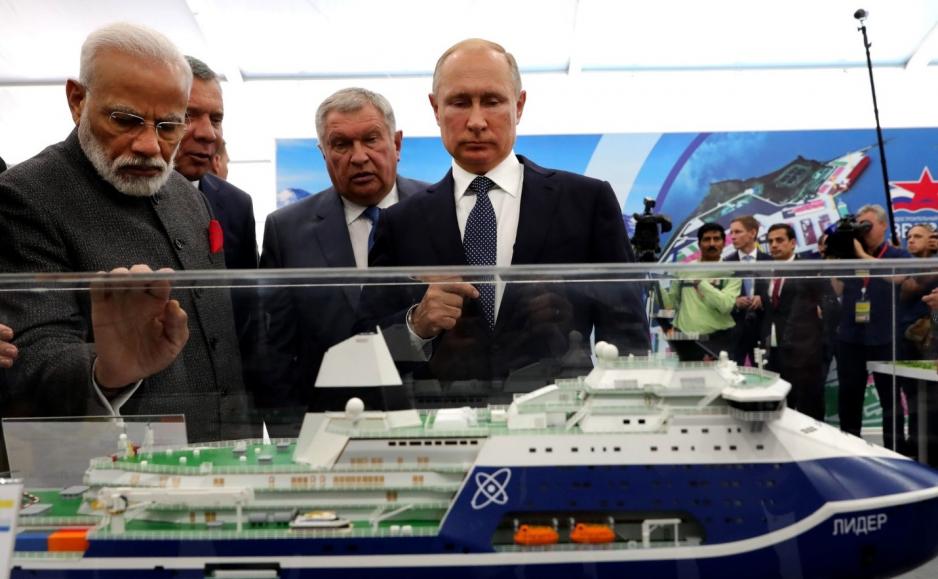 India's Minister of Oil, Gas and Metallurgy Dharmendra Pradhan regards Russia to be a key partner in energy cooperation. Pradhan arrived in Moscow a week before Modi to meet with Russian Minister of Energy Alexander Novak.
They discussed Indian investment in the Russian Far East and Arctic. "Russia is one of our oldest partners in the field of energy and is one of the most important foreign directions for investment," says Pradhan. 
The next big Arctic project
Russian energy firm Gazprom Neft and others have also expressed interest in working with India.
"Our Indian partners are interested in increasing LNG supplies in the future, including from the new Arctic LNG 2 project and future project, Arctic LNG 3," says Russian Energy Minister Alexander Novak. 
Arctic LNG 2 is Russian gas producer Novatek's second largest LNG plant after Yamal. It is estimated that Arctic LNG 2 will have a capacity of 19.8 million tons of LNG per annum when it becomes operational in 2022-23.
The project has already attracted investment from China, Japan, France, and Saudi Arabia. 
India's involvement in this project marks a big step for Russia's global energy cooperation. Pradhan reported that India's largest gas company GAIL is looking to acquire a minority stake in Arctic LNG 2.
In 2012, GAIL had already signed a 20-year agreement with Gazprom for a supply of 2.5 million tons of LNG per year. 
Moreover, Indian firms H-Energy and Petronet LNG have signed agreements with Russian gas producer Novatek to buy LNG from the Russian Arctic and for future cooperation in natural gas projects.
"India's rapid economic growth requires increasing demand for all sources of energy and, primarily, for natural gas as the most environmentally friendly type of fuel," said Novatek's CEO Leonid Mikhelson.
These recent investments have been made possible by India's historically strong relations with Russia and India's pursuit of strategic energy autonomy. India already has a long-standing relationship with natural gas imports from the US.
However, India and Russia are also brought closer together by India's commitment to diversify its energy imports and the context of US sanctions on the Iranian energy industry.