Rana Gruber Signs Giant Agreement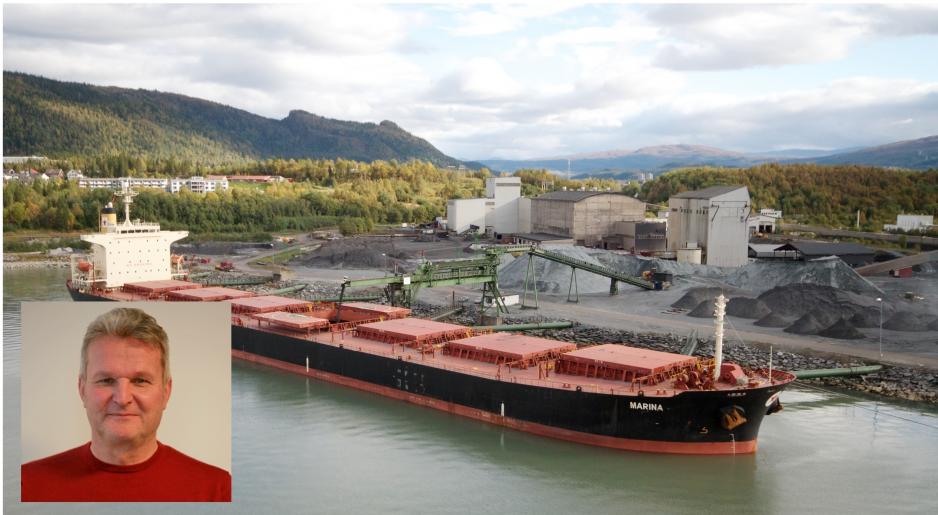 Iron ore producer Rana Gruber in Northern Norway enters into a cooperation agreement with Cargill. With the current price level, the agreement is worth NOK 5 billion (appr. USD 500 million) over a period of five years.
Managing Director of the Rana Gruber mining company, Gunnar Moe, says to High North news that there is a higher degree of insecurity in the market now, and that the company enters into this agreement in order to protect operations against the huge volatility in the steel market.
"The market in Europe is on a downward slope, and it is important with agreements that safeguard us whatever happens in the world", Moe says.
Rana Gruber has been in continual operation for 56 years. In an increasingly shifting market, Moe says it is important and right to think far ahead. The Managing Director stresses the importance of not giving up control over the company's own operations and development.
Never critical
"Things have never been critical for Rana Gruber. We have operated independently since the 1990s. However; this agreement safeguards us as a minor actor in a huge market while we also maintain the opportunity to develop further", Moe says to High North News.
"In that respect, this cooperation agreement with Cargill is ideal for both Rana Gruber as a company, for the employees and for our owners. We are safeguarded for the future and now have a strong international partner onboard to bring Rana Gruber into the future and perhaps also develop new products. We all look forward to cooperating closely with Cargill and our customers for many years to come."
A press release from Rana Gruber states that intense work has been ongoing for years to find a solid and long-term platform for the company for the years to come. The agreement with Cargill is a crucial part of this platform, and Moe adds that Rana Gruber has done well on an international arena despite its being a small actor.
This agreement safeguards us as a minor actor in a huge market, while we also keep the opportunity for developing further
"We have managed through more than five decades because we have and have had employees who know what to do, also in times of trouble. We are very pleased that we now get to work with Cargill and continue developing the company, securing jobs and manifesting the Rana region as an industrial hub. We consider the fact that the giant corporation Cargill choses to cooperate with us in so many areas a definite stamp of quality."
This agreement is important for Cargill too, and Cargill Metals' Managing Director says in the press release that they are very pleased with the partnership and look forward to building a long-term, sustainable cooperation with Rana Gruber.
"Rana Gruber has demonstrated world-class technical and operational competence for decades and has made progress in a quickly shifting market. Our goal is to lend out our technical expertise, risk management experience as well as sales and marketing know-how in order to support Rana Gruber so that they can focus on what they do best; their core activity, mining activity and meeting the demands of customers", says Lee Kirk, Managing Director of Cargill's Metals activities.
Five years
The cooperation with Rana Gruber also supports Cargill Metals activities' commitment to cooperate with customers globally in order to construct adjustable, sustainable and competitive supply chains for the steel industry.
"Rana Gruber has entered into an agreement with Cargill that secures our sales of all production of our main product for the next five years. This is very important for Rana Gruber, being a small player on a global market where we also see the European steel industry, which is our main market, decrease all the more. In addition, we get access to Cargill's vast resources in product development and market, which is very important to us. This is a key agreement and we are very happy we were able to establish it. It will help secure jobs at Mo i Rana and values for our shareholders for a long time to come, says Chairperson of the Board of Rana Gruber AS, Morten Støver, in the same press release.
The Mayor of Rana municipality is also pleased with the recent agreement.
"Such an agreement means a lot to the employees, for Rana and for the national industry. Safeguarding the company and its predictability for the longer term is a key task for any business, and Rana Gruber has now managed to do so. This is great news in a challenging time for us all", says Rana Mayor Geir Waage (Labor).
This article was originally published in Norwegian and has been translated by HNN's Elisabeth Bergquist.